A couple of months ago, a charming but tatty, half-empty and run-down retro gaming shop in London closed.
"We held on and fought as long as we could," its owners said in a desperately sad, broken message taped to its window, after the last day of trading. "It is a sad day."
Yes, in this economy big chains and beloved one-off shops, are closing every day. But to those in the know, the death of Game Focus was also about something more important.
As the last shop in Central London dedicated to truly old-school, retro games - Super Nintendos, MegaDrives and Game Boys; bleeping sound card and games that won't load and controllers attached to the TV with cables - it seemed to represent the end of an era.
But now, in another shop front, just a little bit further out of the city, another coin has been inserted into the slot.
Retro gaming has another life.
Retro Game Base was set up online about eight months ago by Joe Dowling, 33, and Tom Humphrey, 27, who set about buying and selling retro games - roughly defined as anything from the Playstation 2 and Xbox down - with dreams of glory. Or at least staying in business as long as possible.
The business was online only, and you would forgive them for taking it slow. There is no shortage of eBay users trying to buy retro games, but there is also no shortage of people trying to make a buck selling them, meaning margins can be tight.
But to their surprise - and thanks to a dilligent commitment to good service, word-of-mouth and brand-building games nights and pop-up arcades, it took off. The online business, to that point run out of a flat, needed more space. Joe and Tom looked into renting a business unit, but realised soon that for a couple of hundred quid a month extra they could actually open a shop.
A brand new retro gaming shop in London.
And on 23 June, it opened. Stuffed full of carts, boxed games, consoles and arcade machines, it's hoping to become a hub of everything old. new
Like M&M Games in Croydon, it mixes a real love of the stock with good service, a community feel and tons and tons of games to buy, sell and cherish. It's early days, but Joe and Tom are hopeful it will act as both a community center and a tool to build new business - even if the bulk of the selling happens online.
"For any retro games shop - or record store, or other niche business - it has to be online first," said Joe, speaking via phone a few days before the shop's launch, with the sounds of shelves being assembled crashing down the line.
"That's what I like to do," he said. "To go on eBay and find out the prices and learn the value of all the different games."
Joe estimates that "about 75%" of RGB's profit will come from the Internet, but interest in the shop is strong ("it was rammed" he says of opening day on Saturday) and he's hopeful it will come with a lot of new business, and, hopefully, fun.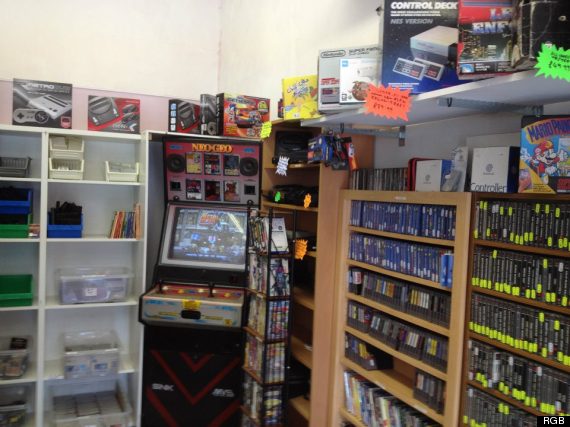 Above: Part of RGB's selection of old games and consoles.
Retro gaming itself is certainly going nowhere. At a recent vintage games night at Bloomsbury Lanes in London, RGB hosted dozens of enthusiastic and happy gamers bashing away at NBA Jam, Mario Kart and homemade MAME arcade machines. And online, the retro gaming community continues to thrive.
So in the world of dusty cartridges, boxless discs and mint-condition factory-fresh gems, what sells?
For one thing, Joe says, expert gamers "will only want something in the original box, and if it says 'good quality' they'll be annoyed if it arrives and it isn't". Others - more casual gamers - will buy pretty much anything if they have a dim, positive memory of playing it as a kid.
"The Master System does really well," he adds. "Particularly in America where they didn't really have the system originally. And in Spain there's a big Master System trend, though I'm not sure why."
Some of the older games people play most are the Nintendo titles, Joe adds. N64 and Gamecube games sell very well ("even just the cartridges only, we can sell loads of the them") as well as titles for the original Playstation.
The much older systems - Amiga and Atari games - are harder to find, simply because most of them don't work.
"There have been emulators as far as I can remember," he said. "People still want to play the real games."
"We tested out a batch of Amiga games and at least half of them didn't work," he said. "But take something like the NES, you plug them in and they still pretty much all go."
Joe said that the appeal of retro gaming is partly nostalgia. But it's also about there still being a huge number of damn fine titles available to buy.
And as for Game Focus, he says the lack of a decent website mixed with an increasingly poor selection of games - and high rents - was to blame for its demise at least as much as declining interest in the hobby.
"I went to Game Focus fairly late on in its life, their selection wasn't particularly good and to be honest it seemed to be mostly DVDs. Plus their rent where they were - it must have been thousands a month. Where we are it's much less that that. And as I said, for any retro games shop - or record store, or other niche business - it has to be online first."
Retro Game Base can be found at 430 Streatham High Road, London, SW16 3PX, and is open Tuesday to Saturday.