She says life in her 39th year has become "a sexual extravaganza", and she's made her point by posing for her sixth Playboy cover.
Yes, Jenny McCarthy is back to her naked best. McCarthy, who was named Playmate of the Month in 1993 and Playmate of the Year the following year, appears on the July/August issue.
Clad in black stockings and fingerless gloves, the mother-of-one told People magazine she was "really proud" of the eight page spread by photographer Steve Shaw.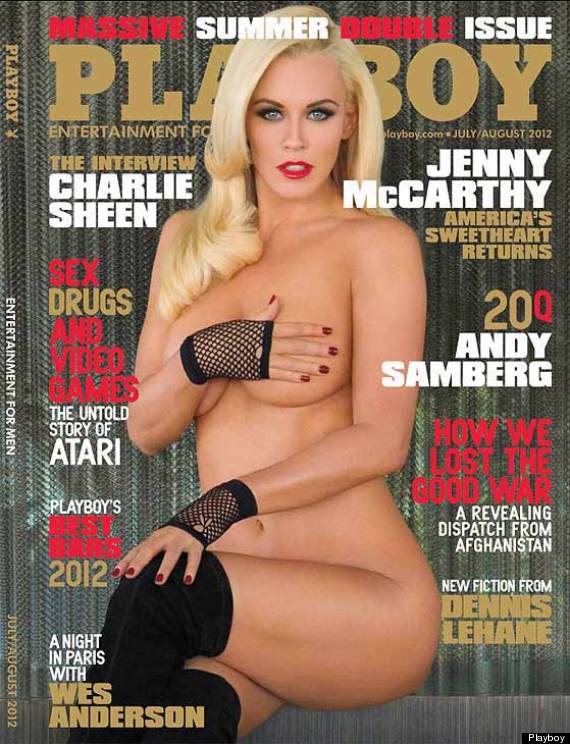 She said: "The pictures are really gorgeous and classy. They could be out of W magazine. They're really elegant. It's probably a lot more sophisticated than a lot of the stuff you'd see of people with their clothes on."
McCarthy, who recently began dating Chicago Bears linebacker Brian Urlacher, told Playboy: "This point in my life has been the most fun, sexual extravaganza. The orgasms are night-and-day better. I feel 100 billion times more sexual, and that comes out in this pictorial."
Yeah, we get the message. View McCarthy's sexual evolution via Playboy below.
Loading Slideshow
Jenny McCarthy appears on the cover of Playboy magazine's June 1994 issue.

Jenny McCarthy appears on the cover of Playboy magazine's July 1996 issue. ( Photo / Playboy)

Jenny McCarthy appears on the cover of Playboy magazine's December 1996 issue. ( Photo / Playboy)

Jenny McCarthy appears on the cover of Playboy magazine's September 1997 issue. ( Photo / Playboy)

Jenny McCarthy appears on the cover of Playboy magazine's January 2005 issue. ( Photo / Playboy)

Jenny McCarthy appears on the cover of Playboy magazine's July / August 2012 issue. ( Photo / Playboy)
More stars who posed for Playboy:
Loading Slideshow
Jenny McCarthy

Drew Barrymore

Kelly Bensimon

Jessica Alba

Lisa Rinna

Ashley Dupre

Karina Smirnoff

Shannen Doherty

Chelsea Handler

Denise Richards

Mariah Carey

Kim Kardashian

Kendra Wilkinson

Jaime Pressly

Pamela Anderson

Tara Reid

Olivia Munn

Heidi Montag