Five people have been killed after a gunman took a number of hostages during a flat eviction in the southern Germany city of Karlsruhe, according to German police.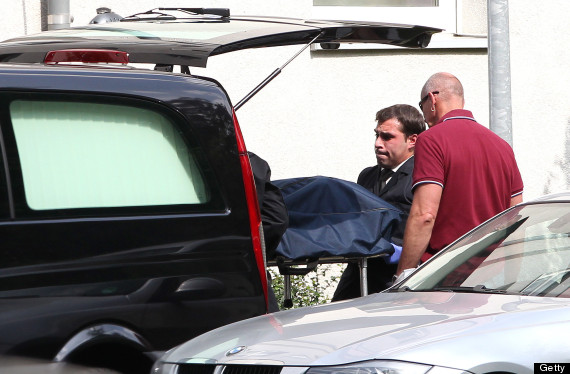 A body is removed from the house where hostages were being held earlier today
Four hostages and the gunman are believed dead, Sky News reported.
Speaking to Reuters, a police spokesperson, said: "Special forces broke into the apartment after smelling smoke and found four dead bodies. Probably one of them is the gunman."
A bailiff, a locksmith and the owner of the property, as well as a prospective tenant, are reported to be among those killed. A woman is believed to be among the victims. According to police, all who were killed died from wounds arising from a gunshot. Police commandos outside the block of flats on Wednesday morning
The gunman, who was described as "heavily armed" by AFP, had at least one hand grenade according to news channel NTV. A police response unit was called to the incident after shots were heard.
Police had earlier said they were unclear as to how many people had been taken hostage.
A large part of the city, which sits on the French/German border, has been now cordoned off.
Loading Slideshow
The bodies are removed from the house wh

The bodies are removed from the house where a gunman had taken several people, including a bailiff, hostage during a home eviction in Karlsruhe, southwestern Germany, on July 4, 2012. A police spokesman said the hostage-taker and all his hostages were dead after he barricaded himself and them into an apartment block in the city of Karlsruhe. AFP PHOTO / DANIEL ROLAND (Photo credit should read DANIEL ROLAND/AFP/GettyImages)

Policemen stand in front of the house where a gunman had taken several people, including a bailiff, hostage during a home eviction in Karlsruhe, southwestern Germany, on July 4, 2012. A police spokesman said the hostage-taker and all his hostages were dead after he barricaded himself and them into an apartment block in the city of Karlsruhe. AFP PHOTO / DANIEL ROLAND

A hostage-taker and all his hostages were dead after he barricaded himself and them into an apartment block in the city of Karlsruhe Picture Getty

A hostage-taker and all his hostages were dead after he barricaded himself and them into an apartment block in the city of Karlsruhe Picture Getty

A hostage-taker and all his hostages were dead after he barricaded himself and them into an apartment block in the city of Karlsruhe Picture Getty

Police arrive at the area where a gunman took hostages in Karlsruhe, Germany, Wednesday July 4, 2012. A gunman in southern Germany took hostages and fired shots, possibly killing one person, when court bailiffs sought to remove him from his apartment Wednesday morning in a dispute over rent, police said. (AP Photo/dapd /Michael Latz)

Police secure the area where a gunman took hostages in Karlsruhe, Germany, Wednesday July 4, 2012. A gunman in southern Germany took hostages and fired shots, possibly killing one person, when court bailiffs sought to remove him from his apartment Wednesday morning in a dispute over rent, police said. (AP Photo/dapd/Daniel Kopatsch)

The bodies are removed from the house wh

The bodies are removed from the house where a gunman had taken several people, including a bailiff, hostage during a home eviction in Karlsruhe, southwestern Germany, on July 4, 2012. A police spokesman said the hostage-taker and all his hostages were dead after he barricaded himself and them into an apartment block in the city of Karlsruhe. AFP PHOTO / DANIEL ROLAND (Photo credit should read DANIEL ROLAND/AFP/GettyImages)

Windows are open at the house where a gu

Windows are open at the house where a gunman had taken several people, including a bailiff, hostage during a home eviction in Karlsruhe, southwestern Germany, on July 4, 2012. A police spokesman said the hostage-taker and all his hostages were dead after he barricaded himself and them into an apartment block in the city of Karlsruhe. AFP PHOTO / DANIEL ROLAND (Photo credit should read DANIEL ROLAND/AFP/GettyImages)

Policemen and rescuers stand in the area

Policemen and rescuers stand in the area where a gunman had taken several people, including a bailiff, hostage during a home eviction in Karlsruhe, southwestern Germany, on July 4, 2012. A police spokesman said the hostage-taker and all his hostages were dead after he barricaded himself and them into an apartment block in the city of Karlsruhe. AFP PHOTO / DANIEL ROLAND (Photo credit should read DANIEL ROLAND/AFP/GettyImages)