With her steely exterior, we rarely see moments of real emotion from Madonna.
And that still hasn't changed, even after the Queen of Pop broke down in tears while on stage in Berlin as part of her MDNA tour.
The tears were all part of the singer's act.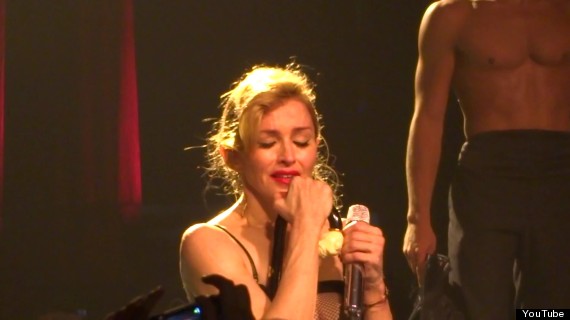 Madge was visibly upset during her rendition of Like A Virgin - but it was all part of her act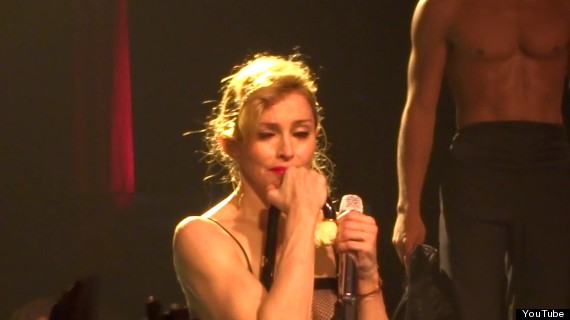 Well, it is hard to top flashing your nipple.
She treated the German audience to a cabaret style version of her 1984 hit, and as she sang the line, 'your love thawed out what was scared and cold', she started to cry.
Other parts of the performance saw her crawling around the stage on all fours and being caressed by a buff male dancer who hoisted her into a corset.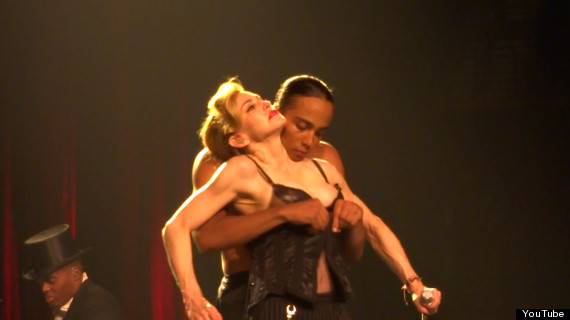 Earlier this week, Madonna's tour bus caused chaos when it overturned in Sweden.
> IN PICS: MADONNA'S MDNA TOUR

Loading Slideshow
Madonna

U.S pop icon Madonna at the Ramat Gan stadium near Tel Aviv, Israel, Thursday, May 31, 2012. Madonna launch her hotly-anticipated MDNA world tour with a show in Tel Aviv, kicking off a roadtrip of more than 30 countries in what will be her longest-ever stint on the road. (AP Photo/Ariel Schalit)

TEL AVIV, ISRAEL - MAY 31: Madonna performs on stage during her "MDNA" tour at Ramat Gan Stadium on May 31, 2012 in Tel Aviv, Israel. (Photo by Kevin Mazur/WireImage)

US pop icon Madonna (C) performs on stag

US pop icon Madonna (C) performs on stage during her first MDNA world tour concert in the Ramat Gan Stadium, near Tel Aviv, on May 31, 2012. Madonna's Tel Aviv concert sold 32,000 tickets and it is the first in her world tour spanning 30 countries and 86 concert dates to promote her new MDNA album. AFP PHOTO / JACK GUEZ (Photo credit should read JACK GUEZ/AFP/GettyImages)

TEL AVIV, ISRAEL - MAY 31: Madonna performs on stage during her "MDNA" tour at Ramat Gan Stadium on May 31, 2012 in Tel Aviv, Israel. (Photo by Kevin Mazur/WireImage)

Madonna

U.S pop icon Madonna performs at the Ramat Gan stadium near Tel Aviv, Israel, Thursday, May 31, 2012. Pop music star Madonna is kicking off her new world tour in front of tens of thousands of ecstatic fans in Israel. (AP Photo/Ariel Schalit)

US pop icon Madonna performs on stage du

US pop icon Madonna performs on stage during her first MDNA world tour concert in the Ramat Gan Stadium, near Tel Aviv, on May 31, 2012. Madonna's Tel Aviv concert sold 32,000 tickets and it is the first in her world tour spanning 30 countries and 86 concert dates to promote her new MDNA album. AFP PHOTO / JACK GUEZ (Photo credit should read JACK GUEZ/AFP/GettyImages)

Madonna

U.S pop icon Madonna performs at the Ramat Gan stadium near Tel Aviv, Israel,Thursday, May 31, 2012. Pop music star Madonna is kicking off her new world tour in front of tens of thousands of ecstatic fans in Israel. (AP Photo/Ariel Schalit)

US pop icon Madonna (C) performs on stag

US pop icon Madonna (C) performs on stage during her first MDNA world tour concert in the Ramat Gan Stadium, near Tel Aviv, on May 31, 2012. Madonna's Tel Aviv concert sold 32,000 tickets and it is the first in her world tour spanning 30 countries and 86 concert dates to promote her new MDNA album. AFP PHOTO / JACK GUEZ (Photo credit should read JACK GUEZ/AFP/GettyImages)

US pop icon Madonna (C) performs on stag

US pop icon Madonna (C) performs on stage during her first MDNA world tour concert in the Ramat Gan Stadium, near Tel Aviv, on May 31, 2012. Madonna's Tel Aviv concert sold 32,000 tickets and it is the first in her world tour spanning 30 countries and 86 concert dates to promote her new MDNA album. AFP PHOTO / JACK GUEZ (Photo credit should read JACK GUEZ/AFP/GettyImages)

US pop icon Madonna performs on stage du

US pop icon Madonna performs on stage during her first MDNA world tour concert in the Ramat Gan Stadium, near Tel Aviv, on May 31, 2012. Madonna's Tel Aviv concert sold 32,000 tickets and it is the first in her world tour spanning 30 countries and 86 concert dates to promote her new MDNA album. AFP PHOTO / JACK GUEZ (Photo credit should read JACK GUEZ/AFP/GettyImages)

Madonna "MDNA" World Tour Opener

TEL AVIV, ISRAEL - MAY 31: Madonna performs during the opening concert of her 'MDNA' World Tour at Ramat Gan stadium on May 31, 2012 in Tel Aviv, Israel. (Photo by Ilia Yefimovich/Getty Images)

Madonna "MDNA" World Tour Opener

TEL AVIV, ISRAEL - MAY 31: Madonna performs during the opening concert of her 'MDNA' World Tour at Ramat Gan stadium on May 31, 2012 in Tel Aviv, Israel. (Photo by Ilia Yefimovich/Getty Images)

Madonna

Madonna

U.S pop icon Madonna performs at the Ramat Gan stadium near Tel Aviv, Israel,Thursday, May 31, 2012. Pop music star Madonna is kicking off her new world tour in front of tens of thousands of ecstatic fans in Israel. (AP Photo/Ariel Schalit)

Madonna

U.S pop icon Madonna at the Ramat Gan stadium nearTel Aviv, Israel, Thursday, May 31, 2012. Madonna launch her hotly-anticipated MDNA world tour with a show in Tel Aviv, kicking off a road trip of more than 30 countries in what will be her longest-ever stint on the road. Pop music star Madonna is kicking off her new world tour in front of tens of thousands of ecstatic fans in Israel. (AP Photo/Ariel Schalit)

Madonna

U.S pop icon Madonna at the Ramat Gan stadium near Tel Aviv, Israel, Thursday, May 31, 2012. Madonna launch her hotly-anticipated MDNA world tour with a show in Tel Aviv, kicking off a roadtrip of more than 30 countries in what will be her longest-ever stint on the road. (AP Photo/Ariel Schalit)

Israelis dance during a party in a club of Tel Aviv to celebrate the arrival of Madonna in Israel, early Saturday, May 26, 2012. The Madonna 2012 World Tour will start on May 29 in Tel Aviv. (AP Photo/Dan Balilty)

US pop icon Madonna performs on stage du

US pop icon Madonna performs on stage during her first MDNA world tour concert in the Ramat Gan Stadium, near Tel Aviv, on May 31, 2012. Madonna's Tel Aviv concert sold 32,000 tickets and it is the first in her world tour spanning 30 countries and 86 concert dates to promote her new MDNA album. AFP PHOTO / JACK GUEZ (Photo credit should read JACK GUEZ/AFP/GettyImages)

US pop icon Madonna performs on stage du

US pop icon Madonna performs on stage during her first MDNA world tour concert in the Ramat Gan Stadium, near Tel Aviv, on May 31, 2012. Madonna's Tel Aviv concert sold 32,000 tickets and it is the first in her world tour spanning 30 countries and 86 concert dates to promote her new MDNA album. AFP PHOTO / JACK GUEZ (Photo credit should read JACK GUEZ/AFP/GettyImages)

Madonna "MDNA" World Tour Opener

TEL AVIV, ISRAEL - MAY 31: Madonna performs during the opening concert of her 'MDNA' World Tour at Ramat Gan stadium on May 31, 2012 in Tel Aviv, Israel. (Photo by Ilia Yefimovich/Getty Images)

TEL AVIV, ISRAEL - MAY 31: Rocco Ritchie and Madonna perform on stage during her 'MDNA' tour at Ramat Gan Stadium on May 31, 2012 in Tel Aviv, Israel. (Photo by Kevin Mazur/WireImage)

TEL AVIV, ISRAEL - MAY 31: Rocco Ritchie and Madonna perform on stage during her 'MDNA' tour at Ramat Gan Stadium on May 31, 2012 in Tel Aviv, Israel. (Photo by Kevin Mazur/WireImage)

TEL AVIV, ISRAEL - MAY 31: Rocco Ritchie and Madonna perform on stage during her 'MDNA' tour at Ramat Gan Stadium on May 31, 2012 in Tel Aviv, Israel. (Photo by Kevin Mazur/WireImage)