Britney Spears has pointed the finger at fellow US X Factor judge Demi Lovato after being accused of "storming" off set during an audition.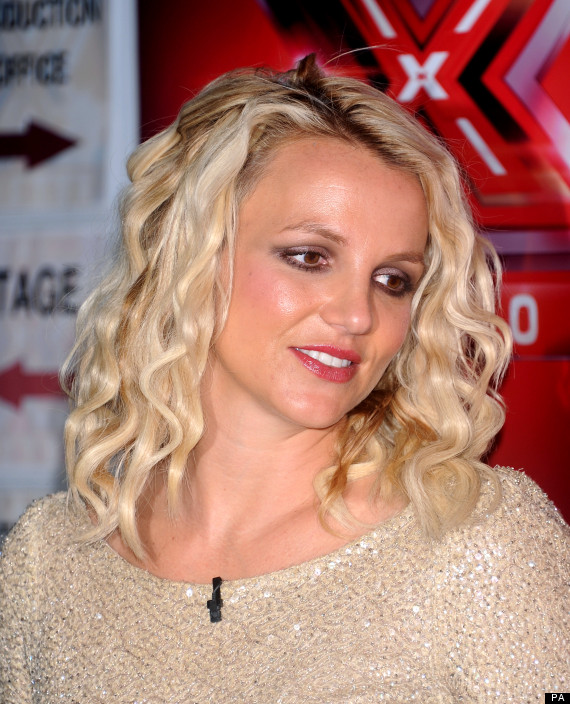 Britney denies walking off in a huff
The audition, which fellow judge LA Reid described as "just horrible", involved a contestant in drag attempting to cover Spears' hit (You Drive Me) Crazy and resulted in the three judges walking off the set.
Spears denied storming off set and claimed she was "following" the 19-year-old judge Demi. The 30-year-old singer said: "I was taking her lead. She was like, 'Let's go,' and I was like, 'Okay'."
Spears added: "It was our break anyway. It was dinner."
HUFFPOSTUK: Britney Spears Walks Off The X Factor Set...
Lovato explained they had all found the audition uncomfortable to watch because the singer had been given false hope by the audience's cheers.
She said: "I felt really uncomfortable, and I had to walk away. He [thought] that [he did] such a good job, and I felt so bad. I laughed at first, but I felt really bad."
Spears confessed she finds it difficult to watch certain contestants, admitting: "I usually can't look when they're bad. I can't look. It's really hard to tell some of them no."
She revealed that she prefers to adopt a kind and considerate judging style, explaining: "It's about using constructive criticism."
Spears did, however, agree that there have been times when she has been "blown away" by the talent on the show:
"It's really nice to come to a place like this and see so many special, talented people... I'm very impressed."
The best of Britney...

Loading Slideshow
Britney's career started out when she starred in The Mickey Mouse Club along with famous faces Christina Aguilera, Justin Timberlake and Ryan Gosling.

... Baby One More Time put Britney on the world's radar. The schoolgirl outfit might have had something to do with it, but the catchy tune is still being played in 2011.

Britney wins Female Artist of the Year at the 1999 Billboard Music Awards in Las Vegas.

Britney celebrated going silicon on the Internet in 1999. The Silicon CD Award was presented to her for her album <em>Baby One More Time</em>, which advanced into the top ten albums played on computers worldwide.

Britney performed in her famous red catsuit at the 42nd Annual Grammy Awards in Los Angeles, February 2000.

In September 2000 Britney attended the MTV Music Video Awards in New York with her childhood sweetheart Justin Timberlake. Timberlake's band *Nsync won awards for Best Pop Video and Viewer's Choice.

Britney made her mark dancing with a snake at the 2001 MTV Video Music Awards.

In one of her less stylish outfits Britney hangs out with Michael Jackson in the press room at the 2002 MTV Video Music Awards.

Britney's first kiss with a woman was with Madonna and it was captured on camera at the 2003 MTV Video Music Awards.

Britney was thrilled to receive her star on The Hollywood Walk Of Fame in November 2003.

Britney appears to forget her clothes at the 2007 MTV Video Music Awards.

Back in the spotlight - Britney makes a public appearance when she takes her sons Sean Preston and Jayden James to Disney's <em>The Lion King</em> in Las Vegas, April 2011.

Britney secures her comeback at the Billboard Awards with a raunchy performance with Rihanna this April.

Britney wins the Video Vanguard Award and Best Pop Video Award for her <em>Till the World Ends </em>video, at the 2011 MTV Video Music Awards.