The problem with almost every Formula 1 racing game ever made - from Nigel Mansell's World Championship Racing to F1 2011 - is that driving F1 cars is hard.
It's a motor sport in which the world's most advanced and complex cars, driven by fighter pilots, compete on technical circuits governed by a series of inexplicable bylaws.
Essentially there's a reason that Alonso is Alonso, and you're not. And that rarely makes for a fun game if you take it too seriously.
Codemasters is trying to change all that - with F1 Race Stars, announced today.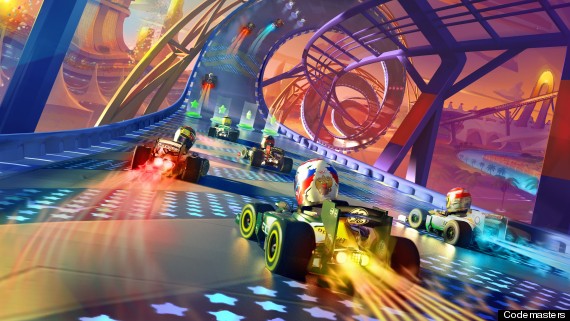 Above: The 'Abu Dhabi' circuit in F1 Race Stars
F1 Race Stars is a family-focused racing title that looks like Mario Kart meets Formula 1.
You'll be able to race a variety of extremely cute F1 rivals, with requisite large heads and big hands. There'll be at least one driver from each team, including Lewis Hamilton, Alonso and Sebastian Vettel
Races will take place over a series of tracks 'inspired' by real F1 circuits, with the addition of loops, stars, jumps and all the stuff that should really be in F1 anyway if it was only technically possible and non-lethal.
Locations will include Monaco - with a jump over the swimming pool - as well as Silverstone, Abu Dhabi and the new Circuit of Americas in Austin, Texas.
It will feature four-player split screen modes, online multiplayer and solo competitions.
The game will be out in November for Xbox 360, Playstation 3 and PC.
While still committed to the simulation genre with the upcoming F1 2012, Codemasters wants to make F1 accessible, silly and creative.
It said in a press release:
"Just some of the power ups include collecting KERS to get a speed boost, using the Safety Car to hold up other drivers, sending the competition into a spin with Wet Weather or calling down a Rain Cloud on the leader. In the sprint to the line, gamers can drive through Racing Line zones which will slingshot drivers ahead and slipstream behind other racers to close the gap on their rivals"
If this works it could be very fun.
But let's just put this out there: no one - no one - is playing as Sebastian Vettel.