Royal Mail is issuing a new set of stamps to mark the start of the Olympic Games, featuring four of the most popular events.
The stamps, which will be on sale from Friday, the day of the opening ceremony, show a cyclist, a fencer, a diver and runners, alongside London landmarks Tate Modern, Tower Bridge, the Olympic Stadium and the London Eye.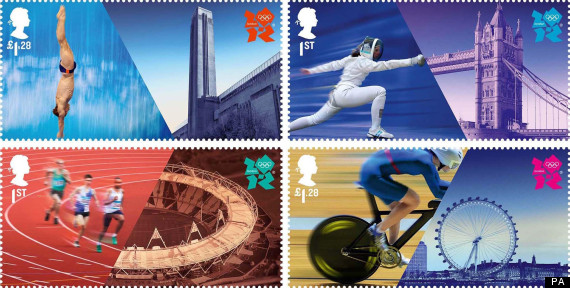 The set of four stamps
Mayor of London, Boris Johnson, said: "Even fleet-footed Hermes himself would hang up his winged sandals and send his letters through Royal Mail if he saw the quality of these beautiful Olympic-themed stamps.
"It's fantastic that some of London's most iconic landmarks are now set to grace the doormats of millions of homes and businesses, helping to seal our city's status as a world-class destination."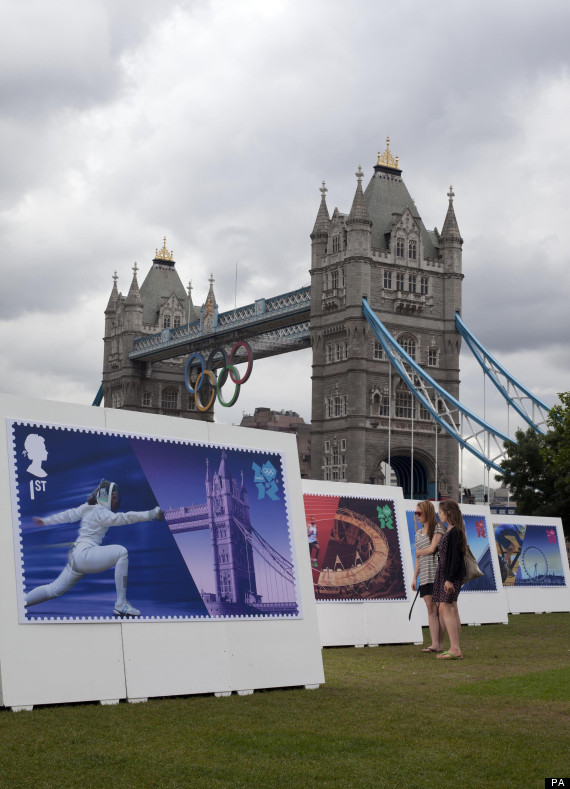 N.B. These are not to scale
The set includes two first class stamps and two priced at £1.28 - the cost of airmail postage.
During the Games, Royal Mail will be issuing a special collection of Olympic Gold Medal stamps to mark every Team GB gold medal win.

Loading Slideshow
A groundsman paints the court lines during a practice session ahead of the 2012 London Olympic Games at the All England Lawn Tennis and Croquet Club in Wimbledon on July 24, 2012 in London, England. (Photo credit: Clive Brunskill/Getty Images)

A seal pup grins over the shoulder of photographer Alex Mustard as he takes a self-portrait off the Northumberland coast. (Photo credit: Alex Mustard / Barcroft Media)

A woman leans into the mouth of a plastic shark to kiss her child at the COEX Aquarium in Seoul, South Korea Tuesday, July 24, 2012. (Photo credit: AP Photo/Hye Soo Nah)

View of the third excavation of a grave inside the medieval Convent of Saint Ursula in Florence on July 17, 2012, during research focusing on the burial site of Lisa Gherardini, wife of the wealthy Florentine silk merchant Francesco del Giocondo, the model who inspired Leonardo da Vinci's painting "The Mona Lisa". (Photo credit: ANDREAS SOLARO/AFP/GettyImages)

A Buddhist monk raised his hand written with the message "ROHINGYA NO" to protest against the ethnic minority group in Myanmar during a visit of Myanmar's President Thein Sein in Bangkok, Thailand Tuesday July 24, 2012. The group had suffered communal violence in western Myanmar, in which Muslim Rohingyas were killed, rape and physically abused. (Photo credit: AP Photo/Sakchai Lalit)

A Labrador Golden Retriever gets a shower at Germany's first Dog Wash in Duisburg, Germany, Tuesday, July 24, 2012. The dog wash, which was installed in a pet store and runs as self service, delivers a shower, shampoo and a hair dry. (Photo credit: AP Photo/Frank Augstein)

Messages are written on the Olympic truce Wall at the Athletes' Village at the Olympic Park, Tuesday, July 24, 2012, in London. Opening ceremonies for the 2012 London Olympics will be held Friday, July 27. (Photo credit: AP Photo/Jae C. Hong)

A journalist film a Z-9WZ attack helicopter designed and manufactured by China demonstrating flying skill during a media visit at the military base of Chinese People's Liberation Army (PLA) Army Aviation 4th Helicopter Regiment, ahead of Army Day on Aug. 1, on the outskirts of Beijing, China Tuesday, July 24, 2012. (Photo credit: AP Photo/Andy Wong)

A Chinese soldier are reflected on a window glass as he stands guard during a media visit at the military base of Chinese People's Liberation Army (PLA) Army Aviation 4th Helicopter Regiment, ahead of Army Day on Aug. 1, on the outskirts of Beijing, China Tuesday, July 24, 2012. (Photo credit: AP Photo/Andy Wong)

President Barack Obama gestures at a campaign stop in Oakland, California. (Photo credit: AP Photo/Paul Sakuma)

An athlete practices during a diving training session ahead of the London Olympic Games at the Aquatics Centre in Olympic Park on July 24, 2012 in London, England. (Photo credit: Streeter Lecka/Getty Images)

Nick Ormerod of Australia competes in the 2012 Shark Island Challenge at Shark Island, near Cronulla on July 24, 2012 in Sydney, Australia. (Photo credit: Matt King/Getty Images)