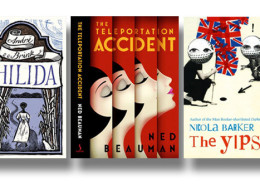 The Man Booker Prize longlist for 2012 has been announced, and we're already excited.
It's great to see some old favourites in there (hello, Will Self and Michael Frayn) along with some eagerly-watched newbies, like Ned Beauman.
Surprising omissions include heavyweights Zadie Smith, Ian McEwan and Martin Amis, all of whom could have been in contention.
The 'Man Booker Dozen' below are the pick of 145 titles, selected by a panel of judges chaired by Sir Peter Stothard, Editor of the Times Literary Supplement.
Of the longlist, Stothard said, "In an extraordinary year for fiction the 'Man Booker Dozen' proves the grip that the novel has on our world. We did not set out to reject the old guard but, after a year of sustained critical argument by a demanding panel of judges, the new has come powering through."
A list filled with "goodness, madness and bewildering urban change", it's also one which features four debut novels, three small independent publishers and one previous winner. The age range between the nominees is a massive 50 years - between 77-year-old Andre Brink and Ned Beauman, who is 27.
From this list six novels will be selected in September, ahead of the announcement of the winner on 16 October.
What do you think - is the mix good enough to get you excited?
The Man Booker Prize Longlist 2012
Yun Ling Teoh is the survivor of a Japanese wartime camp, so she's understandably disgruntled towards the people of that nation. Still, she becomes the apprentice of an exiled Japanese gardener, in hopes that she can build a garden to commemorate her deceased sister in Kuala Lumpur.

It's the 1830s in South Africa, and slavery is on the brink of abolition. Philida struggles to find freedom as she mothers her four children--the offspring of her master's son.

Described as a "historical novel of the pre-Twitter movement," this book is humorous and over-the-top.

It's 1930s Berlin, and yet all Egon Loeser can think about is getting himself laid in this historical noir.

Frayn has penchant for farce, and this book about the absurdity of ambitious academics is no exception.

A drab, ordinary man receives a mysterious letter from a woman he hasn't heard from in decades, and his trek to visit her revitalizes his marriage.

This book explores the depressed state of a group of stately tourists visiting the French Riviera, but does so in a light, funny manner. The introduction to this book is by Tom McCarthy, the acclaimed author of "C."

This is the sequel to Mantel's 2009 Booker winner "Wolf Hall." Both books chronicle the pitfalls of Anne Boleyn.

Zack Busner is a psychiatrist treating victims of a post-World War I sleeping sickness epidemic -- but is the disease biological or the result of the pressures of modernity?

A middle-aged man takes a trip to Germany but finds the hotel staff to be less than accommodating as he contemplates his mother's abandonment while embarking on a walking tour.

The book tells the story of a single city from the vantage point of ten of its citizens, from butchers to musicians.

Set in a brothel in 1970s Bombay, this book illustrates the addictions and perversions of human trafficking in India, contrasted with the beauty and hope found in films and churches.
The longlist
The Yips by Nicola Barker (Fourth Estate)
A state-of-the-nation comedy based in the pre-Twitter world of 2006.
The Teleportation Accident by Ned Beauman (Sceptre)
A genre-crossing novel based in 1930s Germany about sex, history, space and violence.
Philida by André Brink (Harvill Secker)
A story based in 19th century South Africa, dealing with the slave trade and one woman's determination.
The Garden of Evening Mists by Tan Twan Eng (Myrmidon Books)
Twan Eng's second novel is about Malaysia's turbulent road to independence in 1949.
Skios by Michael Frayn (Faber & Faber)
A modern-day satirical drama based on a Greek island, involving scientific conferences and mistaken identity.
The Unlikely Pilgrimage of Harold Fry by Rachel Joyce (Doubleday)
A journey story which sees a normal man's life take on an adventure.
Swimming Home by Deborah Levy (And Other Stories)
A novel which looks at the impact depression can have on the human condition within the setting of a French holiday.
Bring up the Bodies by Hilary Mantel (Fourth Estate)
The sequel to Man Booker-winning Wolf Hall, Mantel's novel plays out the drama of Anne Boleyn's last days.
The Lighthouse by Alison Moore (Salt)
Moore's protagonist gets unwittingly involved in a mystery during a German walking holiday.
Umbrella by Will Self (Bloomsbury)
Umbrella see's Self's psychiatrist character Zach Busner return in a narrative preoccupied with the war, lost history and illness.
Narcopolis by Jeet Thayil (Faber & Faber)
A journey into the squalid underworld of 1970s Bombay, through a cast of pimps, gangsters and eunuchs.
Communion Town by Sam Thompson (Fourth Estate)
A fictional city is mapped out by the stories of 10 of its inhabitants.
Twitter reacts to the news...