The Olympic Cauldron has been temporarily extinguished as organisers move it to another area of the stadium.
Witnesses reported that the Cauldron was seen unlit at around 11pm on Sunday evening, despite the fact the flame is traditionally supposed to burn for the duration of the ceremony.
The Cauldron is to be moved to the south end of the Olympic stadium, echoing its location during the London 1948 Games.
The new location will be more visible to athletes and those without tickets to the main stadium.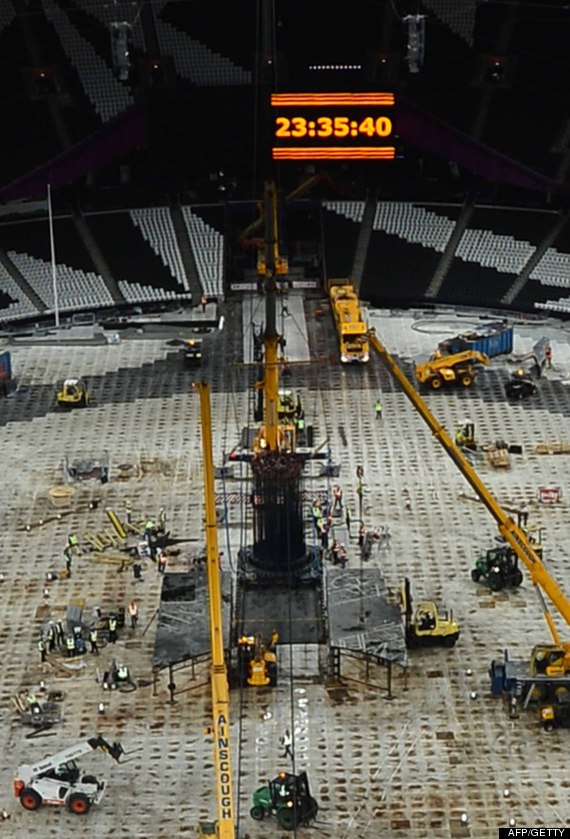 The Cauldron is to be moved somewhere moved visible
The Cauldron is expected to be relit on Monday and meanwhile the flame is being safeguarded in special miners lanterns overnight.
It is not the first time the flame has gone out during London 2012. On day three of the Olympic Torch Relay, the torch was extinguished while attached to the side of David Follett's wheelchair in Great Torrington, Devon.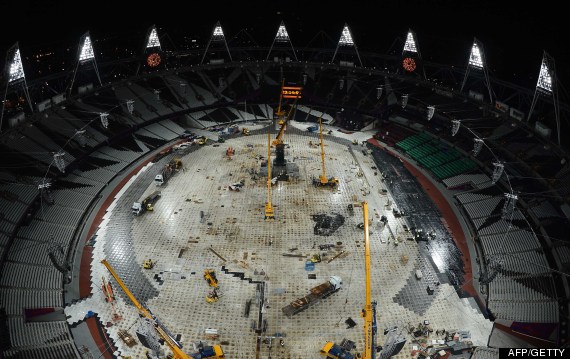 The flame will be safeguarded in lanterns
Speaking to The Huffington Post UK at the time a London 2012 spokesperson explained: "The Flame went out due to a malfunctioning burner. It is not uncommon for a Flame to go out and this can happen for a number of reasons, for example, in extreme winds. We keep the Mother Flame in specially designed miners lanterns so if the flame does go out for some reason on the Relay we relight it from the source of the flame."
The Cauldron was lit by seven promising young athletes, ending months of speculation as to who would be chosen.
Each athlete, chosen to represent the legacy of the Games, lit a copper petal which joined to light the cauldron.
They were nominated by British Olympic heroes Sir Steve Redgrave, Lynn Davies, Duncan Goodhew, Dame Kelly Holmes, Dame Mary Peters, Shirley Robertson and Daley Thompson.
SEE ALSO:
Loading Slideshow
London Olympic Games - Day 2

Great Britain's Zara Phillips competes on High Kingdom in the Dressage stage of the Eventing at Greenwich Park, London on the second day of the London 2012 Olympics.

United States' Missy Franklin starts in the women's 100-meter backstroke swimming heat at the Aquatics Centre in the Olympic Park during the 2012 Summer Olympics in London, Sunday, July 29, 2012. (AP Photo/Michael Sohn)

Boats from, bottom to top, Zimbabwe, Lithuania, Taiwan, Niger, and Iran wait to start in a men's rowing single sculls repechage in Eton Dorney, near Windsor, England, at the 2012 Summer Olympics, Sunday, July 29, 2012. (AP Photo/Natacha Pisarenko)

Australia's Emily Seebohm reacts after competing in a women's 100-meter backstroke swimming heat at the Aquatics Centre in the Olympic Park during the 2012 Summer Olympics in London, Sunday, July 29, 2012. (AP Photo/Mark J. Terrill)

Italy's Mirco Scarantino lifts during the men's 56-kg, group B, weightlifting competition at the 2012 Summer Olympics, Sunday, July 29, 2012, in London. (AP Photo/Hassan Ammar)

Kristin Silbereisen of Germany competes against Joanna Parker of Great Britain during their second round table tennis match at the 2012 Summer Olympics, Sunday, July 29, 2012, in London. (AP Photo/Sergei Grits)

Francesco Faraldo of Italy reacts after losing to Sugoi Uriarte of Spain during the men's -66kg judo competition at the 2012 Summer Olympics, Sunday, July 29, 2012, in London. (AP Photo/Paul Sancya)

Australia's Scott Brennan, right, and David Crawshay stroke during a men's rowing double sculls repechage in Eton Dorney, near Windsor, England, at the 2012 Summer Olympics, Sunday, July 29, 2012. (AP Photo/Natacha Pisarenko)

Anna Kravchenko of Ukraine's women's double scull team, carries her boat in Eton Dorney, near Windsor, England, at the 2012 Summer Olympics, Sunday, July 29, 2012. (AP Photo/Chris Carlson)

Olympics Day 2 - Equestrian

LONDON, ENGLAND - JULY 29: (L-R) Princess Anne, Princess Royal and Prince Philip, Duke of Edinburgh smile whilst watching the Dressage Equestrian event on Day 2 of the London 2012 Olympic Games at Greenwich Park on July 29, 2012 in London, England. (Photo by Alex Livesey/Getty Images)

Olympics Day 2 - Equestrian

LONDON, ENGLAND - JULY 29: (L-R) Peter Phillips and Princess Anne, Princess Royal look on during Day 2 of the London 2012 Olympic Games at Greenwich Park on July 29, 2012 in London, England. (Photo by Alex Livesey/Getty Images)

Olympics Day 2 - Equestrian

LONDON, ENGLAND - JULY 29: (L-R) Princess Anne, Princess Royal and Prince Philip, Duke of Edinburgh smile whilst watching the Dressage Equestrian event on Day 2 of the London 2012 Olympic Games at Greenwich Park on July 29, 2012 in London, England. (Photo by Alex Livesey/Getty Images)

London Olympic Games - Day 2

Great Britain's Zara Phillips competes on High Kingdom in the Dressage stage of the Eventing at Greenwich Park, London on the second day of the London 2012 Olympics.

London Olympic Games - Day 2

Great Britain's Zara Phillips waves on High Kingdom after the Dressage stage of the Eventing at Greenwich Park, London on the second day of the London 2012 Olympics.

London Olympic Games - Day 2

Great Britain's Ieuan Lloyd during his Men's 200m Freestyle Heat at the Aquatics Centre, London, on the second day of the London 2012 Olympics.

London Olympic Games - Day 2

USA's Ryan Lochte after his Men's 200m Freestyle Heat at the Aquatics Centre, London, on the second day of the London 2012 Olympics.

London Olympic Games - Day 2

Great Britain's Gemma Spofforth after her Women's 100m Backstroke Heat at the Aquatics Centre, London, on the second day of the London 2012 Olympics.

London Olympic Games - Day 2

Great Britain's Rebecca Adlington on her way to winning her Women's 400m Freestyle Heat at the Aquatics Centre, London, on the second day of the London 2012 Olympics.

London Olympic Games - Day 2

Great Britain's Rebecca Adlington before her Women's 400m Freestyle Heat at the Aquatics Centre, London, on the second day of the London 2012 Olympics.

London Olympic Games - Day 2

Great Britain's Rebecca Adlington waves after winning her Women's 400m Freestyle Heat at the Aquatics Centre, London, on the second day of the London 2012 Olympics.

London Olympic Games - Day 2

Great Britain's Mark Hunter (right) and Zac Purchase in action in their heat in the men's lightweight double sculls at Eton Dorney during the second day of the London 2012 Olympics.

London Olympic Games - Day 2

Great Britain's Georgia Davies during her Women's 100m Backstroke Heat at the Aquatics Centre, London, on the second day of the London 2012 Olympics.

Olympics Day 2 - Basketball

LONDON, ENGLAND - JULY 29: Tiago Splitter #15 of Brazil shoots the ball against Matt Nielsen #14 of Australia during their Men's Basketball game on Day 2 of the London 2012 Olympic Games at the Basketball Arena on July 29, 2012 in London, England. (Photo by Christian Petersen/Getty Images)

Olympics Day 2 - Archery

LONDON, ENGLAND - JULY 29: Natalia Valeeva of Italy in action during the Women's Team Archery Eliminations match between China and Italy on Day 2 of the London 2012 Olympic Games at Lord's Cricket Ground on July 29, 2012 in London, England. (Photo by Paul Gilham/Getty Images)

Olympics Day 2 - Fencing

LONDON, ENGLAND - JULY 29: Man Zhong of China celebrates after winning the Men's Sabre Individual Fencing round of 32 match against Junghwan Kim of Korea on Day 2 of the London 2012 Olympic Games at ExCeL on July 29, 2012 in London, England. (Photo by Hannah Johnston/Getty Images)

An Italy supporter arrives in the rain for the Artistic Gymnastics team qualification at the North Greenwich Arena, London, on the second day of the London 2012 Olympics. Picture date: Sunday July 29, 2012. Photo credit should read: Anthony Devlin/PA Wire

Great Britain's Zara Phillips waves on High Kingdom after the Dressage stage of the Eventing at Greenwich Park, London on the second day of the London 2012 Olympics. Picture date: Sunday July 29, 2012. Photo credit should read: Steve Parsons/PA Wire

Ireland's Sycerika McMahon after her heat of the Women's 100m Breaststroke at the Aquatics Centre, London, on the second day of the London 2012 Olympics. Picture date: Sunday July 29, 2012. Photo credit should read: Martin Rickett/PA Wire

Great Britain's Rebecca Adlington consoles compatriot Joanne Jackson (top) after the Women's 400m Freestyle Heats at the Aquatics Centre, London, on the second day of the London 2012 Olympics. Picture date: Sunday July 29, 2012. Photo credit should read: Martin Rickett/PA Wire

Great Britain's Naomi Folkard shoots during the Women's Team 1/8 Elimanations against Russia at Lord's Cricket Ground, London, on the second day of the London 2012 Olympics. Picture date: Sunday July 29, 2012. Photo credit should read: Julien Behal/PA Wire

Great Britain's women's eight crew Great Britain's women's eight of (left to right) Cox Caroline O'Connor, Victoria Thornley, Katie Greves, Annabel Vernon, Natasha Page, Lindsey Maguire, Jessica Eddie, Louisa Reeve and Olivia Whitlam prepare at the start of their heat at Eton Dorney during the second day of the London 2012 Olympics. Picture date: Sunday Sanni July 29, 2012. Photo credit should read: Stephen Pond/PA Wire

Great Britain's Kate Haywood after her heat of the Women's 100m Breaststroke at the Aquatics Centre, London, on the second day of the London 2012 Olympics. Picture date: Sunday July 29, 2012. Photo credit should read: Martin Rickett/PA Wire.

A fan wears an Olympic themed hat before the Women's Road Race along the Mall on day Two of the Olympic Games in London. Picture date: Sunday July 29, 2012. See PA story OLYMPICS Cycling Road. Photo credit should read: John Giles/PA Wire

The Duke of Edinburgh watches the Dressage stage of the Eventing at Greenwich Park, London on the second day of the London 2012 Olympics. Picture date: Sunday July 29, 2012. Photo credit should read: Andrew Milligan/PA Wire

Princess Anne watches the Dressage stage of the Eventing at Greenwich Park, London on the second day of the London 2012 Olympics. PRESS ASSOCIATION Photo. Picture date: Sunday July 29, 2012. Photo credit should read: Andrew Milligan/PA Wire

Germany's Max Hartung (R) celebrates next to South Korea's Gu Bongil during their round of 16 competition at the Men's Individual Sabre event in ExCeL at the London 2012 Olympic Games, London, Great Britain, 29. July 2012. Photo: Marius Becker

USA's Timothy Morehouse and Belarus' Dmitri Lapkes react during the men's individual sabre round of 16 fencing at the 2012 Summer Olympics, Sunday, July 29, 2012, in London. (AP Photo/Dmitry Lovetsky)

Alexey Panfili of Kazakhstan shoots against Spain in a preliminary water polo match at the 2012 Summer Olympics, Sunday, July 29, 2012, in London. (AP Photo/Julio Cortez)

Rosalba Forciniti of Italy celebrates her win over Kyung-Ok Kim of South Korea during the women's -52kg judo competition at the 2012 Summer Olympics, Sunday, July 29, 2012, in London. (AP Photo/Paul Sancya)

Rosalba Forciniti of Italy (in blue) competes against Kyung-Ok Kim of South Korea during the women's -52kg judo competition at the 2012 Summer Olympics, Sunday, July 29, 2012, in London. (AP Photo/Paul Sancya)

Italian gymnast Vanessa Ferrari performs on the balance beam during the artistic gymnastics women's qualification at the 2012 Summer Olympics, Sunday, July 29, 2012, in London. (AP Photo/Gregory Bull)

Tarlan Karimov of Azerbaijan (in blue) competes against Musa Mogushkov of Russia during the men's -66kg judo competition at the 2012 Summer Olympics, Sunday, July 29, 2012, in London. (AP Photo/Paul Sancya)

China's Guo Wenjun reacts after realizing she has won gold following the final round of shooting in the women's 10-meter air pistol event at the 2012 Summer Olympics, Sunday, July 29, 2012, in London. (AP Photo/Rebecca Blackwell)

Russia's Dmitriy Muserskiy (13, left) celebrates with Alexey Obmochaev (20) after a point against Germany during a men's volleyball preliminary match at the 2012 Summer Olympics Sunday, July 29, 2012, in London. (AP Photo/Chris O'Meara)

France's Coralie Balmy reacts after competing in a women's 400-meter freestyle swimming heat at the 2012 Summer Olympics, Sunday, July 29, 2012, in London. (AP Photo/Daniel Ochoa De Olza)

Australia's Patrick Mills celebrates after hitting a 3-point shot and being fouled by Brazil during a men's basketball game at the 2012 Summer Olympics, Sunday, July 29, 2012, in London. (AP Photo/Charles Krupa)

Brazilian gymnast Harumy Mariko de Freitas cries after a performance during the artistic gymnastics women's qualification at the 2012 Summer Olympics, Sunday, July 29, 2012, in London. (AP Photo/Gregory Bull)

Prince Albert II of Monaco and Princess Charlene of Monaco attend the swimming competitions in Aquatics Centre at the London 2012 Olympic Games, London, Great Britain, 29 July 2012. Photo: Michael Kappeler

Mexican gymnast Elsa Garcia Rodriguez Blancas performs on the balance beam during the Artistic Gymnastics women's qualification at the 2012 Summer Olympics, Sunday, July 29, 2012, in London. (AP Photo/Gregory Bull)

Romania's Florin Zalomir and Iran's Mojtaba Abedini compete during the Men's Sabre round of 64 fencing at the 2012 Summer Olympics, Sunday, July 29, 2012, in London. (AP Photo/Andrew Medichini)

Konstantinos Mourikis of Greece walks with ice on his shoulder after his team lost 8-6 to Croatia in a preliminary water polo match at the 2012 Summer Olympics, Sunday, July 29, 2012, in London. (AP Photo/Julio Cortez)