What do you buy the girl who has everything? A Louis Vuitton waffle maker, obviously.
If only… sadly this princely kitchen gadget is a one-off, created by artist Andrew Lewicki.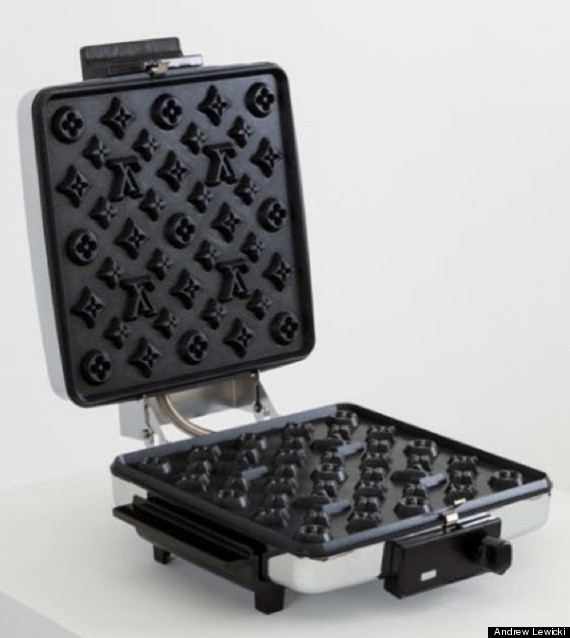 Designer breakfast: The Louis Vuitton waffle maker by Andrew Lewicki
Featuring the embossed design that has made the designer luggage a staple for the A-list, it seems a crying shame this isn't in production, particularly given so many people appear to want one.
We can imagine Victoria Beckham having one (although never using it, heaven forbid), it would probably look at home in a Kardashian kitchen too.
With this in mind, what further designer products would you like to see? Gucci contact lenses? A Chanel colander? Perhaps a Prada lawnmower? Leave your comments below.
Here are some fashion inventions that aren't quite as cool as this one.
Loading Slideshow
Worst Fashion Inventions

Glow-In-The-Dark Jeans

Wondering what to get the club kid who has everything? Try glow-in-the-dark jeans. Naked & Famous <a href="http://www.nakedandfamousdenim.com/blog/glow-in-the-dark-jeans/" target="_hplink">created these stunners</a> by baking a phosphorescent coating into the fabric. If left out in sunlight or under a light bulb, they'll beam like glow sticks. As an added bonus: "After you beat them up a bit the wear patterns will cause the coating to fade in certain parts of the jean and will create a unique piece of glowing art," Naked & Famous <a href="http://www.nakedandfamousdenim.com/blog/glow-in-the-dark-jeans/" target="_hplink">writes on its blog</a>. What's next for the company? <a href="http://news.discovery.com/tech/scratch-sniff-jeans-120128.html" target="_hplink">Scratch-and-sniff jeans</a>.

Heel Condoms

Dressing sexy just got a little safer -- and uglier -- with Heel Condoms. Roll on one of these babies to protect your heels from damage and to make your shoes <a href="http://www.theheelcondoms.com/pages/about-us" target="_hplink">what the company calls a "conversation piece."</a> Did you really want to have a conversation about condoms for your shoes? Didn't think so.

Temporary Lip Tattoos

Lip service took on a whole new meaning with Violent Lips' Temporary Lip Tattoos, which come in such questionable styles as fishnet, cheetah and Glitteratti. Luckily, the tattoos are temporary stick-ons, although the embarrassment from wearing them might haunt you for life.

Cleavage Covers

Say goodbye to embarrassing nip slips with Cami Secret, a dickie that snaps onto a bra to cover up that pesky cleavage.