South Korean fencer Shin Lam provided some of the most dramatic scenes yet at London 2012 as she staged a tearful hour-long protest on Monday night after losing in the women's individual epee semi-final.
Shin, 25, lost to Germany's Britta Heidemann with 0:01 seconds left in extra time, meaning she would miss out on the chance to compete for the gold medal, with Heidemann's winning blow seemingly struck after the clock had run out.
Shin, and the crowd, had initially believed the clock had expired just before a coming-together led the match referee to restart the bout with a single second on the clock.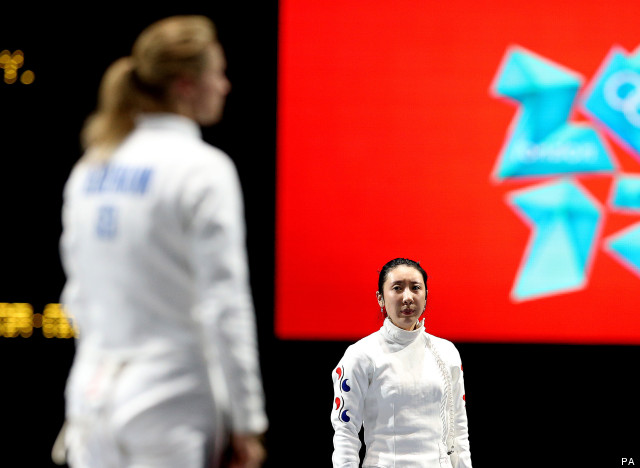 Shin, left, and Heidemann wait to hear how the match would be called by the referee
As the match was restarted, the German was able to make one last attack, catching Shin and appearing to win 6-5.
Despite the South Korean coach, Shim Jaesung's, feisty protests with the judges, a desperate half-hour appeal upheld the result.
Shin remains on the piste, refusing to accept her controversial defeat
Heidemann left to prepare for her gold medal match while Shin remained sat on the piste for over an hour, postponing the next round of matches.
The South Korean, who went on to lose bronze medal match to China's Yujie Sun, only left after being escorted from the arena by officials and running the risk of being given a 'black card', the severest form of offence in the sport that could result in a suspension.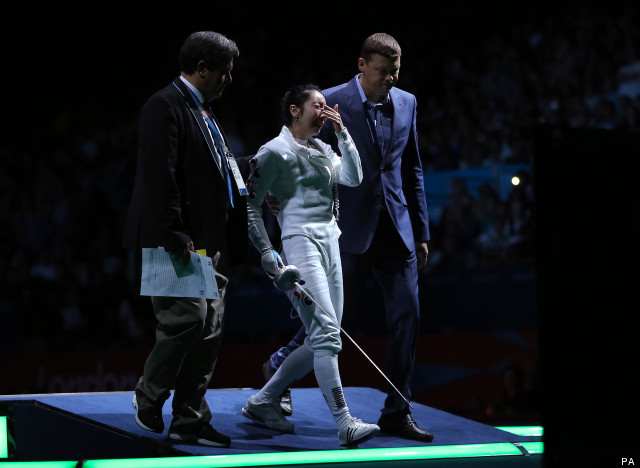 The South Korean only left the arena after being escorted by officials
The crowd cheered Shin for her courage, determindness and unwillingness to stand down, as she left, still in tears after the devastating result.
"I am very emotional. I should have won," the 25-year-old later said, while Heidemann explained that "whenever there is a hit [the clock] always goes back to one second. I have experienced this against myself before and I am happy with the decision."
Despite the incredible turn of events, Heidemann was unable to win the gold medal bout, losing to Ukraine's Yana Shemyakina.