The men's eight rowing team took bronze for Britain in a nail-biting finish at Dorney Lake on Wednesday.
Team GB was overtaken by Canada at the last, making for a tense and frustrating watch. Led by Constantine Louloudis, who was rowing on his home course, the eight demonstrated the fast start they'd showed off in their repechage.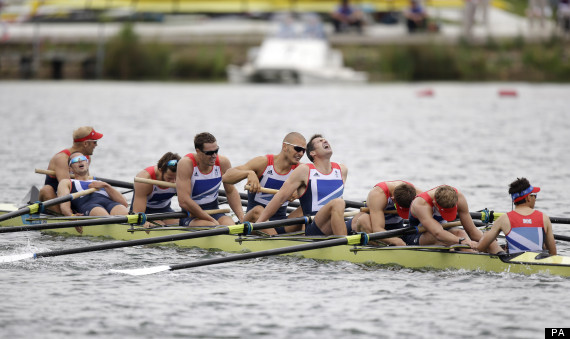 The team are visibly exhausted and disappointed after a hard race resulted in coming third
Germany, showing their strength from the start, stretched out into their rhythm and took the lead in lane four.
At the halfway 1000m mark, Britain was fast on Germany's heels, and at 1250m, finally overtook the German boat. But this was a momentary and short-lived glimmer of golden hope as Germany responded to the pressure and upped the rate.
The German team pushed on hard in the last 500m, while the British boys showing signs of flagging after their stirling start.
In a tense last quarter, the Canadians, who had sat behind for the majority of the race, made a huge push and surged ahead of Great Britain.
As Germany surged ahead, Britain dropped behind, giving Canada the opportunity to to take the silver by inches.
It was the British team's first row in their current team this season, so despite handing over the silver to Canada and failing to successfully challenge the German world champions, they put in a highly commendable performance and fought to the end.
SEE ALSO:
Related on HuffPost: