The father of Sarah Palin's grandson is reportedly seeking full custody of his son Tripp, after the three-year-old was filmed yelling "f**k" on his mother's reality TV show.
Levi Johnston told TMZ he is "disgusted" by his son's language and behaviour and that he fears he is on a "downward spiral" with "no real parenting".
The clip from Life's A Tripp, shows the toddler having a tantrum as his mother Bristol and her sister Willow try to calm him.
Bristol warns: "God is watching" as the little boy whines: "I hate you guys!", before he shrieks: "Go away you f**k!".
Scroll down for more pictures and video of Tripp's outburst Levi Johnston is seeking full custody of his son, TMZ reports
The clip then cuts to Bristol admitting: "I'm doing a terrible job disciplining Tripp...I know he's going to continue to push the boundaries."
Initial reports claimed Tripp had actually uttered the word "faggot" – a touchy subject with the Palin clan, with both Sarah and Bristol openly opposing gay marriage.
Bristol later penned a blog refuting the reports. Under the title "Setting the record straight", Bristol wrote: "Let me be clear. I'm not proud of what he did say. Sadly he used a different 'f-word.'
"Lifetime filmed over 12 months (on and off) and they caught a moment on film that could cause any parent to be red in the face.
"Tripp is always surrounded by adults – around the campfires with cousins and their friends, at the shop with my dad and his snowmachine buddies. He's apparently picked up some language that I'd prefer he not use. On national television or at home."
Levi, however, looks to be at the end of his tether, with TMZ claiming he has already collected the paperwork he needs to file for sole custody of his son.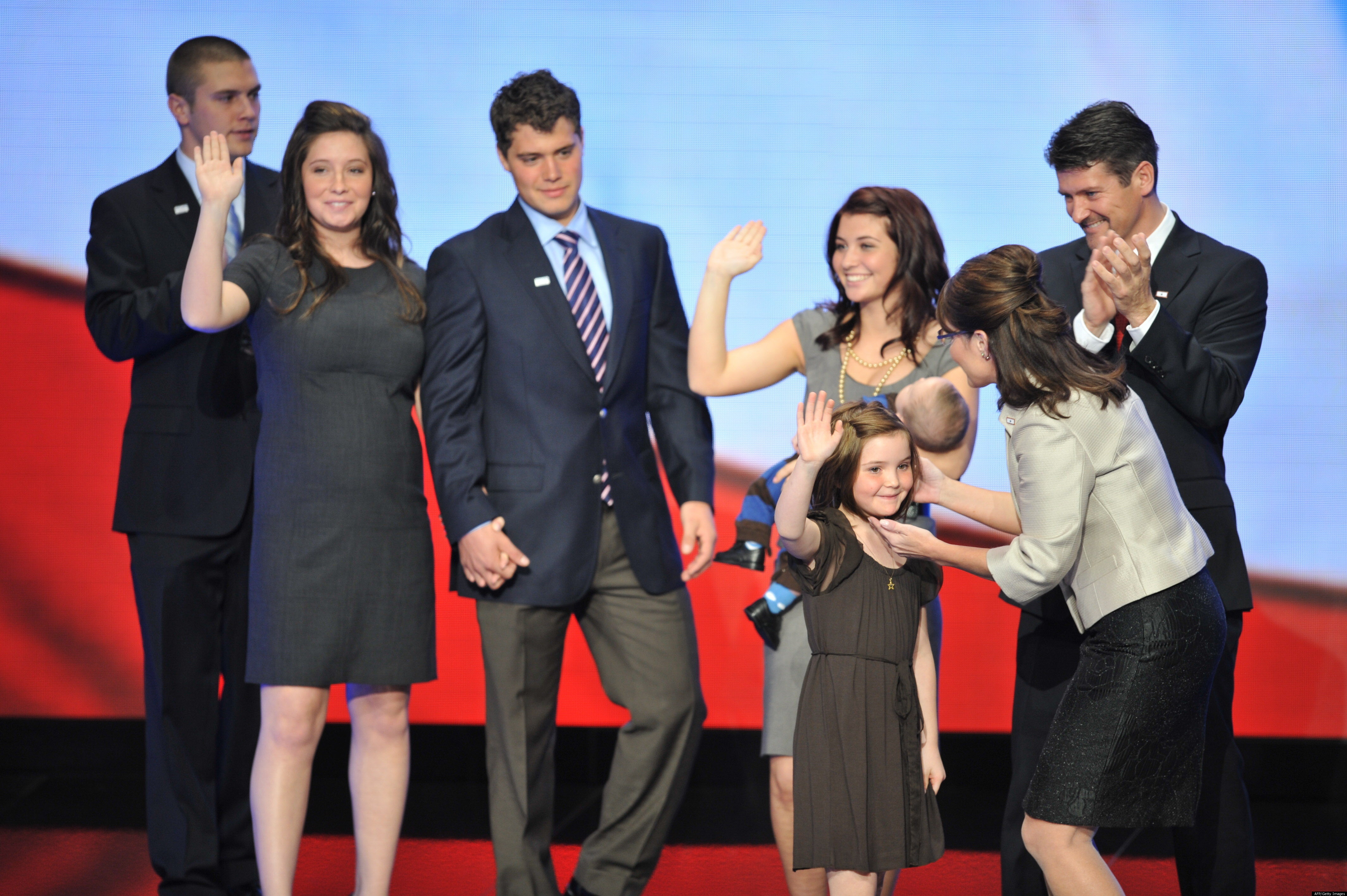 The way they were: Levi with Bristol, and the rest of the Palin clan at the Republican National Convention at the Xcel Energy Center in St. Paul, Minnesota, on 3 September, 2008
He added: "I love my son more than anything… and I will do whatever it takes to make sure he is raised the right way."
The 21-year-old was hurled into the limelight in 2008 after it emerged he was expecting a baby with the then vice presidential candidate's daughter.
The pair became engaged shortly before son Tripp's birth, but ended their relationship after a number of very public feuds.
Levi, an aspiring actor and model, has posed for Playgirl magazine.
While promoting his book, Deer In The Headlights: My Life in Sarah Palin's Crosshairs, the 21-year-old told Huffington Post in September last year he only sees his son around once a month.
He also claimed Bristol, who was 18 when she gave birth, deliberately got pregnant because she was jealous of her mother's pregnancy.
Palin gave birth to her fifth child, a son named Trig in 2008.
Johnston said: "Bristol was on birth control for a long time. She got off it soon after Trig [Sarah Palin's son] was born. I think Trig was a big motivator for her. Her mother just had a child and I think Bristol was really jealous. She was the one who was supposed to have that kid and that's when she got off of [birth control]. We weren't practicing safe sex and she ended up getting pregnant."
For her part, Bristol released her own book Not Afraid Of Life: My Journey So Far, detailing how she lost her virginity to Johnston after getting drunk on a camping trip.
Below, a look back Johnston's time in the limelight with the Palin family, and his famous ex's best (and worst) fashion moments.

Loading Slideshow
July 2004 with mom Sarah and sisters Piper & Willow

(Getty photo)

September 2008 in St. Louis, Missouri

(Getty photo)

September 2008 at the Republican National Convention

(Getty photo)

September 2008 with Levi Johnston in Minneapolis

(Getty photo)

August 2008 at an Ohio campaign rally

(AP photo)

May 2009 at a Candie's Foundation event

(Getty photo)

May 2010 with Drew Pinksy at the "Teen Mom Tell All" conference

(Getty photo)

May 2010 at a Candie's Foundation event

(Getty photo)

July 2010 with Levi Johnston and son Tripp

(Getty photo)

September 2010 at the "Dancing With The Stars" premiere

(Getty photo)

September 2010 in workout gear

(Getty photo)

October 2010 with Mario Lopez

(Getty photo)

November 2010 at "Dancing With The Stars"' 200th Episode

(Getty photo)

November 2010 leaving "Good Morning America"

(Getty photo)

December 2010 on ABC's "Dancing With The Stars"

(AP photo)

February 2011 at the Reagan Ranch Center

(Getty photo)

April 2011 with her aunt, Molly McCann

(Getty photo)

April 2011 at an MSNBC after-party

(Getty photo)

May 2011 at a Candie's Foundation event

(Getty photo)

July 2011 with Colbie Caillat

(Getty photo)