Nicola Adams has become the first ever women's boxing champion at the Olympics after she defeated China's Ren Cancan 16-7 in the London 2012 women's flyweight final.
Over four two minute rounds, the 29-year-old dominated her overawed opponent to make Games history in the first boxing final of these Games.
Tinchy Strider arrived prior to Adams' bout, ostensibly to lift the atmosphere inside the ExCel Arena, but his presence was superfluous compared to the capacity crowd.
The Republic of Ireland's Katie Taylor was participating in the women's light final after Adams, which guaranteed the vast crowd would be dominated by her countrymen.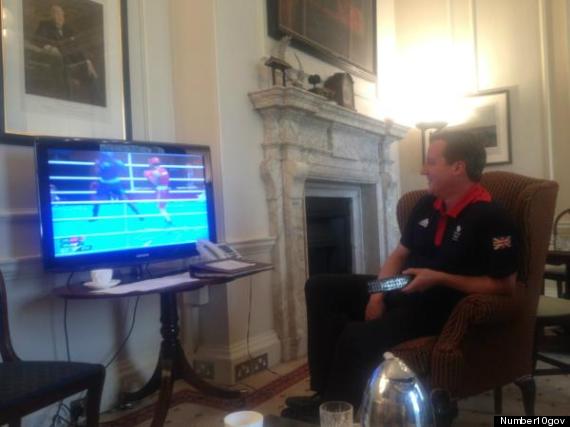 The PM watching Nicola Adams boxing


Green, white and orange dominated the spectator landscape, as Ireland descended upon London Docklands, while only a few dollops of red, blue and white symbolised Great Britain. Goodness knows what it must have been like at this year's European Championship, as the temporary grandstands shook with fervour.
Great Britain and the Republic were united nations when Adams arrived to the Rolling Stones' Start Me Up, as the adrenaline surged. The Chinese Cancan even earned a few boos when her name was announced, a rarity at an Olympics.
After the first round, Adams led the three-time world champion 4-2 after landing a couple of emphatic punches, but it was in the second round she landed the knockout blow, literally. Adams was buzzing off the crowd and stinging her opponent, rattled by the intimidation factor inside and outside the ring and her lead was extended to 9-4.
Halfway to becoming the first female boxing champion at an Olympics, the third round was a more cautious affair, but Adams landed considerably more jabs than her younger opponent. Although a less spectacular 120 seconds, her lead was now an almighty 14-5 and victory was within her reach.
The final two minutes were seen out with professional ease, before "Babyface" was announced as winner to send the encouraging crowd delirious.
According to her profile on the official London 2012 website, Adams a career-threatening back injury in 2009 when she fell down a flight of stairs and was out of action for almost a year.
Rehabilitation reaps rewards, and Adams told the BBC after her victory the "support from home" had spurred her on.
"I've just won the biggest fight of my life. I'm just so happy. I'm overwhelmed with joy right now. It's really made my day." And her career.
Loading Slideshow
GOLD - Super Heavy Weight

Great Britain's Anthony Joshua celebrates with his Gold medal following his Super Heavy Weight Final against Italy's Roberto Cammarelle on day sixteen of the Olympic Games at the ExCeL, London. (Photo credit: PA)

GOLD - Men's 5000m Gold medalist Mohamed Farah of Great Britain poses on the podium during the medal ceremony for the Men's 5000m on Day 15 of the London 2012 Olympic Games at Olympic Stadium on August 11, 2012 in London, England. (Photo by Clive Brunskill/Getty Images)

GOLD - Men's Boxing Bantam 56kg Great Britain's Luke Campbell with his Men's Boxing Bantam 56kg gold medal at the ExCeL Centre, London, on day 15 of the London 2012 Olympics. Picture date: Saturday August 11, 2012. Photo credit should read: Nick Potts/PA Wire.

GOLD - Men's Kayak Single 200m Canoe Sprint Great Britain's Ed McKeever displays the gold medal he won in the men's kayak single 200m in Eton Dorney, near Windsor, England, at the 2012 Summer Olympics, Saturday, Aug. 11, 2012. (AP Photo/Natacha Pisarenko)

GOLD - Women's Taekwondo 57kg bout Great Britain's Jade Jones with her gold medal for winning the final of Women's Taekwondo -57kg bout in the Excel Arena, London. Picture date: Tuesday July 24, 2012. (Julien Behal/PA Wire

GOLD - Women's Fly 55kg

Great Britain's Nicola Adams with her gold medal after her fight with China's Canacan Ren during the Women's fly 55kg fight in he South Arena 2 in the Excel Arena, London. (Photo credit: PA)

GOLD - Equestrian Dressage Individual Grand Prix Freestyle

Great Britain's Charlotte Dujardin celebrates after winning gold in the Equestrian Dressage Individual Grand Prix Freestyle at Greenwich Park during day 13 of the London 2012 Olympics, London. (Photo credit: PA)

GOLD - Women's Omnium

Great Britain's Laura Trott celebrates winning Gold in the Women's Omnium on day Eleven of the Olympic Games at the Velodrome in London. (Photo credit: PA)

GOLD - Men's Keirin

Great Britain's Chris Hoy celebrates winning the Men's Keirin final on day eleven of the Olympic Games at the Velodrome, Olympic Park, London. (Photo credit: PA)

GOLD - Dressage

Charlotte Dujardin, Carl Hester and Laura Bechtolsheimer (L-R) of Great Britain celebrate with their gold medals after the medal cerermony for the London 2012 olympic dressage competition at Greenwich Park in London, Britain, 07 August 2012. (Photo credit: PA)

GOLD - Men's Triathlon

Gold medallist Britain's Alistair Brownlee celebrates on the podium of the men's triathlon event at the London 2012 Olympic Games on August 7, 2012 in London. (Photo credit: FABRICE COFFRINI/AFP/GettyImages)

GOLD - Cycling, Men's Sprint

Great Britain's Jason Kenny celebrates winning the gold medal after winning the Men's Sprint Final Race 2 against France's Gregory Bauge at the Velodrome in the Olympic Park, on the tenth day of the London 2012 Olympics. (Photo credit: PA)

GOLD - Equestrian Team Jumping

Great Britain's (from left to right) Peter Charles, Ben Maher, Scott Brash and Nick Skelton celebrate with their Gold medals at a press conference after the Equestrian Team Jumping, during day ten of the London 2012 Olympics. (Photo credit: PA)

GOLD - Men's Singles Tennis Tournament

Great Britain's Andy Murray poses with his gold medal at the end of the men's singles tennis tournament of the London 2012 Olympic Games, at the All England Tennis Club in Wimbledon, southwest London, on August 5, 2012. (Photo credit: LUIS ACOSTA/AFP/GettyImages)

GOLD - Finn Sailing Class

Britain's Ben Ainslie acknowledges the applause on the podium after receiving the gold medal in the Finn sailing class at the London 2012 Olympic Games, in Weymouth on August 5, 2012. (Photo credit: WILLIAM WEST/AFP/GettyImages)

GOLD - Heptathlon

Great Britain's Jessica Ennis celebrates with her Gold Medal after winning the Heptathlon at the Olympic Stadium, London, on the eighth day of the London 2012 Olympics. (Photo credit: PA)

GOLD - Men's 10,000m

Mohamed Farah of Great Britain celebrates winning gold in Men's 10,000m Final on Day 8 of the London 2012 Olympic Games at Olympic Stadium on August 4, 2012 in London, England. (Photo credit: Stu Forster/Getty Images)

GOLD - Men's Long Jump

Greg Rutherford of Great Britain celebrates winning gold in the Men's Long Jump Final on Day 8 of the London 2012 Olympic Games at Olympic Stadium on August 4, 2012 in London, England. (Photo credit: Stu Forster/Getty Images)

GOLD - Women's Team Pursuit Track Cycling

(L-R) Dani King, Laura Trott, and Joanna Rowsell of Great Britain celebrate with their Gold medals during the medal ceremony for the Women's Team Pursuit Track Cycling Finals after breaking the World Record on Day 8 of the London 2012 Olympic Games at Velodrome on August 4, 2012 in London, England. (Photo credit: Bryn Lennon/Getty Images)

GOLD - Track Cycling, Team Sprint

Great Britain's (left to right) Jason Kenny, Philip Hindes and Sir Chris Hoy with their gold medals for the team sprint in the track cycling at the Velodrome in the Olympic Park, London. (Photo credit: PA)

GOLD - Cycling, Men's Team Pursuit

Great Britain's Ed Clancy (left), Geraint Thomas (right), Steven Burke (second left) and Peter Kennaugh celebrate with their Gold medals in the Men's Team Pursuit Final during day seven of the Olympic Games at the Velodrome, London. (Photo credit: PA)

GOLD - Women's Double Sculls

Great Britain's Katherine Grainger (left) and Anna Watkins celebrate winning gold in the women's double sculls at Eton Dorney Rowing Lake, Windsor. London Olympic Games - Day 7

GOLD - Men's Canoe Double

Great Britain's Tim Baille (l) and Elienne Stott receive their gold medals in the mens canoe double final. (Photo credit: Mike Egerton/PA Wire.)

GOLD - Cycling, Men's Individual Time Trial

Gold medalist Bradley Wiggins, of Britain, celebrates on the podium after the men's individual time trial cycling event at the 2012 Summer Olympics, Wednesday, Aug. 1, 2012, in London. (Photo credit: AP Photo/Matt Rourke)

GOLD - Rowing, Helen Glover and Heather Stanning

Helen Glover and Heather Stanning Team GB Olympic Gold Medalists for Women's rowing on stage at the BT River Concerts in Hyde Park in London. (Photo credit: PA)

GOLD - Men's Rowing Four

Great Britain's Andrew Triggs Hodge, Tom James, Pete Reed and Alex Gregory celebrate on the podium after winning the gold medal for the men's rowing four in Eton Dorney, near Windsor, England, at the 2012 Summer Olympics, Saturday, Aug. 4, 2012. (Photo credit: AP Photo/Natacha Pisarenko)

GOLD - Lightweight Women's Rowing Double Sculls

Great Britain's Katherine Copeland, left, and Sophie Hosking show their gold medals for the lightweight women's rowing double sculls in Eton Dorney, near Windsor, England, at the 2012 Summer Olympics, Saturday, Aug. 4, 2012. (Photo credit: AP Photo/Natacha Pisarenko)

GOLD - Shooting, Double Trap

Great Britain's Peter Wilson with his gold medal after winning the Double Trap Mens Final at the Royal Artillery Barracks, London. (Photo credit: PA)

GOLD - Cycling, Women's Keirin

Great Britain's Victoria Pendleton celebrates with her Gold medal after winning the Women's Keirin Final at the Velodrome in the Olympic Park, during day seven of the London 2012 Olympics. Picture date: Friday August 3, 2012. (Photo credit: PA)

SILVER - Mixed Doubles

Great Britain's Andy Murray (right) with Mixed Doubles partner Laura Robson after the Victory Ceremony at the Olympic Tennis Venue, Wimbledon. (Photo credit: PA)

SILVER - Women's 400m

Great Britain's Christine Ohuruogu celebrates with her silver medal in the 400m final at the Olympic Stadium, London. (Photo credit: PA)

SILVER - Women's -78kg Judo

Great Britain's Gemma Gibbons celebrates after winning Silver in the Women's -78 kg Judo Final at the Excel Arena, London. (Photo credit: Julien Behal/PA Wire.)

SILVER - Men's Canoe Double

Great Britain's David Florence and Richard Hounslow (silver medals) celebrate with Tim Baille (2nd r) and Elienne Stott (r) (gold medals) in the mens canoe double final. (Photo credit: Mike Egerton/PA Wire.)

SILVER - Rowing, Lightweight Men's Four

Great Britain's Chris Bartley, Richard Chambers, Rob Williams and Peter Chambers in win silver the final of the lightweight men's four at Eton Dorney Rowing Lake, Windsor. (Photo credit: Stephen Pond/PA Wire.)

SILVER - Swimming, Men's 200m Breaststroke Final

Great Britain's Michael Jamieson celebrates his Silver medal following the awards ceremony for the Men's 200m Breaststroke Final at the Aquatics Centre in the Olympic Park, London. (Photo credit:PA)

SILVER - Equestrian, Three-Day Eventing

Nicola Wilson, Zara Phillips, William Fox-Pitt, Kristina Cook and Mary King show off their silver medals at Hyde Park in London. (Photo credit: Ian West/PA Wire)

SILVER - Lightweight Men's Rowing Double Sculls

Great Britain's Mark Hunter, right,and Zac Purchase embrace after winning the silver medal for the lightweight men's rowing double sculls in Eton Dorney, near Windsor, England, at the 2012 Summer Olympics, Saturday, Aug. 4, 2012. (AP Photo/Natacha Pisarenko)

SILVER - Women's Road Race

Great Britain's Lizzie Armitstead with her Silver medal following the Women's Road Race at The Mall, London, on the second day of the London 2012 Olympics. (Photo credit: Mike Egerton/PA Wire.)

SILVER - Men's RS:X Sailing

Great Britain's RS:X Nick Dempsey celebrates after winning the Olympic Silver medal after today's final race in the series at Weymouth. (Photo credit: PA)

SILVER - Star Class Sailing Team

Great Britain's Star class sailing team of Iain Percy (left) and Andrew Simpson after receiving their silver medals today. (Photo credit: PA)

SILVER - Men's Pommel Horse

Great Britain's Louis Smith celebrates with his Silver medal after coming second in the Men's Pommel Horse Final, at North Greenwich Arena, London during day nine of the London 2012 Olympics.

SILVER - Cycling, Women's Sprint

Great Britain's Victoria Pendleton celebrates with her Silver Medal after winning silver in the Women's Sprint, in the Velodrome at the Olympic Park, on the eleventh day of the London 2012 Olympics. (Photo credit: PA)

SILVER - Women's 470 Sailing Great Britain's Hannah Mills (right) and Saskia Clark celebrate winning the silver medal in the Women's 470 class at the Olympics sailing venue in Weymouth and Portland. Picture date: Friday August 10, 2012. Chris Ison/PA Wire

SILVER - Men's 470 Sailing Great Britain's Luke Patience and Stuart Bithell (right) celebrate winning the silver medal in the Men's 470 class at the Olympics sailing venue in Weymouth and Portland. Picture date: Friday August 10, 2012 (Chris Ison/PA Wire

SILVER - Men's Welter Weight

Great Britain's Freddie Evans with his silver medal after losing to Kazakhstan's Serik Sapiyev during the Men's Welter weight Final on day sixteen of the Olympic Games at the ExCeL, London. (Photo credit: PA)

SILVER - Women's Pentathlon

Great Britain's Samantha Murray, with her silver medal which she won in the Women's Pentathlon at Greenwich Park, London, on day 16 of the Olympic Games. (Photo credit: PA)

BRONZE - Men's High Jump

Great Britain's Bronze Medalist Robert Grabarz at the Men's High Jump medal presentation, on the twelfth day of the London 2012 Olympics. (Photo credit: PA)

BRONZE - Rebecca Adlington - 800-meter freestyle swimming

Britain's Rebecca Adlington in the women's 800-meter freestyle swimming final at the Aquatics Centre in the Olympic Park during the 2012 Summer Olympics in London, Friday, Aug. 3, 2012. (Photo credit: AP Photo/Michael Sohn)

BRONZE - Cycling, Men's Individual Time Trial Road

Bronze medallist Christopher Froome of Great Britain celebrates during the victory ceremony after the Men's Individual Time Trial Road Cycling on day 5 of the London 2012 Olympic Games on August 1, 2012 in London, England. (Photo credit: Bryn Lennon/Getty Images)

BRONZE - Artistic Gymnastics

Great Britain's (from left to right) Sam Oldham, Kristian Thomas, Max Whitlock, Louis Smith and Daniel Purvis on the podium after winning the Bronze medals during the Artistic Gymnastics team final at the North Greenwich Arena, London, on the third day of the London 2012 Olympics. (Photo credit: PA)

BRONZE - Rowing, Men's Eight

Great Britain's mens Eight crew of Alex Partride, James Foad, Tom Ransley, Richard Egington, mohammed Sbihi, Greg Searle, Matthew Lanridge, Constantine Louloudis and Phelan Hill pose after winning a bronze medal at Eton Dorney Lake, London. (Photo credit: PA)