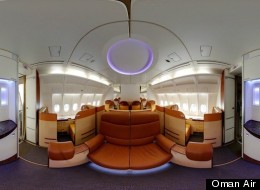 London 2012 has drawn to a close, and the skies above us are filling with exhausted athletes and fans flying home.
Not all of them will be travelling cattle class, though. The rich and famous (you know the ones: they were sitting in the best seats and got tickets to all the most exciting events) will be taking to the air in luxury, sipping champagne and having their every whim catered for. Huffpost Lifestyle has picked out the gold medalists in luxury air travel for your perusal.
First Class Flying: Luxury Air Cabins
Staying in an Emirates First Class Suite is like booking yourself into a top-notch hotel: its 14 private suites (each costing £80,000 to create), offer a personal video library, massage-enabled leather seats, electric doors, a 23-in LCD screen, a dining table where you can eat a seven-course tasting menu on fine bone china, a built-in vanity table, luxury nightwear, and a beauty bag. Plus, Emirates is the first airline to install two fully-equipped bathrooms, called Shower Spas, where you can spruce up in style in a proper shower cubicle and changing area, with a hairdryer and full-length mirror. FInish with a spritz of Bvlgari perfume before meeting your friends at the First Class Social Area for a cocktail.

When you fly Upper Class with Virgin, your luxury treatment starts before you've stepped foot on a plane. Head to the Virgin Clubhouse at Heathrow - the £11m flagship lounge - to relax poolside (yes, you read that right), enjoy a sauna or steam room, take in the views on the Observation Deck, get your hair coiffed at the Bumble and Bumble salon, or melt under a massage at the Cowshed at the Clubhouse. Once you're on board, you can slip into a leather armchair, which flips over into a separate bed with a mattress, which claims the title of the longest bed of any airline's business class section.

Forget first class, it's the Singapore Airlines Suites that take luxury to a whole new level. Your very own individual cabin features a hand-stitched leather armchair, sliding doors, window blinds and, wait for it, a proper standalone bed (ie not converted from a seat). Full-sized pillows, a turndown service, and Givenchy sleeper suit, bedding, slippers and tableware, all make for a real-life flight of fancy.

First class with Qatar Airways means exactly that - and you'll be hard-pressed to find a better seat. Like some kind of aviation Transformer, your multi-tasking chair will have built-in massage facilities, as well as the ability to turn into a mini-office, a cinema seat, and comfy flatbed. A five-star dining experience comes courtesy of the fine bone china, a la carte menu and hand-picked wines, while a personal turn down service, designer sleeper suit and soft blanket will help you get a stylish - and deep - snooze. Luxury Prada products in an exclusive amenity kit offer an upmarket post-sleep freshen-up. You won't want to get off...

A 6ft 6in bed, a sheepskin mattress, an eight-course tasting menu, a touch screen TV, and Payot Paris amenity kits are just a clutch of treats that'll have you feeling on top of the world in Qantas first class. What's more, you've also got your own personal phone and text messaging service, as well as teddy bear-soft pyjamas and slippers for a truly relaxing experience.

Want to sleep in the longest lie-flat seat on any commercial airliner? Book into Oman Air's First Class Mini Suite, which also boasts a 23-in TV screen. With just six suites in the first class cabin, along with a luxurious lounge area, it's an ultra-exclusive area, akin, it says, to 'flying in an executive private jet'.

British Airways describes its first class experience as a 'veritable retreat in the sky' - and it's not kidding. Pre-flight, you can head to one of over 60 lounges, but it's the Concorde Room at London Heathrow Terminal 5 and New York's JFK that'll blow you away. Private cabanas offer day-beds and ensuite bathrooms, while the Elemis Travel Spa can cater to your every pampering whim. When you take to the skies, you'll be treated to a space with your own wardrobe, the first electronic blinds on a commercial aircraft, and a 400-thread Egyptian cotton duvet. When it's time to nod off, you can request the Turndown Service, and when it's time to wake up, you can treat yourself to the Dr Harris & Co goodies in your Anya Hindmarch bag.