An artist has captured a hauntingly beautiful set of pictures of men, women and children with albinism.
Gustavo Lacerda has been photographing people with albinism, who are distinctive for their pale hair skin and eyes, since 2009.
The condition is caused by a mutation in one of several genes which results in a partial or complete loss of pigmentation of the eyes, skin and hair.
Scroll down for more pictures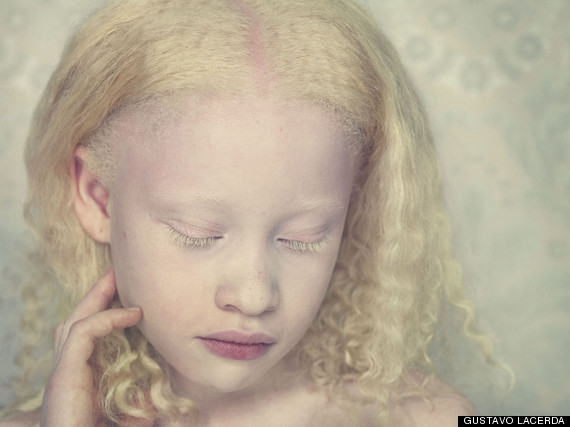 A little girl thoughtfully tucks her hair behind her ear
Albinism is a hereditary condition, but occurs only when both parents have albinism genes and leads to wider health issues, including impaired vision.
He told Huffington Post UK in an email: "The idea was to put them clearly in the forefront, a new situation for those who have always been an outsider.
"This focus has caused them discomfort in the beginning… but at the same time, a pride too. "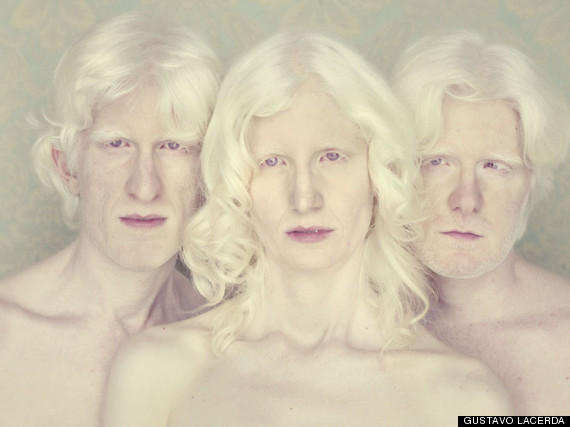 A woman flanked by two men gaze into Lacerda's lens
In East Africa the mistaken belief that body parts from people with albinism have magical powers has driven thousands into hiding.
Thousands of people with albinism have been mutilated and murdered for their body parts, with a set of dismembered limbs reportedly being worth $75,000.
According to Scientific American, believers are weaving hair into their fishing nets and fashioning amulets with the body parts of people with albinism, hoping for riches and good fortune.
Charities and NGOs including the Albinism Society of Kenya exist to provide awareness of the condition and champion the rights of those affected.
For further support and advice, visit Albinism Fellowship UK & Ireland.
Loading Slideshow
GUSTAVO LACERDA

GUSTAVO LACERDA

GUSTAVO LACERDA

GUSTAVO LACERDA

GUSTAVO LACERDA

GUSTAVO LACERDA

GUSTAVO LACERDA

GUSTAVO LACERDA

GUSTAVO LACERDA

GUSTAVO LACERDA

GUSTAVO LACERDA

GUSTAVO LACERDA

GUSTAVO LACERDA

GUSTAVO LACERDA

GUSTAVO LACERDA

GUSTAVO LACERDA

GUSTAVO LACERDAGUSTAVO LACERDA

GUSTAVO LACERDA

GUSTAVO LACERDA

GUSTAVO LACERDA

GUSTAVO LACERDA

GUSTAVO LACERDA