They may be arch enemies but Chris Brown and Drake are now a team, as they face a $16m lawsuit filed by the owners of the nightclub where they allegedly had a brawl over Rihanna. Chris Brown and Drake
The rap rivals were allegedly involved in a glass-hurling incident at the W.i.P club in New York back in June and they are now being sued by the owners after their neighbouring sister club Greenhouse lost their liquor license too, which has caused the business to suffer.
The suit was filed by Greenhouse and W.i.P owner John Bakhshi, who claims that his company, Entertainment Enterprises, has lost out on securing a $4m brand expansion deal.
The document obtained by The New York Daily News, was filed in the Manhattan Civil Supreme Court on Tuesday and states that Chris and Drake "began to fight violently" and "each ordered his security personnel, bodyguards, friends and entourage to join the fight".
It also said that the "defendants overran the nightclub's extensive security measures and the brawl overtook the entire space" and "terrorised patrons ran for cover... most were unable to protect themselves".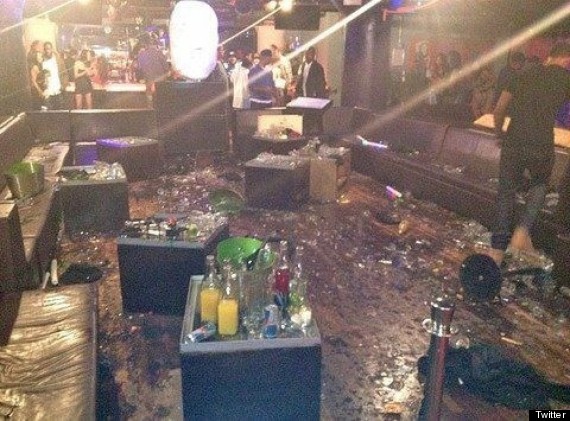 The aftermath of their brawl
The owner claims that as a direct result of this, he lost out on the multi-million dollar deal that was in place before the fight.
"The Greenhouse marks were now associated with the kind of violent, life-threatening riot engaged in by [Brown and Drake], and that they were now worthless," the document said.
It is believed they began brawling over Rihanna, who they have both previously dated, and many bystanders were injured in the incident, including Eva Longoria's ex-husband Tony Parker.
Also on HuffPost: