The annual Foster's Edinburgh Comedy Awards rewarded physical comedy this year, with clown Doctor Brown winning the big prize - Best Comedy Show - and "mime with noise" comedian The Boy With Tape On His Face receiving the Panel Prize. Norwegian stand-up Daniel Simonsen was named Best Newcomer.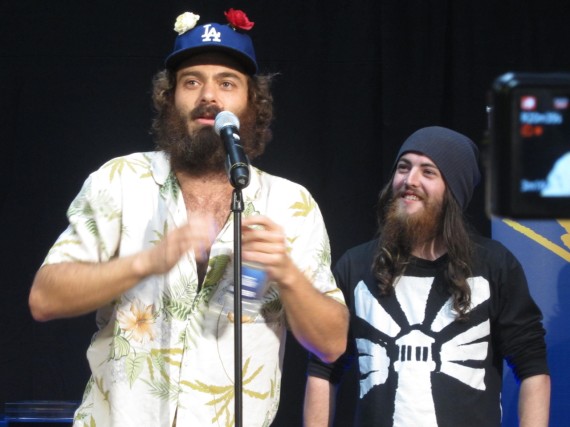 Foster's Comedy Award winner 2012 Doctor Brown (and his friend Ben)
Doctor Brown - aka American comedian Philip Burgers - thanked his "lovers and friends" and most notably, his friend Ben (pictured above), who took to the stage with him to collect his award.
Brown's show Befrdfgth beat a diverse and strong field - Claudia O'Doherty, James Acaster, Josie Long, Tony Law and favourites Pappy's - to take home the £10,000 prize, and he thanked fellow nominees and other comedy performers in his speech. "Bless you," he said. "Keep going. Keep being totally mad and silly."
Praising this year's winner, Nica Burns, the awards' producer, said: "Doctor Brown's show starts with fun pranks and then takes the audience on a roller coaster from inspired lunacy to pulling your heart string. He can express emotion with a gesture, a look or an eyebrow. A breathtakingly brilliant clown with enormous charisma in a fantastic show."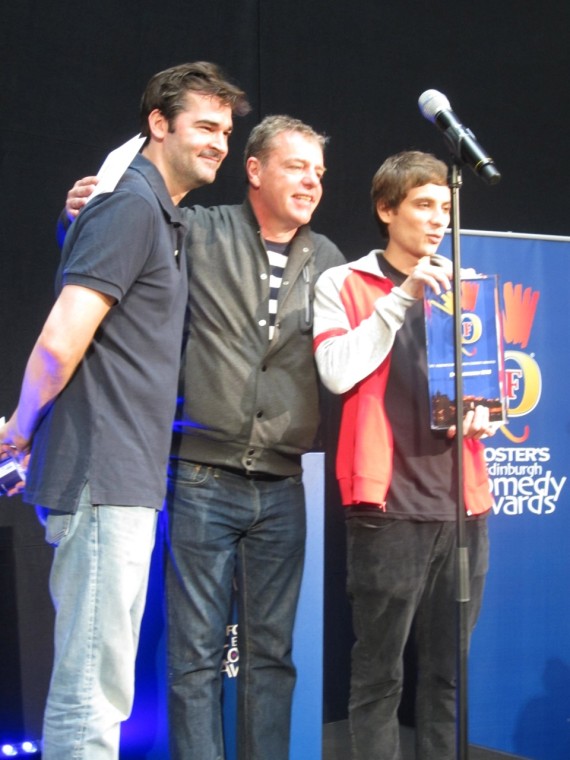 Daniel Simonsen with presenters Suggs and last year's Best Comedy Show winner, Adam Riches

Best Newcomer winner Daniel Simonsen relocated from Norway to London to pursue his dream of being a stand-up - and dedicated his £5,000 award to the therapist who helped him, saying: "Thanks, man - you saved my life."
Simonson beat off fierce competition from David Trent, Ben Target, Joe Lycett and Sam Fletcher - and Burns said he "wowed the judges with his dry witty take on the day-to-day battle with life".
The £5,000 Panel Prize, meanwhile, was won by physical comic and mime The Boy With Tape On His Face - the alias of New Zealander Sam Wills - who collected it without his trademark strip of duct tape over his mouth. "People like it better when I don't speak," he said. "So I'll keep this short... This is really cool!"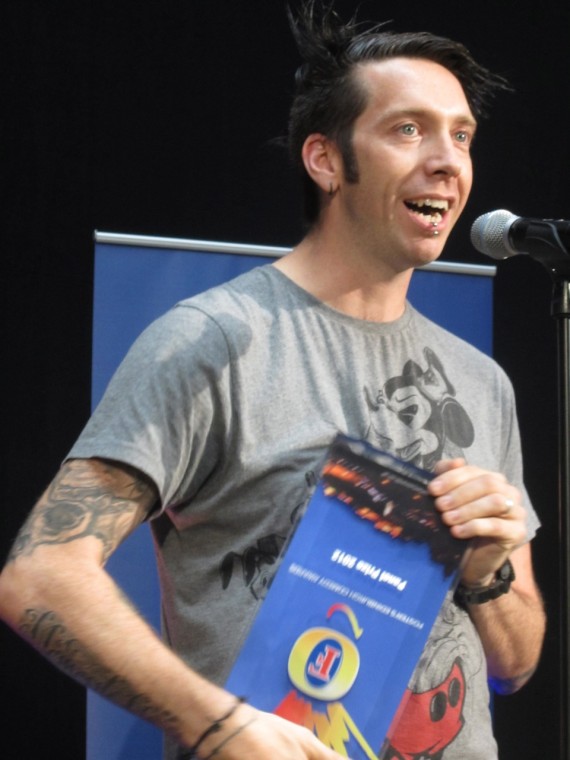 Panel Prize winner The Boy With Tape On His Face - Sam Wills
Wills won the Best Newcomer Award two years ago and has been selling out Fringe venues ever since. "He is an outstanding comedian who proves that punch lines don't need words," said Burns. "His show is packed full of gags – all visual. Sam shows us that silence can be hilarious. He is a star!"
Related on HuffPost:
Loading Slideshow
The Fringe starts here - official!

This sort of thing is perfectly normal on the Royal Mile right now.

...as is this...

...and this.

Thought Julian Assange was safely holed up in the Ecuadorian Embassy? Think again...

And the award for Best Lighting In A Fringe Venue Bar goes to... The Underbelly Cowgate!

They also win the Most Imaginative Form Of Signage award, too.

Unfortunately, we haven't got round to asking him yet.

Only in Edinburgh. On a former church.

Some lampposts (and posters) have seen better days. Well, it is the last week of the Fringe.

No, readers, we didn't.

Again, perfectly normal Royal Mile behaviour.

It's 'Wind In The Willows', in case you were wondering.

Well, it beats 'Golf Sale'.

And THAT'S how you hand out flyers with style.

Imaginative marketing for The Boy With Tape On His Face, aimed at giants.

What is it? We're afraid we can't tell you. Because it's hidden. Sort of.

And no, that 'hidden gem' isn't the castle.

The main BBC venue at the Edinburgh Fringe. It is very large, and very blue.

Although there is also a pink tent, if you prefer...

...and a table tennis table!

Inside the blue venue you saw earlier. We told you it was big.

Waiting to see a show at the Voodoo Lounge - possibly the coolest venue entrance. Especially at 3 o'clock in the afternoon.

Even MacDonald's has got into the Fringe spirit!

The best beer mat ever - and a nice Fringe show marketing ploy.

Where to find a show at The Pleasance.

Show posters - now with added stars.

Not the Battersea Power Station, but the Underbelly venue.

The Gilded Balloon - pretty in pink (and purple).

The Assembly - lit up like a Christmas tree. (Includes mini Christmas trees)

Audiences are down - but there are still queues. Very long queues.

Need a ride?

Every space is covered.

No, really.

Proof that it doesn't always rain in Edinburgh: sunshine on The Meadows...

...where performers like to chill out.

The reviews board at the Underbelly.

Has Richard Herring's cock ever been so big?

The Pleasance Courtyard - still a festival focal-point...

...and still one of the prettiest venues.

Although if you prefer Magners to Foster's, head to the Underbelly.

Avalon Comedy's 'street team' of flyers are now, wisely, equipped with umbrellas.

Star ratings - more important than show titles...

...and sometimes more important than the entire poster.

The giant inflatable cow that IS the Underbelly.

We told you it was giant.

You saw the Underbelly show - now buy the sweatshirt!

Lights! No cameras! Action!

Yeah - what ABOUT a Fat Stag Burger?

The Pimms man is happy, despite rain affecting sales.

The Pleasance courtyard by night.