Manchester United striker Wayne Rooney has tweeted a picture of himself - complete with Latin motto - recovering from the leg injury he suffered against Fulham at the weekend.
Fulham striker Hugo Rodallega's studs came down on Rooney's right thigh in stoppage-time to leave a nasty and bloody gash that saw the England international taken off on a stretcher.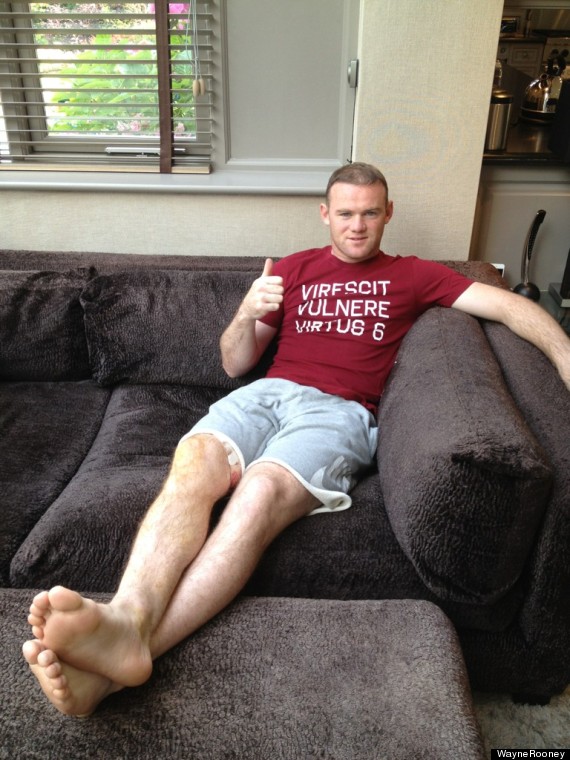 Sir Alex Ferguson surmised Rooney would be out for four weeks after the Reds' 3-2 win, however United may be without the 26-year-old for up to two months.
@WayneRooney

Wayne Rooney
Thanks for all the messages of support. Gutted to be out for a while but my leg will be ok which is the main thing
http://t.co/98yTtndc
Rooney arrived as a 68th minute substitute for Shinji Kagawa having been dropped in favour of Robin van Persie, who opened his United account with a hooked volley.
The former Everton star was singled out by some United supporters as one of the poorest performers in last week's season opener at Goodison Park, which United lost 1-0.
Looking in relaxed mood in the photo, Rooney gives the thumbs up to his 4.8 million Twitter fans whilst wearing a t-shirt with the Latin motif, 'Virescit Vulnere Virtus', which translates as 'courage becomes greater through a wound'.
Either he's enrolled back at school or his PR bods have excelled themselves this time.
Updated 17:31 Latin info