A kitchen is brought to life with vivid white light, while a green-hued bedroom scene could have come straight from The Matrix.
These otherworldly images are the latest works from talented light painter in a series he calls Light Topography.
The Swede also managed to capture other jaw-dropping works with the backdrop of a real lightning storm.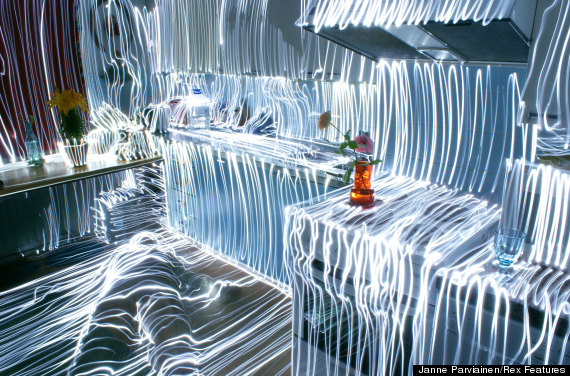 Janne, 31, from Helsinki, uses a technique whereby he traces patterns and shapes using light sources caught with a camera on a long exposure setting.
Everything seen in his picture is captured 'in-camera', meaning he has not applied image manipulation techniques such as Photoshop.
He explains: "In the light topography photos I have traced entire rooms with a single LED light with the exposure times ranging from 20 minutes to 37 minutes.
"I have traced human figures with light in my photos earlier so it was interesting to see how the technique would work on larger areas.
"In the Mother's Love photo I traced my wife breast feeding our three-week-old baby on the sofa.
"You could say there's a theme in the newest photos, I think the Topographic light painting is quite accurate term for them. They are like other dimensions photos from our everyday surroundings, a bit like seeing energy flowing all around us.
"I have been planning on taking the technique outside in the future to trace nature views with light too."
Janne did manage to capture nature in its raw form when he sketeched out his trademark skeleton figures backdropped against a storm.
"I managed to get shots a couple of weeks ago when there was a huge thunderstorm in the Helsinki area.
"All the photos are straight from the camera, no post processing of any kind has been done to them. The actual light painting can be done with coloured strobes, flash lights, light toys or tools especially engineered for light painting."
Loading Slideshow
PHOTO: Janne Parviainen/Rex Features

PHOTO: Janne Parviainen/Rex Features

PHOTO: Janne Parviainen/Rex Features

PHOTO: Janne Parviainen/Rex Features

PHOTO: Janne Parviainen/Rex Features

PHOTO: Janne Parviainen/Rex Features

PHOTO: Janne Parviainen/Rex Features

PHOTO: Janne Parviainen/Rex Features

PHOTO: Janne Parviainen/Rex Features

PHOTO: Janne Parviainen/Rex Features

PHOTO: Janne Parviainen/Rex Features

PHOTO: Janne Parviainen/Rex Features