A British Olympic gold medal-winning cyclist has had his bike stolen in a robbery at his home.
Philip Hindes, who earned gold London 2012 in the Team Sprint alongside Jason Kenny and Sir Chris Hoy, used the bicycle for training.
It was taken, along with his car, in a raid on his home in West Didsbury, Manchester, sometime between last Thursday and Sunday.
Thieves smashed through patio doors and ransacked the house, which was unoccupied, during the burglary. Hindes, centre, had the bike stolen while away from his Manchester home
The thieves stole the bike along with the keys to a blue Volkswagen Golf which was also missing.
The bike was not one used by Hindes during the Olympic but the bike is described as being a Pinarello Paris which is red, white and blue and has a Sky sticker and Hindes' name on.
"The reason we have publicised this theft is so that we can catch the people responsible and return the bike to its rightful owner," Greater Manchester Police's Detective Constable Rob Southern said.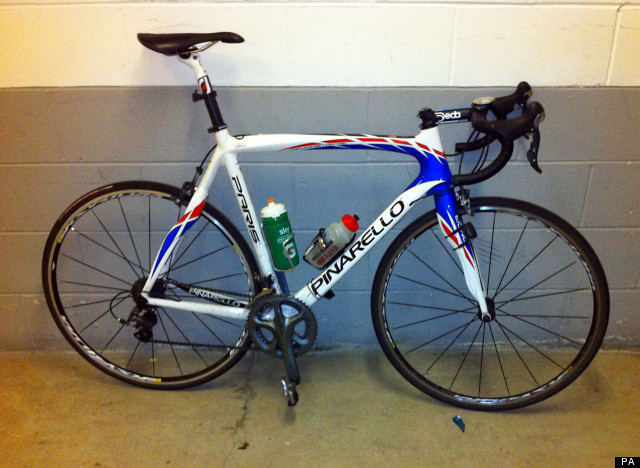 Hindes missing bike is one the cyclist used for training
"I would therefore ask anyone who is offered a bike matching this description and the image we have released to call police immediately.
"It might be the thieves try and offload the bike onto a sports memorabilia collector so I would urge anyone who is offered the chance to buy such a bike to call police immediately as you could be vital to helping get this bike back."
Anyone with information is asked to call police on 101 or the independent charity Crimestoppers, anonymously, on 0800 555 111.