A seaside city marked the 20th anniversary of its Pride celebrations today in typically flamboyant fashion as tens of thousands of people brought colour, noise and eccentricity to its streets.
Brighton rocked to pulsating rhythms as a parade kicked off the festivities at what is regarded as the biggest festival of gay, lesbian, bisexual and transgender culture in the UK.
The entrants in the parade - based on the theme United Colours of Pride - included businesses, charities and members of the emergency services who lapped up the carnival atmosphere. Pride celebrations took place today in typically flamboyant fashion
Revellers turned out in various stages of undress, and included a man dressed as the Queen to mark her Diamond Jubilee year.
Jason Simons, 42, from London, who wore a pair of stacked heels and skimpy shorts, said: "Pride in Brighton always puts on a good show.
"Everyone gets into the spirit of it, and it has got something for everyone. I absolutely love it."
The parade was being followed by a ticketed event at the city's Preston Park, featuring local superstar DJ Fatboy Slim, the Freemasons and X Factor winner Alexandra Burke.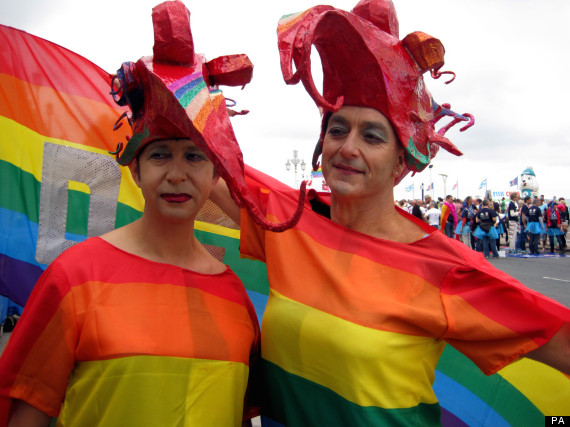 Bright idea: Revellers enjoy the carnival atmosphere
Trevor Edwards, the director of Pride Brighton and Hove, described the event as the "highlight in the city's cultural calendar for LGBT residents, friends and visitors alike".
Ahead of the celebrations, Chief Superintendent Graham Bartlett, of Sussex Police, said: "Pride is a great showcase for the city and is one of the biggest events in the city's calendar, primarily celebrating our LGBT community but is open to everyone to enjoy."
This year's Pride may never have happened. Debts of more than £180,000 owed to companies and charities plunged the future of the event into doubt.
But business leaders formed a community interest company in a bid to keep it going, with a pledge that £1 of every ticket sold will be distributed to LGBT charitable causes.
The event, which first started in 1992, aims to raise at least £35,000 for the causes this year.