Another day, another X Factor controversy...
The Sun have revealed Nicola-Marie Bloor, who we saw belt her way through Taylor Dayne's 1988 hit Tell It To My Heart in a pair of denim hotpants on Saturday night's show, has broken the X Factor rules by selling a single on iTunes (albeit under a different name) while she's in the competition.
The singer from Derby, who performs as an Amy Winehouse and Lady Gaga tribute act, was blasted as "annoying" by judge Gary Barlow on Saturday, as she chattered her way through her audition.
Little did viewers know that Bloor has been selling a song under the name Nikia Aniston on iTunes, which is against rules which stop acts cashing in while they are competing.
The track Freaky Tonight can be purchased for 79p, watch the video for the song below...
However, The Sun quoted an X Factor spokeswoman as saying Nicola had been told to remove the song from sale.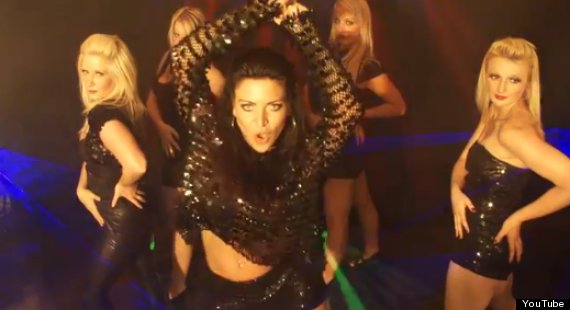 The hit series is only on its third episode and this is the second case of an X Factor hopeful being asked to remove their records from sale.
Last week, contestant Lucy Spraggan explained she agreed to take her song Last Night (Beer Fear) down from iTunes after it charted in the top 5 and was set to oust former X Factor winners Little Mix' single Wings from the number one slot.
Meanwhile, on Monday, Melanie Masson was exposed as more than a 'stay at home mum'.
The 'undiscovered talent' has worked as a session vocalist with names including Kasabian, Stereophonics, Fatboy Slim and Happy Mondays and in 2007, when she was signed to EMI records, released a single.

WATCH: X Factor gets spoofed...
Also on HuffPost:
Loading Slideshow
X Factor

Alan Dewer

X Factor

Alison Brunton

X Factor

Alison Brunton

X Factor

Alison Brunton

X Factor

Anastacia appears on the show

X Factor

Hester Bank

X Factor

Jake Quickenden

X Factor

Jake Quickenden

X Factor

Jake Quickenden

X Factor

Jessica Beckett

X Factor

Joseph Whelan

X Factor

Joseph Whelan

X Factor

Joseph Whelan

X Factor

Matt Defreitas

X Factor

Melanie Masson

X Factor

Melanie Masson

X Factor

Melanie Masson

X Factor

Nicola Marie

X Factor

Nicola Marie

X Factor

Nicola Marie

X Factor

Taylor Breslin

X Factor

Tulisa