Shia LaBeouf knows from personal experience that the outlaw legend of the Bondurant Brothers - violent hillbilly gangsters who ran a lucrative moonshine operation in Prohibition era Virginia - is alive and well.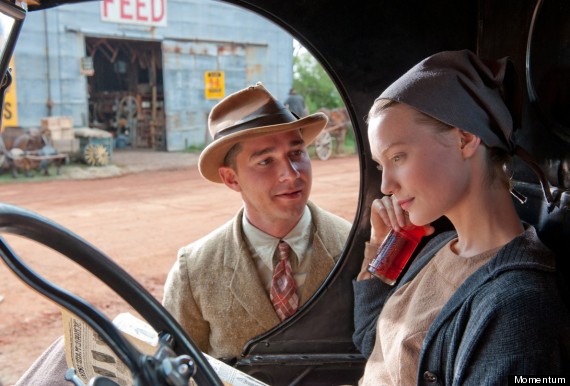 Shia LaBeouf with Mia Wasikowska in Lawless
In fact, he says, the myth surrounding the extraordinary exploits of the close knit family provokes a fierce pride in many of the locals in their home state, as the actor discovered when he was on location in Virginia with director John Hillcoat's stylish gangster saga, Lawless.
"The Bondurants have mythic status in Virginia," he says. "In Virginia people have Bondurant tattoos on them. They are still remembered by the community there. In fact, it's almost like they are still there - you can feel them and their legacy.
"Everyone there knew about them. People would come up to the set and say, 'what are you saying here? Oh, you think it happened like that? I've heard that it happened like this...' There were arguments in the streets because people are still passionate about it."
Lawless, with a screenplay by Nick Cave, is based on the book, The Wettest County In The World by Matt Bondurant, which recounted the remarkable story of his grandfather, Jack, and two great uncles.
The Bondurant boys ran a gas station and restaurant in Franklin County - nicknamed the Wettest County in the World because of the amount of illegal booze produced there - that was a front for their real business, distilling moonshine.
In Lawless, Tom Hardy plays the quiet, brooding Forrest who leads the clan and Jason Clarke is Howard, his second in command. Both men are capable of brutal violence when they need to protect their business and Forrest has earned a reputation as a formidable foe who, locals believe, is invincible.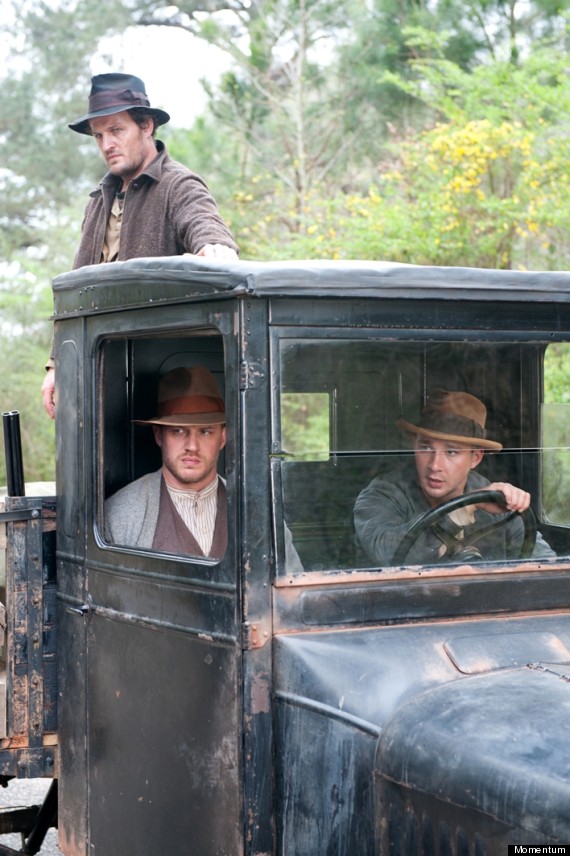 The Bondurants were legends of their county
LaBeouf plays the youngest Bondurant, the ambitious Jack, who is kept away from the violence but desperately wants to earn the respect of his older siblings and believes that their operation can expand and make them all very rich.
"Jack is in a situation where his brothers are ultra violent and they get off on the violence," explains LaBeouf. "They have an appreciation and a tolerance for violence that seemed to be common for this time.
"The average life span for a man during Prohibition, who was involved in that activity, was just 33. It was like the Wild West and it was bloody and people died all of the time.
"Jack was like the prince of this family that had built a legacy of violence. At the time outlaws were rock stars - they were these mythical figures, like Poseidon and Zeus for Americans, and they were making comic books about these guys."
When Chicago-based special deputy Charley Rakes (Guy Pearce) arrives in Franklin County determined to crack down on the local trade and, more importantly, take his cut of the profits, all hell breaks loose.
The Bondurants refuse to pay him off and cow-tow to his demands and Jack, too, is drawn into the spiralling violence. "Jack finds an appetite for violence and this gangster life and it's like he's transformed from a teddy bear into a rock star," says LaBeouf.
LaBeouf has been a key player in bringing Lawless to the big screen. He was keen to work with Hillcoat, a director that he greatly admires, and his long-term collaborator, rock star and writer Nick Cave.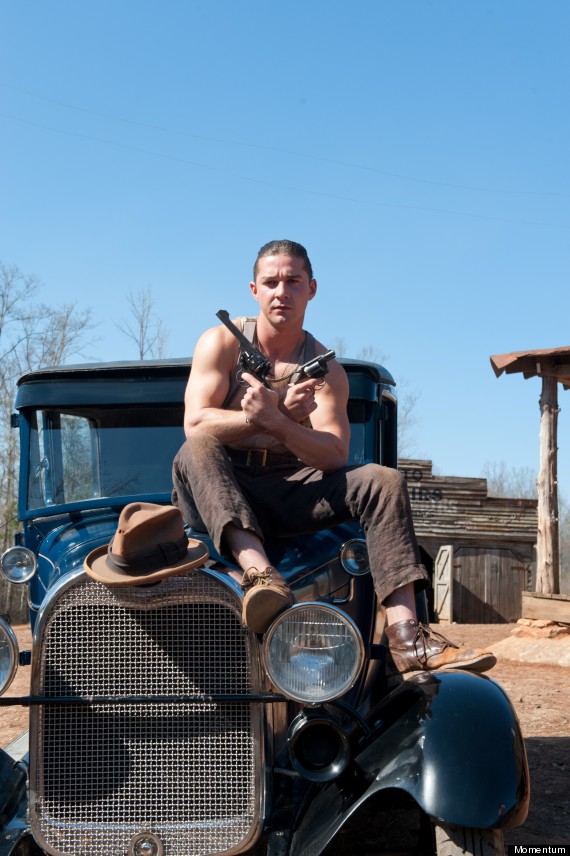 As the youngest brother Jack, Shia LaBeouf is increasingly drawn into the spiralling violence
Cave co-wrote the screenplay for Hillcoat's first film, Ghosts...of the Civil Dead, and wrote the script for his second feature, The Proposition. Working on a Hillcoat film represented a new challenge for LaBeouf, he says.
"I'd seen The Proposition and The Road and I think I saw Ghosts... of the Civil Dead a couple of months later," says LaBeouf. "So I'd seen all of John's work and I loved it and I really wanted to work with him because I think he's one of the very best.
"If you look at the kind of movies John makes, the things he wants to make movies about, they have very different sensibilities than, say, a Steven Spielberg, or anybody who makes pop culture.
"Not that there is anything wrong with that, it's just different sensibilities and there's room for it all. And one can't do the other and vice versa. But I hadn't been given a lot of opportunity to make a film like this.
"And you know, Lawless is closer to my own sensibility but I've been working on things that you can't say 'no' to because they are incredible opportunities. And they also help to make films like Lawless possible."
At just 26, LaBeouf is firmly established as one of the biggest stars in the world thanks to his winning performances in the hugely successful Transformer films, Indiana Jones and the Kingdom of the Crystal Skull and Wall Street: Money Never Sleeps, amongst others.
He was happy to use that star power to help get Lawless off the ground. "When movies like Transformers is successful financially that's a great help to this movie and actually made Lawless happen," he explains.
"Had Transformers not been a success then I don't think that this movie would have happened. So every step is linked and I don't regret any of it. But obviously when you make movies about plot versus character, the attention span of the director and the staff of the entire movie is focused on a very generalised topic, being the plot.
"And when you work on something that is character-driven you have everyone hyper-focused on the little details, like the way you move your finger, tiny details, and it's very different. And so for an actor it's just a completely different way of working. And I loved it."
He was delighted, too, to work with a stellar cast that includes Pearce, Hardy, Clarke and Gary Oldman and young, fast rising stars like Jessica Chastain, Mia Wasikowska and Dane DeHaan.
"I feel like everybody on this picture was at the top of their game," he says. "They are the best. I don't know of better actresses than Jessica Chastain or Mia Wasikowska in their age group. I can't think of anybody else.
"And it's the same with the guys - Tom Hardy and Jason Clarke, these are dudes who are either on the precipice of being regarded as the next great actors or they already are there.
"And I think it's the same with the talent who aren't on screen - Nick Cave, the writer, John Hillcoat, Benoit Delhomme, the cinematographer, everybody. Everyone is still hungry enough to show up with the same amount of passion as an amateur but everyone has got the game to follow through like a pro.
"And when you have actors of the calibre of Gary Oldman and Guy Pearce in there too, it does something for your confidence levels. It's huge. I look at Hardy like a hero, Hardy looks at Guy Pearce like a hero, and Guy looks at Gary like a hero.
"And to be a guy at the bottom of the totem pole looking up at everybody there was just great. I was the happiest guy in the world."
Lawless is in UK cinemas on 7 September. Watch the trailer below...