Swimmer-turned-cyclist Sarah Storey today won her 11th Paralympic title with an imperious victory in the women's C4-5 road race at Brands Hatch. It was her fourth gold of the London 2012 Games.
Storey joined Baroness Tanni Grey-Thompson as Britain's most successful female Paralympian with a dominant performance to triumph in the 64-kilometre race.
The 34-year-old from Manchester, who won her first title as a 14-year-old swimmer in Barcelona in 1992 and her 10th in the time-trial yesterday, attacked from the start of the eight-lap event and finished in one hour 40 minutes, ahead of the men's C1-3 field which started in front of her. Sarah Storey celebrates after winning

In taking her Paralympic gold medal total to 11 - and 22 medals in all - Storey equalled Grey-Thompson and swimmer David Roberts' haul.
Mike Kenny won 16 gold medals as a swimmer from 1976 to 1988, with some of his successes coming in a 25-metre pool.
"To be even on the same page as Tanni, to have won 11 is just a dream come true," she told Channel 4. "I don't know if it will ever sink in."
Storey was in contention for a place in the Olympic team pursuit squad until last December and it is feasible she could double up at the Rio de Janeiro Games in 2016, aged 38, as she continues her stellar career.
Poland's Anna Harkowska was seven minutes 22 seconds behind and Kelly Crowley of the United States was further adrift in third.
Harkowska was second in the time-trial, with Crowley third as the top three remained the same in the road race. Sarah Storey equalled Grey-Thompson and swimmer David Roberts' medal haul

Storey, who was born with a partly-formed left hand, was 41secs clear of the field at the end of the first circuit and caught up with the men's C1-3 race, featuring Shaun McKeown and Mark Colbourne, before roaring past.
At half distance, after 32km, Storey was 4:51 ahead of her three nearest rivals, with Lane in fifth, 23secs further adrift.
@Tanni_GT

Tanni Grey-Thompson
With three laps to go, Storey led by 5:28 and she continued to extend her advantage in a thrilling show of supremacy.
She was able to free-wheel over the line, acknowledging the crowd's cheers, before crossing the line.
She embraced husband Barney and wrapped herself in a Union Flag.
On her tactics for the race, she told Channel 4: "I just thought I'd test a few legs on the first time over Scratchers Lane and I just had gas to spare and got away.
"I've been pratising it all year really because we've been getting in small groups in the national series.
"I just can't believe I pulled it off today. I'm so chuffed. It was amazing: the crowds around the course and coming into the finishing straight every lap, I wanted to say thank you but I had to keep my head down.
"I got tangled a bit with the guys. I was thinking 'please don't take me down' but goodness me, I can't get over it.
"I'd completely forgotten about them until I could see the back of the peloton. I was thinking, 'oh no, the boys are there'. The commissaires got me through okay.
"I just managed to hold them off but I was dying."
She added: "I just can't thank enough people.
"I'm so proud to be part of such and amazing team and so pleased to be finished now as well."
Paralympics London 2012: Pictures Of The Day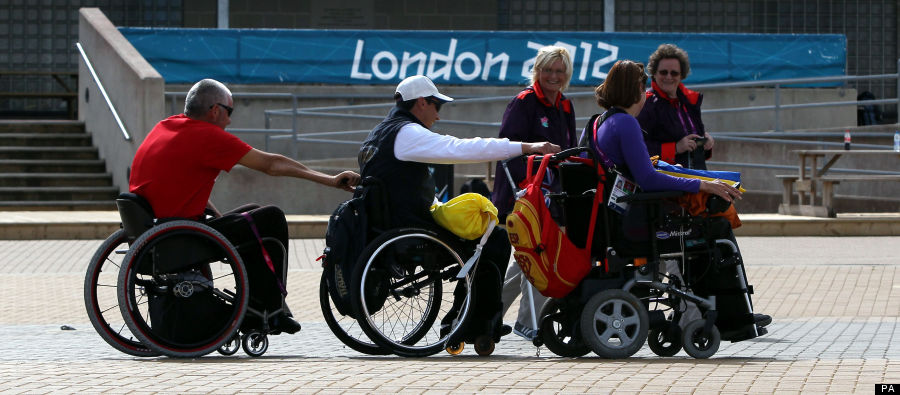 Team members and volunteers in the athletes compound after today's final day of racing is cancelled due to lack of wind at the Sailing venue in Weymouth and Portland.