The summer of Olympic and Paralympic sporting success will be etched on the memories of the public in the same way as the World Cup winning year of 1966, the Prime Minister said on Monday.
David Cameron hailed the London games as the "best ever" as he thanked gamesmakers at a reception in No 10 this morning.
The "golden summer" of sport had united the country and shown that Britain had the "confidence to deliver big things", he added.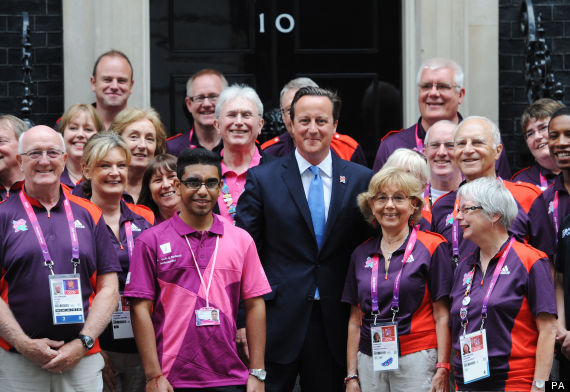 Will he use the gold medal stamps? the PM plans to write to every gamesmaker

Cameron said Olympians and Paralympians "delighted and amazed" the nation and praised the Army, police and volunteers for helping the games to run smoothly and safely.
He said: "At the end of the most unbelievably successful Olympics and Paralympics, I just want to say what a golden summer of British sport and what a golden summer it has been for our country.
"I think it has given us a tremendous lift, I think it has brought the country together and I think it has given us memories that we will be talking about for years and generations to come.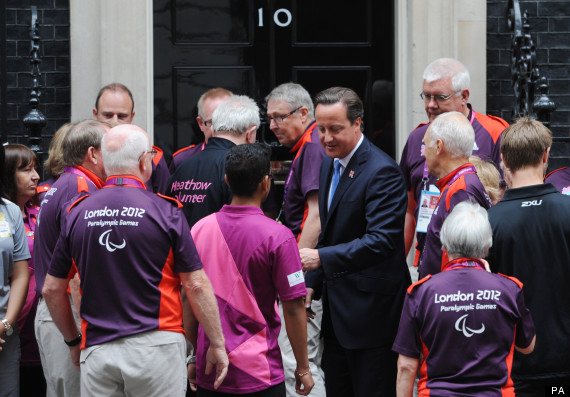 Cameron met with gamesmakers at Downing Street

"I think that 2012 will be like 1966, something we'll talk about with our children and grandchildren, something that will continue to delight us long after this time has passed."
The Prime Minister said the "magical summer" had brought out the best in Britain for the world to see.
He said: "I think there is something else that we can take from this extraordinary period and that is for countries to succeed in this competitive and difficult world you need to have confidence that you can do big things and get them right, you need to have confidence that you can take on the best and beat the best, and I think the Olympic and Paralympics - we've absolutely done that as a country."
Cameron is sending a letter of thanks to every one of the thousands of volunteers who took part in London 2012, said his official spokesman.
The spokesman said: "One of the great success stories of the Olympics and Paralympics was the tens of thousands of people who have given up their time to support the Games. We want to thank them."
It comes ahead of a parade to celebrate Britain's Paralympic and Olympic athletes in London on Monday.
Athletes will travel on 21 open-top floats, grouped in alphabetical order by their sport.
The stars of the Olympics' Super Saturday will be on the first three floats.
The first will include Mo Farah, the Olympic 5,000 and 10,000m winner, followed by heptathlon gold medallist Jessica Ennis, with long jump champion Greg Rutherford in the third float.
Team GB's cycling stars Sir Chris Hoy, Jason Kenny, Laura Trott and Victoria Pendleton will be in float seven, followed by double equestrian gold-medal winner Charlotte Dujardin, rowing champion Katherine Grainger, Ben Ainslie, Britain's most successful Olympic sailor, and triathlon gold medallist Alistair Brownlee.
Paralympians Hannah Cockcroft, Jody Cundy, Sophie Christiansen and Jonnie Peacock will also take part in the parade.
Loading Slideshow
Olympics & Paralympics Team GB - London 2012 Victory Parade

LONDON, ENGLAND - SEPTEMBER 10: Mo Farah poses for a photograph during the London 2012 Victory Parade for Team GB and Paralympic GB athletes on September 10, 2012 in London, England. (Photo by Dan Kitwood/Getty Images)

Olympics & Paralympics Team GB - London 2012 Victory Parade

LONDON, ENGLAND - SEPTEMBER 10: Mo Farah poses for a photograph during the London 2012 Victory Parade for Team GB and Paralympic GB athletes on September 10, 2012 in London, England. (Photo by Dan Kitwood/Getty Images)

Olympics & Paralympics Team GB - London 2012 Victory Parade

LONDON, ENGLAND - SEPTEMBER 10: Mo Farah performs a 'mobot' to the crowds during the London 2012 Victory Parade for Team GB and Paralympic GB athletes on September 10, 2012 in London, England. (Photo by Dan Kitwood/Getty Images)

Olympics & Paralympics Team GB - London 2012 Victory Parade

LONDON, ENGLAND - SEPTEMBER 10: British Olympic heptathlon gold medalist Jessica Ennis waves to the crowd during the London 2012 Victory Parade for Team GB and Paralympic GB athletes on September 10, 2012 in London, England. (Photo by Tom Dulat/Getty Images)

Olympics & Paralympics Team GB - London 2012 Victory Parade

LONDON, ENGLAND - SEPTEMBER 10: British Olympic gold medal winning athlete Greg Rutherford during the London 2012 Victory Parade for Team GB and Paralympic GB athletes on September 10, 2012 in London, England. (Photo by Dan Kitwood/Getty Images)

London Olympic Games - Athletes Victory Parade

(left to right) Philip Hinds, Danielle King, Laura Trott and Joanna Rowsell as the parade celebrating Britain's Olympic and Paralympic sporting heroes passes St Paul's Cathedral in central London. PRESS ASSOCIATION Photo. Picture date: Monday September 10, 2012. See PA story. Photo credit should read: Sean Dempsey/PA Wireas they take part in a parade through London, celebrating Britain's Olympic and Paralympic sporting heroes. PRESS ASSOCIATION Photo. Picture date: Monday September 10, 2012. See PA story PARALYMPICS London. Photo credit should read: Sean Dempsey/PA Wire

London Olympic Games - Athletes Victory Parade

Diver Tom Daley shows off his medal as the parade celebrating Britain's Olympic and Paralympic sporting heroes passes St Paul's Cathedral in central London. PRESS ASSOCIATION Photo. Picture date: Monday September 10, 2012. See PA story. Photo credit should read: Sean Dempsey/PA Wireas they take part in a parade through London, celebrating Britain's Olympic and Paralympic sporting heroes. PRESS ASSOCIATION Photo. Picture date: Monday September 10, 2012. See PA story PARALYMPICS London. Photo credit should read: Sean Dempsey/PA Wire

London Olympic Games - Athletes Victory Parade

A fly past by the Red Arrows as seen from the roof of Buckingham Palace after the parade celebrating Britain's Olympic and Paralympic sporting heroes finished on The Mall.

London Olympic Games - Athletes Victory Parade

Gymnast Louis Smith shows off his medals as the parade celebrating Britain's Olympic and Paralympic sporting heroes passes St Paul's Cathedral in central London. PRESS ASSOCIATION Photo. Picture date: Monday September 10, 2012. See PA story. Photo credit should read: Sean Dempsey/PA Wireas they take part in a parade through London, celebrating Britain's Olympic and Paralympic sporting heroes. PRESS ASSOCIATION Photo. Picture date: Monday September 10, 2012. See PA story PARALYMPICS London. Photo credit should read: Sean Dempsey/PA Wire

BRITAIN-OLY-2012-PARALYMPICS

British Prime Minister David Cameron (C) gives a thumbs up next to London Mayor Boris Johnson (2R) and Princess Anne, Princess Royal (R) as he watches the parade celebrating Britain's athletes who competed in the London 2012 Olympic and Paralympic Games in central London on September 10, 2012. Britain was bidding a fond farewell om September 10 to a golden summer of Olympic and Paralympic sport with a victory parade by athletes through London ending up at Buckingham Palace. AFP PHOTO / ADRIAN DENNIS (Photo credit should read ADRIAN DENNIS/AFP/GettyImages)

London Olympic Games - Athletes Victory Parade

Athelete Mo Farah does his signature move, The Mobot, as the parade celebrating Britain's Olympic and Paralympic sporting heroes passes St Paul's Cathedral in central London. PRESS ASSOCIATION Photo. Picture date: Monday September 10, 2012. See PA story. Photo credit should read: Sean Dempsey/PA Wireas they take part in a parade through London, celebrating Britain's Olympic and Paralympic sporting heroes. PRESS ASSOCIATION Photo. Picture date: Monday September 10, 2012. See PA story PARALYMPICS London. Photo credit should read: Sean Dempsey/PA Wire

London Olympic Games - Athletes Victory Parade

The Gamesmakers wave as the parade celebrating Britain's Olympic and Paralympic sporting heroes passes St Paul's Cathedral in central London. PRESS ASSOCIATION Photo. Picture date: Monday September 10, 2012. See PA story. Photo credit should read: Sean Dempsey/PA Wireas they take part in a parade through London, celebrating Britain's Olympic and Paralympic sporting heroes. PRESS ASSOCIATION Photo. Picture date: Monday September 10, 2012. See PA story PARALYMPICS London. Photo credit should read: Sean Dempsey/PA Wire

London Olympic Games - Athletes Victory Parade

(left to right) Joanna Rowell, Geraint Thomas and Sarah Storey as the parade celebrating Britain's Olympic and Paralympic sporting heroes passes St Paul's Cathedral in central London. PRESS ASSOCIATION Photo. Picture date: Monday September 10, 2012. See PA story. Photo credit should read: Sean Dempsey/PA Wireas they take part in a parade through London, celebrating Britain's Olympic and Paralympic sporting heroes. PRESS ASSOCIATION Photo. Picture date: Monday September 10, 2012. See PA story PARALYMPICS London. Photo credit should read: Sean Dempsey/PA Wire

London Olympic Games - Athletes Victory Parade

Rebecca Adlington and Ellie Simmonds as the parade celebrating Britain's Olympic and Paralympic sporting heroes passes St Paul's Cathedral in central London. PRESS ASSOCIATION Photo. Picture date: Monday September 10, 2012. See PA story. Photo credit should read: Sean Dempsey/PA Wireas they take part in a parade through London, celebrating Britain's Olympic and Paralympic sporting heroes. PRESS ASSOCIATION Photo. Picture date: Monday September 10, 2012. See PA story PARALYMPICS London. Photo credit should read: Sean Dempsey/PA Wire

London Olympic Games - Athletes Victory Parade

Ben Ainslie waves as the parade celebrating Britain's Olympic and Paralympic sporting heroes passes St Paul's Cathedral in central London. PRESS ASSOCIATION Photo. Picture date: Monday September 10, 2012. See PA story. Photo credit should read: Sean Dempsey/PA Wireas they take part in a parade through London, celebrating Britain's Olympic and Paralympic sporting heroes. PRESS ASSOCIATION Photo. Picture date: Monday September 10, 2012. See PA story PARALYMPICS London. Photo credit should read: Sean Dempsey/PA Wire

London Olympic Games - Athletes Victory Parade

Richard Whitehead and Jessica Ennis as the parade celebrating Britain's Olympic and Paralympic sporting heroes passes St Paul's Cathedral in central London. PRESS ASSOCIATION Photo. Picture date: Monday September 10, 2012. See PA story. Photo credit should read: Sean Dempsey/PA Wireas they take part in a parade through London, celebrating Britain's Olympic and Paralympic sporting heroes. PRESS ASSOCIATION Photo. Picture date: Monday September 10, 2012. See PA story PARALYMPICS London. Photo credit should read: Sean Dempsey/PA Wire

London Olympic Games - Athletes Victory Parade

Laura Robson and others as the parade celebrating Britain's Olympic and Paralympic sporting heroes passes St Paul's Cathedral in central London. PRESS ASSOCIATION Photo. Picture date: Monday September 10, 2012. See PA story. Photo credit should read: Sean Dempsey/PA Wireas they take part in a parade through London, celebrating Britain's Olympic and Paralympic sporting heroes. PRESS ASSOCIATION Photo. Picture date: Monday September 10, 2012. See PA story PARALYMPICS London. Photo credit should read: Sean Dempsey/PA Wire

London Olympic Games - Athletes Victory Parade

Jessica Ennis and other athletes wave as the parade celebrating Britain's Olympic and Paralympic sporting heroes passes St Paul's Cathedral in central London. PRESS ASSOCIATION Photo. Picture date: Monday September 10, 2012. See PA story. Photo credit should read: Sean Dempsey/PA Wireas they take part in a parade through London, celebrating Britain's Olympic and Paralympic sporting heroes. PRESS ASSOCIATION Photo. Picture date: Monday September 10, 2012. See PA story PARALYMPICS London. Photo credit should read: Sean Dempsey/PA Wire

London Olympic Games - Athletes Victory Parade

Derek Derenalagi and Richard Whitehead (right) as the parade celebrating Britain's Olympic and Paralympic sporting heroes passes St Paul's Cathedral in central London. PRESS ASSOCIATION Photo. Picture date: Monday September 10, 2012. See PA story. Photo credit should read: Sean Dempsey/PA Wireas they take part in a parade through London, celebrating Britain's Olympic and Paralympic sporting heroes. PRESS ASSOCIATION Photo. Picture date: Monday September 10, 2012. See PA story PARALYMPICS London. Photo credit should read: Sean Dempsey/PA Wire

London Olympic Games - Athletes Victory Parade

Richard Whitehead and Jessica Ennis as the parade celebrating Britain's Olympic and Paralympic sporting heroes passes St Paul's Cathedral in central London. PRESS ASSOCIATION Photo. Picture date: Monday September 10, 2012. See PA story. Photo credit should read: Sean Dempsey/PA Wireas they take part in a parade through London, celebrating Britain's Olympic and Paralympic sporting heroes. PRESS ASSOCIATION Photo. Picture date: Monday September 10, 2012. See PA story PARALYMPICS London. Photo credit should read: Sean Dempsey/PA Wire

London Olympic Games - Athletes Victory Parade

The parade celebrating Britain's Olympic and Paralympic sporting heroes passes St Paul's Cathedral in central London. PRESS ASSOCIATION Photo. Picture date: Monday September 10, 2012. See PA story. Photo credit should read: Sean Dempsey/PA Wireas they take part in a parade through London, celebrating Britain's Olympic and Paralympic sporting heroes. PRESS ASSOCIATION Photo. Picture date: Monday September 10, 2012. See PA story PARALYMPICS London. Photo credit should read: Sean Dempsey/PA Wire

London Olympic Games - Athletes Victory Parade

Athelete Mo Farah does his signature move, The Mobot, as the parade celebrating Britain's Olympic and Paralympic sporting heroes passes St Paul's Cathedral in central London. PRESS ASSOCIATION Photo. Picture date: Monday September 10, 2012. See PA story. Photo credit should read: Sean Dempsey/PA Wireas they take part in a parade through London, celebrating Britain's Olympic and Paralympic sporting heroes. PRESS ASSOCIATION Photo. Picture date: Monday September 10, 2012. See PA story PARALYMPICS London. Photo credit should read: Sean Dempsey/PA Wire

London Olympic Games - Athletes Victory Parade

Heptathlete Jessica Ennis takes part in a parade passed the Royal Courts of Justice, London, celebrating Britain's Olympic and Paralympic sporting heroes.

London Olympic Games - Athletes Victory Parade

Mo Farah takes part in a parade through London, celebrating Britain's Olympic and Paralympic sporting heroes.

London Olympic Games - Athletes Victory Parade

Boxer Nicola Adams holds her gold medal as she takes part in a parade through London, celebrating Britain's Olympic and Paralympic sporting heroes.

London Olympic Games - Athletes Victory Parade

Three Day Eventer Zara Phillips holds her silver medal as she takes part in a parade through London, celebrating Britain's Olympic and Paralympic sporting heroes.

London Olympic Games - Athletes Victory Parade

Diver Tom Daley holds his bronze medal as he takes part in a parade through London, celebrating Britain's Olympic and Paralympic sporting heroes.

London Olympic Games - Athletes Victory Parade

Three Day Eventer Zara Phillips and diver Tom Daley smile as they take part in a parade through London, celebrating Britain's Olympic and Paralympic sporting heroes.

London Olympic Games - Athletes Victory Parade

Three Day Eventer Zara Phillips holds her silver medal as she takes part in a parade through London, celebrating Britain's Olympic and Paralympic sporting heroes.

Olympics & Paralympics Team GB - London 2012 Victory Parade

LONDON, ENGLAND - SEPTEMBER 10: Long Jump gold medalist Greg Rutherford waves to the crowd during the London 2012 Victory Parade for Team GB and Paralympic GB athletes on September 10, 2012 in London, England. (Photo by Richard Heathcote/Getty Images)

London Olympic Games - Athletes Victory Parade

Jonathan (left) and Alistair Brownlee wave to the crowds wearing their medals during a parade celebrating Britain's Olympic and Paralympic sporting heroes, near Mansion House, London.

Olympics & Paralympics Team GB - London 2012 Victory Parade

LONDON, ENGLAND - SEPTEMBER 10: British track sprinter Dwain Chambers salutes the crowd during the London 2012 Victory Parade for Team GB and Paralympic GB athletes on September 10, 2012 in London, England. (Photo by Christopher Lee/Getty Images)

London Olympic Games - Athletes Victory Parade

Greg Rutherford holds his long jump gold medal as he takes part in a parade passed St Paul's Cathedral, London, celebrating Britain's Olympic and Paralympic sporting heroes.

Olympics & Paralympics Team GB - London 2012 Victory Parade

LONDON, ENGLAND - SEPTEMBER 10: British Paralympic gold medal winning athlete Aled Davies takes photographs during the Olympics and Paralympics Tean GB - London 2012 Victory Parade on September 10, 2012 in London, England. (Photo by Christopher Lee/Getty Images)

London Olympic Games - Athletes Victory Parade

Wheelchair tennis player Peter Norfolk waves to the crowds as as he takes part in a parade through London, celebrating Britain's Olympic and Paralympic sporting heroes.

London Olympic Games - Athletes Victory Parade

Diver Tom Daley holds his Bronze medal during a parade celebrating Britain's Olympic and Paralympic sporting heroes, Mansion House, London.

London Olympic Games - Athletes Victory Parade

A general view of the crowd in the City of London, as a parade celebrating Britain's Olympic and Paralympic sporting heroes makes its way through London.

Olympics & Paralympics Team GB - London 2012 Victory Parade

LONDON, ENGLAND - SEPTEMBER 10: Triathletes Jonathan Brownlee and Alistair Brownlee show their medals to the crowd during the London 2012 Victory Parade for Team GB and Paralympic GB athletes on September 10, 2012 in London, England. (Photo by Christopher Lee/Getty Images)

London Olympic Games - Athletes Victory Parade

Triathletes Jonathan (left) and Alistair Brownlee hold their medals as they take part in a parade through London, celebrating Britain's Olympic and Paralympic sporting heroes.

Olympics & Paralympics Team GB - London 2012 Victory Parade

LONDON, ENGLAND - SEPTEMBER 10: Gold medallist sailor Ben Ainslie waves to the crowd during the London 2012 Victory Parade for Team GB and Paralympic GB athletes on September 10, 2012 in London, England. (Photo by Christopher Lee/Getty Images)

Olympics & Paralympics Team GB - London 2012 Victory Parade

LONDON, ENGLAND - SEPTEMBER 10: Gold medallist sailor Ben Ainslie waves to the crowd during the London 2012 Victory Parade for Team GB and Paralympic GB athletes on September 10, 2012 in London, England. (Photo by Christopher Lee/Getty Images)

Olympics & Paralympics Team GB - London 2012 Victory Parade

LONDON, ENGLAND - SEPTEMBER 10: British Paralympic gold medal winning wheelchair athlete David Weir wears his four gold medals as he waves to the fans during the London 2012 Victory Parade for Team GB and Paralympic GB athletes on September 10, 2012 in London, England. (Photo by Christopher Lee/Getty Images)

Olympics & Paralympics Team GB - London 2012 Victory Parade

LONDON, ENGLAND - SEPTEMBER 10: British Paralympic gold medal winning wheelchair athlete David Weir wears his four gold medals as he waves to the fans during the London 2012 Victory Parade for Team GB and Paralympic GB athletes on September 10, 2012 in London, England. (Photo by Christopher Lee/Getty Images)

London Olympic Games - Athletes Victory Parade

Gymnasts Beth Tweddle (left) and Louis Smith wave to the crowds as they take part in a parade through London, celebrating Britain's Olympic and Paralympic sporting heroes.

London Olympic Games - Athletes Victory Parade

Wheelchair rugby player David Anthony looks on as he takes part in a parade passed Mansion House, London, celebrating Britain's Olympic and Paralympic sporting heroes.

London Olympic Games - Athletes Victory Parade

Swimmer Stephanie Millward shows her medals as she takes part in a parade through London, celebrating Britain's Olympic and Paralympic sporting heroes.

London Olympic Games - Athletes Victory Parade

Boxer Luke Campbell holds his gold medal as he takes part in a parade through London, celebrating Britain's Olympic and Paralympic sporting heroes.

London Olympic Games - Athletes Victory Parade

Double gold medallist Hannah Cockcroft waves to the crowds as she takes part in a parade through London, celebrating Britain's Olympic and Paralympic sporting heroes.

London Olympic Games - Athletes Victory Parade

Dwain Chambers waves to the crowds as he takes part in a parade through London, celebrating Britain's Olympic and Paralympic sporting heroes.

Olympics & Paralympics Team GB - London 2012 Victory Parade

LONDON, ENGLAND - SEPTEMBER 10: British Paralympic gold medal winning wheelchair athlete David Weir wears his four gold medals as he waves to the fans during the London 2012 Victory Parade for Team GB and Paralympic GB athletes on September 10, 2012 in London, England. (Photo by Christopher Lee/Getty Images)

Olympics & Paralympics Team GB - London 2012 Victory Parade

LONDON, ENGLAND - SEPTEMBER 10: British Paralympic gold medal winning wheelchair athlete David Weir wears his four gold medals as he waves to the fans during the London 2012 Victory Parade for Team GB and Paralympic GB athletes on September 10, 2012 in London, England. (Photo by Christopher Lee/Getty Images)