As we all know, seeing someone take a comedy tumble never fails to raise a chuckle but when that someone is a famous type, like say, Dannii Minogue, well, it's a full on belly laugh.
Yeah, yeah, I know it's childish - but even Dannii saw the funny side when she ended up on her perfectly formed backside as she left her own fashion launch last night.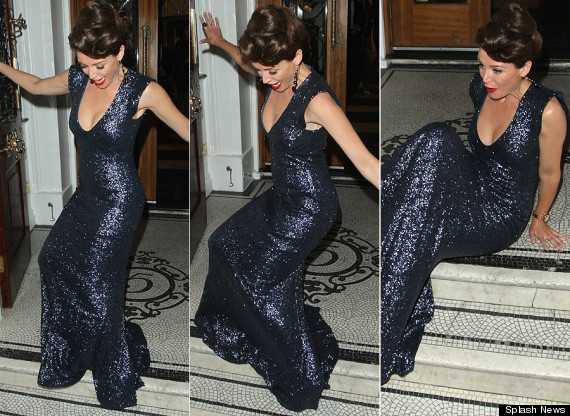 Dannii - dressed in a stunning, floor-length navy sequined gown - did a 'Naomi' in front of the assembled paps outside No.5 Cavendish in London's Mayfair where she was launching the latest collection in her Project D clothing range.
But Dannii managed to see the funny side and sat giggling for a few seconds before regaining her composure.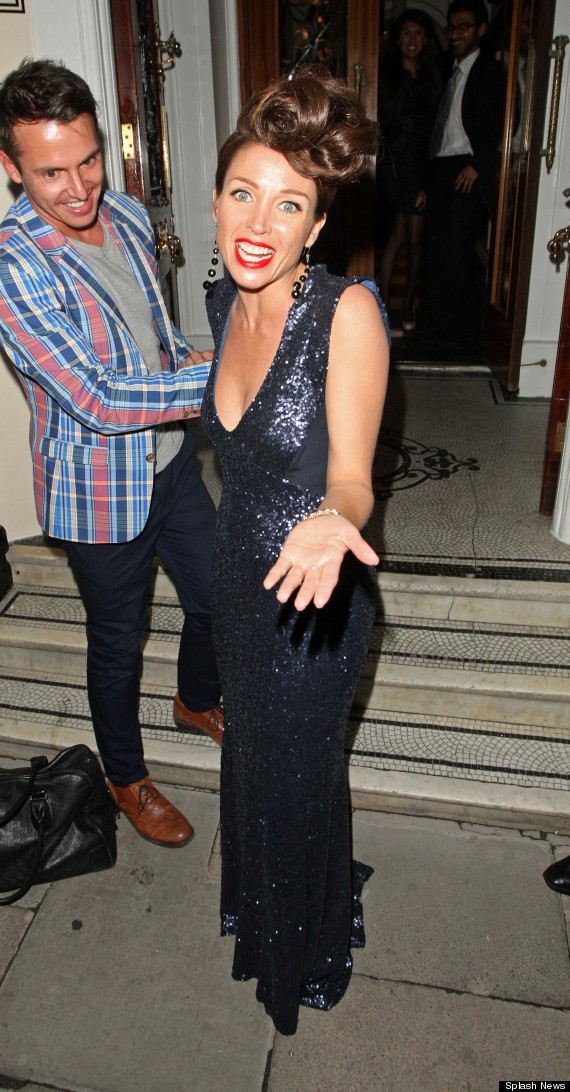 What a pro.
Oh, and Dannii, I'd have a word with your hairstylist if I were you. High hair, as we all know, is a VERY risky business.
Dannii's on the look out for a new TV role while she's back in the UK...
FOLLOW BAGGERS BITES ON TWITTER
> IN PICS: CELEBS CAUGHT ON CAMERA
'SO lovely to see you!' Liz Hurley's kissing phobia is showing no signs of abating.

What do you think of it so far, Christine?

FINALLY! A pic of Cheryl looking less than perfect.

Errrrm, is Donna Air even aware of her wardrobe malfunction? Or is that dress meant to be like that?

Bruno Tonioli does his best Michael Jackson impression. Alex Jones thinks it's Bad.

Enjoying the game, lads? The Beckham boys looks like they're finally getting sick of watching the footie.

Tulisa really, REALLY loves her fans. Every single last one of 'em.

Fearne Cotton's bottom is starving!

Tamara Beckwith comes with a LOT of baggage.

Dougie McFly really, REALLY loves bandmate Tom

TOWIE's Cara Kilbey looks like she needs a lie down (and some lessons on how to get dressed)

We don't know what Mariah just swallowed but we wouldn't want to be one of those autograph hunters.

Marvin Humes has got a REALLY big head since bagging himself a Saturday.

'You can look but you can't touch'. Justin Bieber is SUCH a tease!

Yep, looks like Katy Perry has smiled so much that she's finally succumbed to lockjaw.

Kelly Brook manages to avoid staring at Keith Lemon's full moon. Unfortunately, we don't have any choice.

Sinitta might want to work on those dance moves if she's hoping for any sort of comeback.

Something distracting you, Zac Efron?

Louie Spence gets something off his chest.

Hey! Marc Anthony! Antiperspirant called. It said to say 'hi'.

Ones royal dresser is never around when one needs them.

'Gis kiss!' TOWIE's Sam Faiers can't resist boyfriend Joey Essex. Oh sorry, yes she can.

Never mind working on how to get OUT of a car, Tulisa needs to work on how to get INTO one.

Now isn't the time or the place for a game of musical statues, Britney.

Time for a new belt, JB?