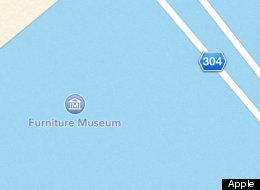 Apple has released its own Maps application as part of iOS. And the general opinion appears to be that it's... terrible
It partnered with Yelp and TomTom among other companies for its own app, which features a typically 'pared down' user interface with fewer distractions and labels. Included in the iOS 6 upgrade, released on Wednesday it added a new 3D satellite view, turn-by-turn navigation and greater integration with Siri.
The idea was to reduce its dependence on Google - but the rollout has not gone smoothly.
Users quickly realised that many places were misnamed, missing or misplaced, and one tech editor called the release the worst software update in Apple's history, while on Twitter hundreds more reports of mistakes and omissions flooded in by upset iOS users.
Here are our ten favourite errors found so far in Apple's Maps app:

Apple was just as distraught as you when Woolworths shut down. So they brought it back. Our Price, Electronics Boutique and other defunct stores are also listed.

Apple removed public transport search from its new Map app - but included Aldwych Station which has been closed since 1994. And was never in Lincoln's Inn. Also, the Sir John Soane museum is not located in the Fields, but around the edge of the square.

Apple's new maps seem to not know that Shakespeare's birth place exists.

Apple has decided to stay out of the whole Falklands/Las Malvinas debate by removing all directions, roads and towns from the islands.

Apple has turned the ancient spires and colleges of Cambridge into a wasteland with its recent Maps app. And has moved Downing College from the outskirts of the town into the centre - miles from its actual location.

This greengrocers is listed on Apple's maps - but has been closed for 15 years.

This man's 35-acre city farm is named Airfield. It is not an Air Field - but Apple has decided otherwise.

The Apple store in Sydney is listed as being on the other side of the road than it really is. Oops.

The marina of St. Katherine's Dock is now filled with cement, according to Apple.

The town of Hagley is listed as being the town of Dudley - at least seven miles away.

The town of Uckfield is almost entirely missing from Apple's Maps.