Viewers of the Great British Bake Off got more than they bargained for on Tuesday, when contestant John Waite sliced his finger on an electric mixer.
The 23-year-old from Manchester, was forced to withdraw from the strudel round and viewers were left shocked with the amount of blood shown on screen.
The show's host Sue Perkins said: "John's been soldiering on with a cut finger, but it's deeper than first feared, and stretching the pastry has stretched the wound."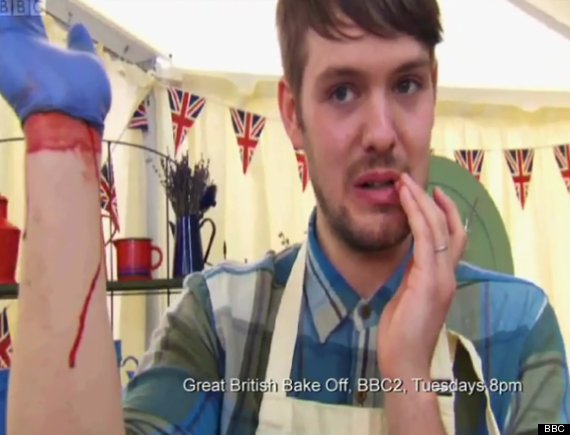 The 'bloodbath' didn't turn viewers off though, as Tuesday's episode drew in an impressive average of 4.35m viewers, representing an 18 per cent share of the viewing audience in its 8pm slot.
One viewer wrote into the Radio Times to complain that the Smeg fridge freezer company logo was seen on screen 37 times in one episode of the series, which features Mary Berry and Paul Hollywood.
PHOTOS: Contestants obsessed with cakes...
The Great British Bake Off Contestants
SUBSCRIBE TO & FOLLOW UK ENTERTAINMENT