Mark Halsey was subjected to sick cancer taunts on Twitter after he refereed Liverpool's Premier League match with Manchester United on Sunday.
Halsey sent off Liverpool midfielder Jonjo Shelvey for a wild lunge on Jonny Evans in the first half and awarded United a penalty for Glen Johnson's foul on Antonio Valencia in the second period. Robin van Persie scored the resultant spotkick to win the game for the visitors. Halsey shows a red card to Shelvey
Halsey's decisions compelled some Liverpool fans on Twitter to post taunts about the referee's fight with cancer. The two biggest culprits were a John Wareing who tweeted "I hope Mark Halsey gets cancer again and dies", while a John Hughes also wrote "Mark Halsey should've died of cancer".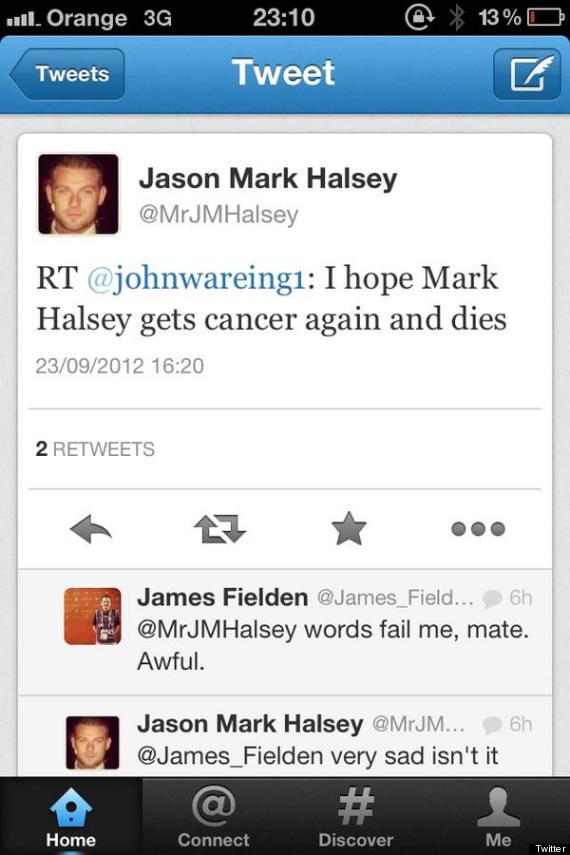 The former's account has since been closed while the latter deleted his tweet and expressed an apology. Halsey's son, Jason, retweeted one of the messages and labelled the abuse "vile". His mother Michelle has also been battling the disease.
@LFCJohn259

John Hughes
Apologies.
@MrJMHalsey

Jason Mark Halsey
I thought my dad done very well in what was a difficult game to referee. I abuse is vile and completely uncalled for.
Liverpool manager Brendan Rodgers claimed Johnson's foul on Valencia "was never a penalty" and suggested Evans should have been sent off too.
"If Jonjo gets sent off then Jonny Evans has got to be sent off as well," said Rodgers.
"If Jonjo is booked or sent off for both feet leaving the ground then Jonny Evans has got to go as well."