Police branded looters "despicable" after a bicycle shop in a flood-hit community was raided while roads were blocked by water and silt.
Bikes worth thousands of pounds were stolen from KB Cycles in Newburn, Newcastle, overnight.
The store is close to where a modern block of townhouses had to be evacuated amid fears it could collapse as water washed away material around its foundations.
Since the break-in police arrested a man and a woman and have recovered nine bikes.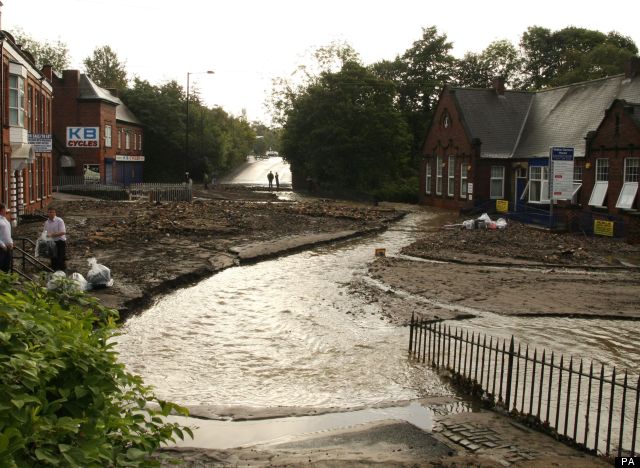 Newburn's bicycle shop has been hit by looters after it was damaged by flooding
Acting Chief Superintendent Dave Byrne, of Newcastle Area Command, said: "The safety of business owners and residents is paramount and it is despicable if people are thinking of taking advantage of the bad weather and using it as an opportunity to break in to properties.
"We have increased patrols in Newburn, however, as always, it is important that people remember to take their own steps to ensure the security of their premises and belongings and make sure they securely lock doors and windows and use alarms where they have them.
"Two people have been arrested on suspicion of burglary and are helping with our inquiries. In addition, nine bikes have been recovered.
"Regular police patrols will continue to be carried out in the area and I would urge anyone who has any concerns to speak to officers or contact police on 101."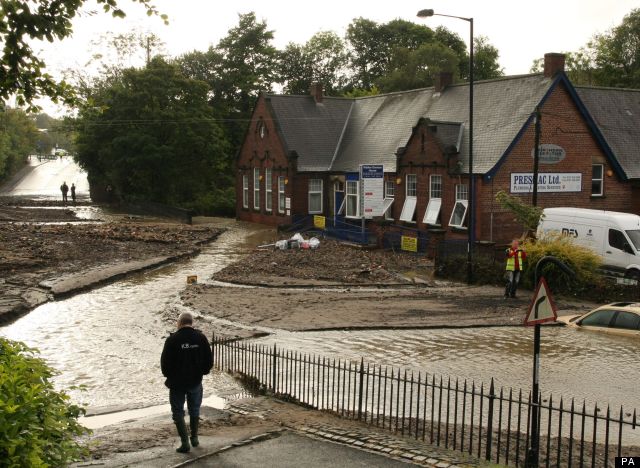 Police called the looters "despicable"
The huge amounts of mud and debris left by the floods rendered the area surrounding the shops unrecognisable.
Business owners said their premises were now under 6ft (1.8m) of water with still no end to the torrent that is pouring down the street.
Roads and pavements have been torn up and cars have been left buried in mud.
Shop owners have been rescuing what they can from their properties and placing goods in protective plastic bags.
They have also had to use ladders to bridge their way across the islands of mud that have been left by the floods.
Loading Slideshow
A1 Flooding - Catterick

25/09/2012

Foam swept in as storms batter parts of Scotland

"Scotland floods" "floods" "Aberdeen" "Scotland flood" "torrential rain" "Scotland Rain" "Scotland Heavy Rain" "Car Crash" "Storm" "Lightning" "Thunder" "Rain" "Breaking news" "news " "UK News" Storms have been battering parts of Scotland causing flooding, road closures and shutting some schools. Rail and ferry services have also been disrupted and there has also been flooding in parts of the Borders. The north east has taken the brunt of the bad weather, with sand-filled foam coating the coastline in Aberdeen.

Chester-le-Street Flooding, September 2012

The trains and buses decided to throw a hissy fit and not run today, so I couldn't make it into university, so I decided to have a walk around my town and see what all the fuss was about. The Cong Burn (leading to the River Wear) decided to burst its banks. Filmed using my new Nikon D7000, apologies for any quality issues. I'm new to this stuff / manual focusing.

Foam-covered dog walk in Footdee,Scotland

"Foam-covered" "dog walk" Dogs Puppy Cute Walk "Footdee" "Scotland" "Foam-covered dog" "Aberdeen" "Scotland floods" "floods" "Aberdeen" "Scotland flood" "torrential rain" "Scotland Rain" "Scotland Heavy Rain" "Storm" "Lightning" "Thunder" "Rain" "Breaking news" "news " "UK News" Stormy weather has caused road and school closures across Scotland. The north east and the Borders were the worst affected areas of the country. Residents in Footdee awoke to find the area of Aberdeen covered in sand-infused foam swept in off the North Sea.

North East England Floods ( September 25th 2012 )

North East England Floods ( September 25th 2012 )

UK Weather: Torrential rain and 70mph winds caused flooding-25 Sept 2012

This terrifying sight brings home the full horror of the floods that have hit areas of Britain after a mighty deluge that brought a month's rainfall in just 24 hours. A block of flats is precariously perched on stilts on an estate in Newburn, Newcastle, its foundations washed away by the waterfall which formed after the road outside turned into a river.

Autumn Floods 2012 High

UK autumn floods 2012 on Orton Lane (before WH Smiths), Pro Logis, Sutton Coldfield on 24th September 2012 @ 4pm

Breaking News: United Kingdom Floods Homes Evacuated And Travel Disrupted

Hundreds of homes have been evacuated and dozens of cars abandoned by drivers after widespread flooding across the UK. Flood warnings are in place across Britain as rivers burst their banks and forecasters say there is more bad weather to come. The North East has been worst affected, with towns such as Morpeth, Chester-le-Street, Stockton on Tees and parts of Newcastle badly hit. Other areas in England, Wales and Scotland have also been flooded, with 79 flood warnings and 143 flood alerts currently in place. More than 300 properties have flooded since Sunday. Over a month's worth of rain fell in just one day in some parts of the country. Newburn, Newcastle Damage to the Newburn block of flats (pic: Tyne and Wear Fire Service) A modern block of flats had to be evacuated in Newburn, Newcastle, after its foundations appeared to have been washed away. The development at Spencer Court was the scene of problems following heavy rain earlier this summer. Police put a cordon around the building amid fears that it could collapse and tonight the area around it was said to be like a "ghost town" as it was subject to a power failure. There has been widespread disruption to travel after roads were closed and long delays to rail services. The A1 and the East Coast Main Line were among the routes hit by the conditions. The Met Office said many places have had between 50mm and 70mm (2in to 2.8in) rain in the past 48 hours. Sea foam drifts into Aberdeen Sea foam drifts into Aberdeen (pic <b>...</b>

UK Floods & Weather Modification 2012 September 25th

Parts of Northern England and Scotland have had a fortnight's rain in just one day. More than 70 flood warnings have now been issued and the torrential rain has left dozens of roads impassable and closed rail lines. Most damage was done to the farming industry. Tell the truth Tom Clark....it's geoengineering!

People evacuated as heavy flooding hits Britain

People have been evacuated from their homes and flooding has caused major disruption to transport after parts of the UK were battered with more heavy rain.

UK : Heavy Rain, Flooding And Travel Disruption From North To South

"Extreme Weather" "Travel Disruption" "UK Weather" "Floods" "Heavy Rain" "Month's Rainfall In Day" "Rail Disruption" "Rain" "Road Disruption" "Uk Floods" "UK NEWS" "UK News" "torrential rain" "UK Rain" "UK Heavy Rain" "Midlands" "Devon" "Somerset" "Dorset" "Cheshire" "Cambridgeshire" "Car Crash" "Storm" "Lightning" "Thunder" "Rain" "Breaking news" "news " "UK News" The persistent heavy downpours that have swamped much of the country will continue today and cause some areas to experience a whole month's rainfall in just 24 hours, weather experts say. Communities across England and Wales are bracing themselves for the risk of floods from rivers and surface water as up to 100mm, almost four inches, of rain could fall by the end of the day, the Met Office said. 85 properties have been evacuated in Morpeth, Northumberland after the River Wansbeck burst its banks. Two schools have also been closed in the area, amid fears of falling trees and flooding. Officers were positioned along the river at various points to monitor the situation. Large tree trunks and debris were being swept along by the river as it continued to rise. A 14-month old infant was killed in a car crash at the weekend after the vehicle collided with a tree due to bad weather conditions. A female passenger was also killed in the crash in Crimplesham, Norfolk. The driver remains in hospital with serious injuries, reported the Cambridgeshire Times.