Don't you just hate it when you have a bad cassock day?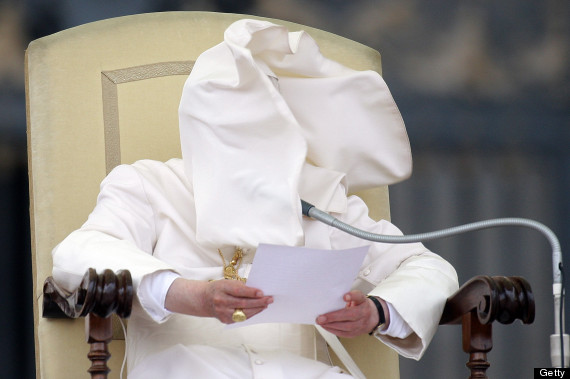 More specifically, a bad pellegrina day. From Wikipedia:
"An elbow-length shoulder cape, open in front, is sometimes worn with the cassock, either fixed to it or detachable. It is known as a pellegrina... The general rule of the Roman Catholic Church is that the pellegrina may be worn with the cassock by cardinals and bishops. In 1850, the year in which he restored the Catholic hierarchy in England and Wales, Pope Pius IX was understood to grant to all priests there the privilege of wearing a replica in black of his own white caped cassock. Since then, the wearing of the pellegrina shoulder cape with the cassock has been a sign of a Catholic priest in England and Wales, Scotland, Ireland, Australia, and New Zealand."
You learn something new every day. As does the Pope, presumably, who now realises how hazardous his pellegrina can be in windy weather conditions.
Also on HuffPost:
Loading Slideshow
Yes, the Duchess of Cambridge is thinking what we're all thinking.

Angela Merkel - quite literally the <em>grande dame</em> of Europe.

The world's first vegetarian nightclub unveils its promotional shot girls.

There are sports fans... and there's this guy. The one on the left, obviously.

Eva Longoria is flummoxed by an unusual red carpet question: "Have you left the iron on?"

Jordin Sparks is goosed by the Invisible Man.

Mitt Romney wows the crowd with the classic "A dead one of these" gag.

Paul Ryan, confused by Mitt Romney's "A dead one of these" gag.

Like us, Kelly Osbourne is stunned that a grown woman has a mobile phone case in the shape of a pink animal.

Our favourite look at London Fashion Week.

Or was it this one?

No, wait - it was definitely this one.

The camera never lies, Oliver Stone. Unlike the CIA and everyone else involved in the Kennedy assassination.

Kate Moss In 'Shows Expression' Shocker.

Prince Charles - never knowingly underwhelmed by a pint.

See <a href="http://www.huffingtonpost.co.uk/2012/09/20/barack-obama-pirate-funny-picture_n_1899883.html?utm_hp_ref=uk-comedy" target="_hplink">all the picture captions here</a>.

Altogether now: "Wave your hands in the air like you just don't care... about the invasion of your privacy by a French magazine!"

Because some people will bend over backwards to meet the royal family.