Swingers, stale marriages, heated affairs, dodgy deals, pub brawls - just your average rehearsal session at Pendon's Amateur Dramatics Society in A Chorus of Disapproval.
Alan Ayckbourn's play of shady politics in small town society has had its curtains aired as director Trevor Nunn brings a star cast to the Harold Pinter Theatre.
Comedian and actor Rob Brydon (Marion and Geoff, Gavin & Stacey) is Dafydd, the long-suffering theatre director on an ambitious mission: to turn his disparate cast of local misfits into slick thespians for a production of John Gay's The Beggar's Opera.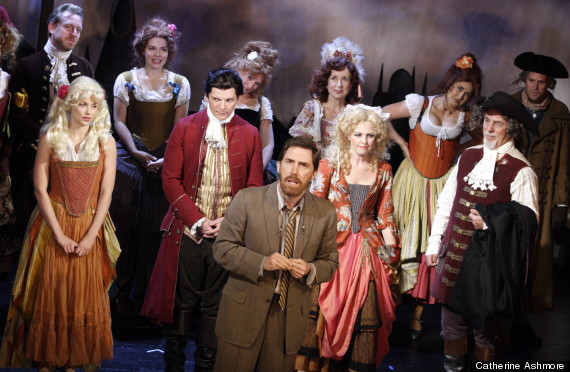 Cast of A Chorus of Disapproval
Whilst battling their way through squabbles and forgotten lines, a newcomer turns heads as he steps tentatively into the spotlight. Handsome widower Guy Jones (Nigel Harman) joins the production and proves a hit with the ladies, including Dafydd's own wife, Hannah (Ashley Jensen).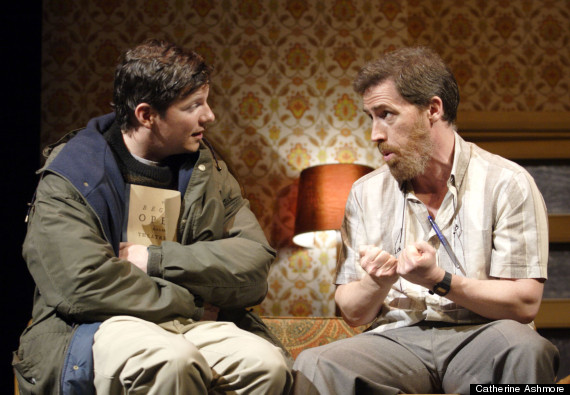 Nigel Harman(Guy) and Rob Brydon (Dafydd)
Awkward, stammering and seemingly innocent, Harman is likeable as the shy dark horse who can't say 'No', especially when it comes to an invitation to bed.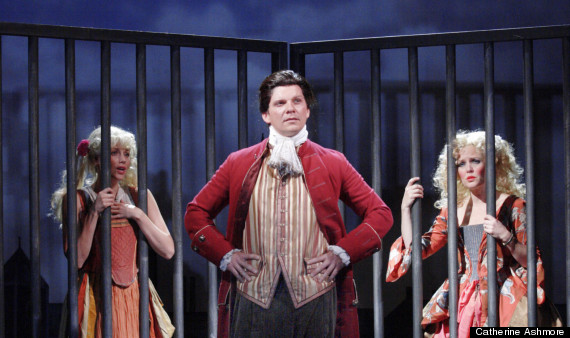 Jessica Elleby (Linda), Nigel Harman (Guy) and Ashley Jensen (Hannah)
It is a disappointing lack of chemistry between Harman and Jensen that makes their affair unbelievable - only at their first meeting do we glimpse an intimate emotional connection, the rest falls into pantomime forced kisses and strained arguments.
Despite an excellent natural performance as the hopeless-in-love Maggie in Extras, Jenson appears miscast as the seemingly dutiful wife, who Dafydd calls his "Swiss Army Wife" - it feels as though Jenson has only one theatrical blade to offer.
When penning Dafydd's character in the 1980s, Ayckbourn must have been channeling a future Rob Brydon for the role - the part fits him like a glove from a village hall's costume box.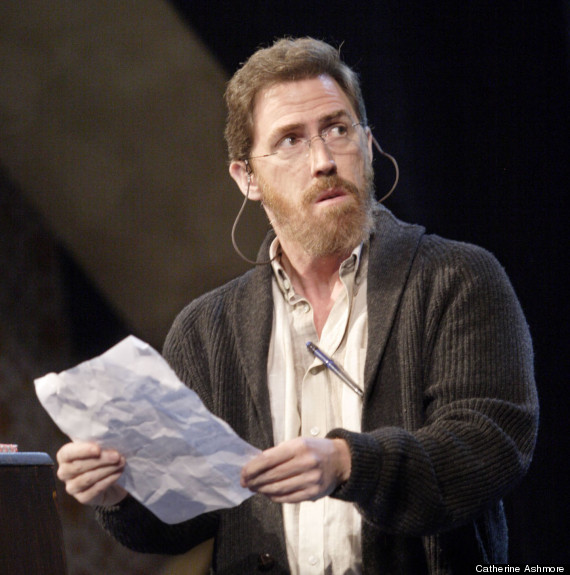 Naïve, well-meaning, friendly, yet at times overbearing, and delightfully Welsh - Brydon carries the play's humour and humanity perfectly as he becomes the cuckolded victim of Guy. Rushing around the theatre with nervous energy in one scene, Brydon's welsh lilt booms across the stalls from amongst the audience members. Brydon owns the stage in every scene, making Nunn's production a must-see.
Other outstanding performances come from Daisy Beaumont and Susan Tracy as strong female characters on a mission. Giggling, confident and dangerous, Beaumont excels as the predatory Fay Hubbard: "Hello," she coos into Guy's face at their first meeting, later ensnaring him into a swinger's sex party. Tracy gets titters from the audience with her flamboyant portrayal of the scheming Rebecca.
In this 'play within a play', with ridiculous characters, silly costumes and laugh-out-loud lines, A Chorus of Disapproval is an impressive West End debut for Rob Brydon and guaranteed fun for all.
Take a look at all of HuffPost UK's theatre reviews:
HuffPost UK Theatre Reviews
A Chorus Of Disapproval (REVIEW)
Huffington Post UK review of A Chorus Of Disapproval at the Harold Pinter Theatre.
Alan Ayckbourn's play of shady politics in small town society has had its curtains aired as director Trevor Nunn brings a star cast to the Harold Pinter Theatre.
Written by:
Matthew Tucker
A Chorus Of Disapproval, Harold Pinter Theatre
Date published: 10/01/2012
SUBSCRIBE AND FOLLOW
Get top stories and blog posts emailed to me each day. Newsletters may offer personalized content or advertisements.
Learn more