Huffington Post Picture Desk Live: 10th October 2012
Scroll down for some of the best news, entertainment, culture and sports pictures from around the world, brought to you by The Huffington Post's Picture Editors Elliot Wagland, Matthew Tucker and Tahira Mirza: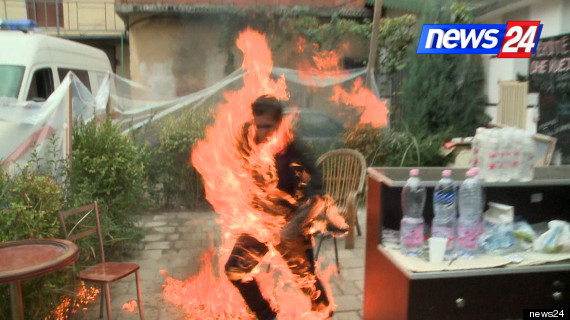 Lirak Bejko, 47, a former Albanian political prisoner sets fire to himself in Tirana, Albania Wednesday, Oct. 10 , 2012. Authorities in Albania say a second former political prisoner has set himself on fire to protest delays in government compensation for victims of the communist regime. Bejko is the second member of a group of 20 former political prisoners — on hunger strike for 19 days — to set himself on fire. The protesters want the government to honor pledges to pay victims of the former regime 2,000 leks (.32; Euros14.05) per day of imprisonment.