Boyzone star Ronan Keating promised to marry his mistress during their passionate affair.
The singer, who is divorcing his wife Yvonne, told dancer Francine Cornell they would be wed "in 20 years" and sobbed as he confessed his undying love after their affair began over a packet of Monster Munch crisps.
Cornell tells The Sun newspaper how Keating blubbed: "I need you. I can't not have you in my life."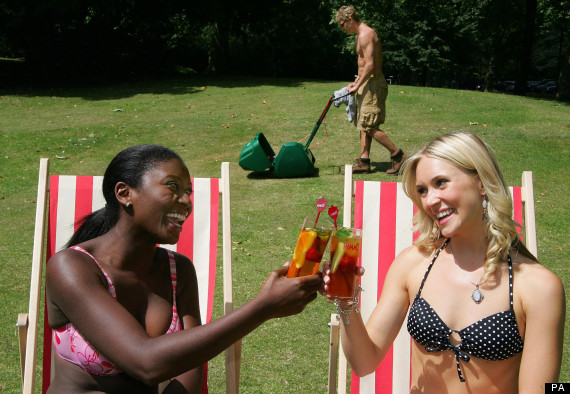 Francine Cornell, right, has spoken out about her affair with Keating
The affair led to the end of the singer's 14-year relationship with his wife, who is the mother of his three children.
Cornell met Keating in 2009 when she was hired as a dancer for Boyzone's tour of U.K. and Ireland.
She tells the paper: "Ronan was lovely. After a while I noticed he'd look at me and I thought, 'Am I doing something wrong?' I was secretly panicking.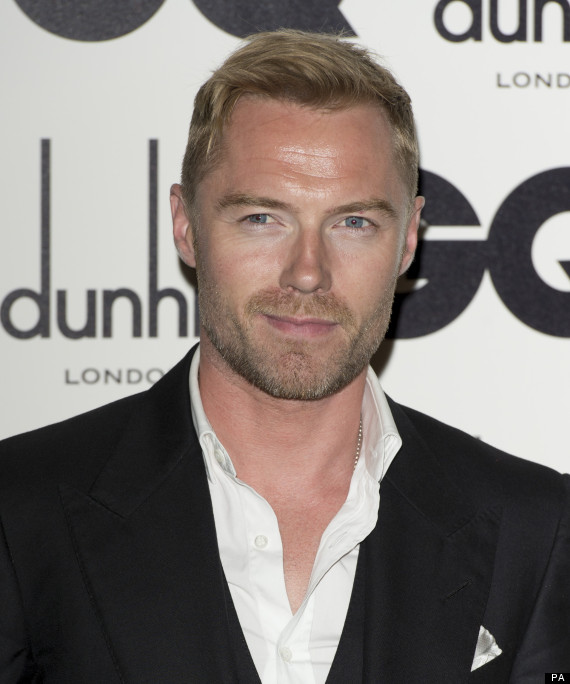 Keating is divorcing from his wife Yvonne
"One day near the end of the tour he came up to me at a soundcheck and said, 'I'm really sorry I keep staring at you, I can't help it.'"
She said they kissed on the tour but it was not until they shared a savoury snack together that she realised they were at the start of a serious relationship.
Cornell added: "Not a lot happened on the tour, though we kissed. One night we sat up talking, eating a packet of Monster Munch together.
"We were chatting and I realised the relationship I was in wasn't right, because I was feeling something for somebody that was more than I was feeling for the person I was in a relationship with."
The pair saw each other in London after bandmate Stephen Gately gave Keating her number and they began meeting in hotels.
She told Keating he had to go back to his wife and family but he said: "In 20 years, we will be married."
Cornell added: "It was nice and I think it was what he believed at the time."
When the singer's wife found out about the affair, she called the dancer and asked if they were in love.
Cornell said: "The only thing I could do was face up to it and be honest. I told her, 'Yes, I am in love with him and he tells me he loves me'."
Yvonne told Cornell she wanted to save the marriage if Francine agreed to "back off."
But she adds: "The marriage was already in trouble before either Ronan or his wife knew who I was."
Last week Keating talked about his infidelity on Piers Morgan's chat show and said it had "devastating effects" on people's lives.
Keating is now seeing 30-year-old television producer Storm Uechtritz
Loading Slideshow
Miley Cyrus & Liam Hemsworth

Miranda Kerr and Orlando Bloom

<a href="http://www.huffingtonpost.com/2013/10/25/orlando-bloom-miranda-kerr-split_n_4162443.html?utm_hp_ref=celebrity-splits" target="_blank">Miranda Kerr and Orlando Bloom split</a> in October after three years of marriage. The two released a statement saying they "love, support and respect each other as both parents of their son and as family."

Ashley Judd and Dario Franchitti

After 12 years together, <a href="http://www.huffingtonpost.com/2013/01/30/ashley-judd-dario-franchitti-divorce_n_2580690.html" target="_blank">Ashley Judd and Dario Franchitti announced their divorce</a> in January.

Diane Lane and Josh Brolin

Diane Lane and Josh Brolin split in February. Their <a href="http://www.huffingtonpost.com/2013/12/02/josh-brolin-diane-lane-divorced_n_4373282.html" target="_blank">divorce was finalized</a> in December.

Catherine Zeta Jones and Michael Douglas

Catherine Zeta Jones and Michael Douglas <a href="http://www.huffingtonpost.com/2013/08/28/catherine-zeta-jones-michael-douglas-separate_n_3828657.html" target="_blank">separated in August</a>. Sources said they are "taking a break."

Clint Eastwood and Dina

<a href="http://www.huffingtonpost.com/2013/08/29/clint-eastwood-dina-eastwood-separate_n_3838790.html?utm_hp_ref=celebrity-splits" target="_blank">Clint Eastwood and his wife Dina split</a> in August. They had been together 17 years.

Malin Akerman and Roberto Zincone

Actress Malin Akerman and her rocker husband, Roberto Zincone, <a href="http://www.huffingtonpost.com/2013/11/25/malin-akerman-roberto-zincone-split_n_4340480.html" target="_blank">split in November</a> just months after the birth of their first child.

Michael Sheen, Rachel McAdams

Michael Sheen and Rachel McAdams <a href="http://www.huffingtonpost.com/2013/02/27/rachel-mcadams-michael-sheen-break-up_n_2772707.html?utm_hp_ref=celebrity-splits" target="_blank">broke up in February</a>. They met on the set of "Midnight in Paris" and dated for two years.

Bruce and Kris Jenner

Bruce and Kris Jenner <a href="http://www.huffingtonpost.com/2013/10/09/kris-jenner-bruce-jenner-separate-what-went-wrong_n_4070145.html?utm_hp_ref=celebrity-splits" target="_blank">announced the end of their marriage</a> in October. They had been together for 22 years.

George Clooney & Stacy Keibler

Kristen Stewart & Robert Pattinson

Nina Dubrov & Ian Somerhalder

Julianne Hough & Ryan Seacrest

Britney Spears & Jason Trawick

Bradley Cooper & Zoe Saldana

(AP)

Kat Von D and Deadmau5

Tattoo artist Kat Von D and producer Deadmau5 <a href="http://www.huffingtonpost.ca/2013/06/27/deadmau5-kat-von-d-split-cheating_n_3509721.html" target="_blank">ended their engagement</a> in June. She announced the split via Twitter, insinuating he cheated on her.

Bethenny Frankel & Jason Hoppy

(Photo by G. Gershoff/Getty Images for Tanger Outlets)

Justin Bieber and Selena Gomez

Justin Bieber and Selena Gomez <a href="http://www.huffingtonpost.com/2013/01/04/justin-bieber-selena-gomez-split-break-up-again-new-years_n_2408778.html" target="_blank">split for the second time</a> just after New Year's. Teenyboppers everywhere sobbed.

Danny Devito & Rhea Perlman

(AP Foto/Peter Kramer, Archivo)

Amy Poehle & Will Arnett

(AP Photo/Matt Sayles)

Danielle Spencer & Russell Crowe

(Photo by Lisa Maree Williams/Getty Images)

Hayden Panettiere & Scotty McKnight

(Photo by Jason Merritt/Getty Images)

Katie Holmes & Tom Cruise

(Getty)

Adam Levine and Anne Vyalitsyna

(AP Photo/Chris Pizzello)

Brenda Song & Trace Cyrus

(Photo by Michael Buckner/Getty Images for T-Mobile)

Debra Messing & Daniel Zelman

(AP Photo/Gus Ruelas, File)

Zooey Deschanel & Ben Gibbard

(Photo by Kevin Winter/Getty Images)

Martin & Shamicka Lawrence

(Steve Granitz/WireImage)

Avril Lavigne & Brody Jenner

(Photo by Ilya S. Savenok/Getty Images)

Johnny Depp & Vanessa Paradis

(Getty)

Jennie Garth & Peter Facinelli

(Getty)

Eva Longoria & Eduardo Cruz

(Getty)

David Arquette & Christina McLarty

(Getty)

"Bachelorette" Ali Fedotowsky & Roberto Martinez

(Getty)

Seal & Heidi Klum

(Getty)

Katy Perry & Russell Brand

(Getty)

Emma Roberts & Chord Overstreet

(Getty)

Ashton Kutcher & Demi Moore

(Getty)

Cameron Diaz & Alex Rodriguez

(Bauer-Griffin)

Jesse James & Kat Von D

(WireImage)

Jennifer Lopez & Marc Anthony

(WireImage)

Kate Bosworth & Alexander Skarsgard

(WireImage)

James Franco & Ahna O'Reilly

(Getty)

Hugh Hefner & Crystal Harris

(Getty)

Renee Zellweger & Bradley Cooper

(Bauer Griffin)

David Arquette & Courtney Cox

(AP Photo/InStyle, Casey Rodgers)

George Clooney & Elisabetta Canalis

(Getty)

Lauren Conrad & Kyle Howard

(WireImage)

Jason Mraz & Tristan Prettyman

(Getty)

Kim Kardashian & Kris Humphries

(Getty)

Christina Aguilera & Jordan Bratman

(Getty)