If you were on the beach and this 20ft creature washed up at your feet you'd probably raise an eyebrow at the very least.
Then you'd tear through the sand, screaming, frothing at the mouth and warning of the apocalypse before being rugby tackled by someone yelling: "Calm down it's only an OARFISH you chump".

This undeniably impressive specimen was found in the waters off the main beach of Cabo El Medano, in Mexico.
Scroll down for more pictures!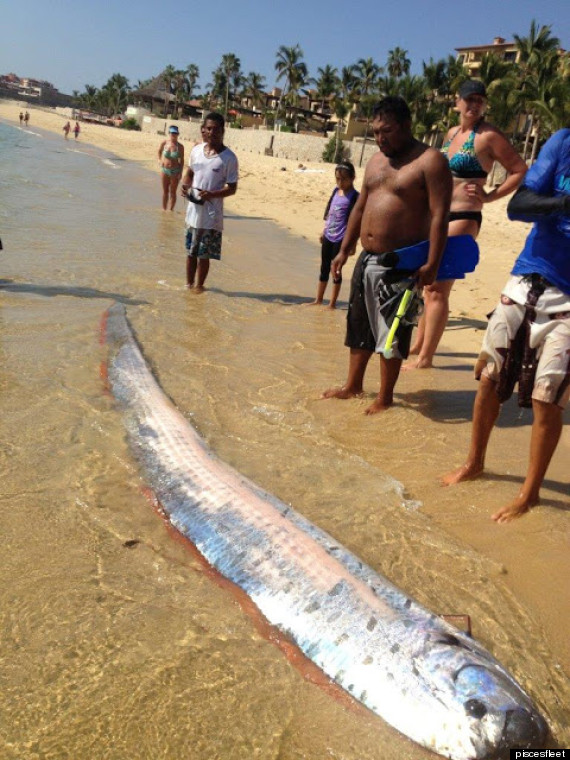 We're gonna need a bigger beach: An oarfish on the shore
The image was posted on a blog run by Pisces Fleet Sportfishing, which describes a "commotion" at the waters edge, first noticed by realtor Roberto Gonzalez.
The blog says: "His first thought was 'there's been an accident', then he saw three locals supporting what appeared to him as a monster from the deep.
"He ran down to get a closer look and saw them assisting the strange creature, which appeared to be in distress as it struggled for air."
The silver fish, which boasts a bright orange dorsal fin, eventually died, despite repeated attempts to float it back out to sea.
The blog adds: "These are deep water fish, rarely seen, unless they are dying."
SEE ALSO:
Oarfish, which are also known as ribbonfish, are considered one of the world's longest fish, reaching up to 55 feet and weighing up to 600 pounds.
In Japan, they are traditionally known as "Messengers from the Sea God's Palace" and are believed to be the harbingers of powerful earthquakes, (uh-oh...)
The species is thought to live at depths between 700 and 3,000 feet in temperate and tropical waters.
The oarfish's sad demise comes in the same week a giant eyeball washed up on a Florida beach caused a flurry of excitement.
Keep scrolling, more pictures down below!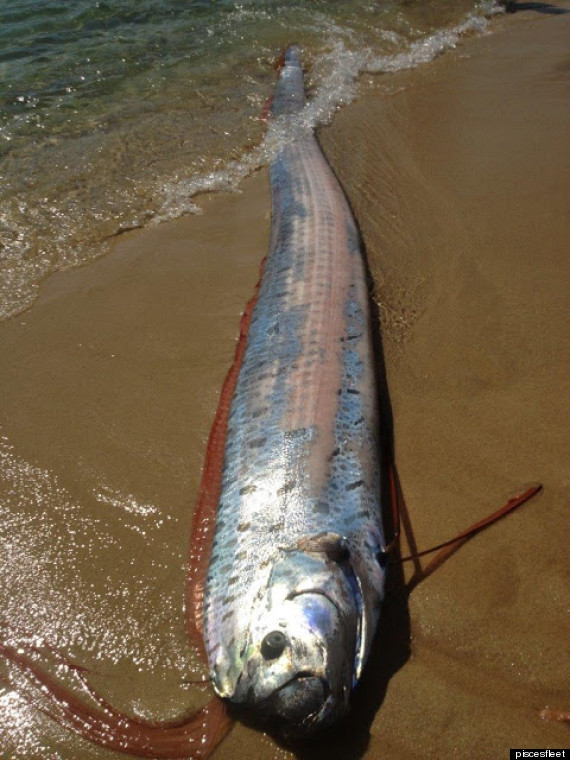 "Based on straight-line cuts visible around the eye, we believe it was removed by a fisherman and discarded."

SUBSCRIBE TO & FOLLOW UK DAILY BRIEF