A vigil will be held today for the Pakistani schoolgirl shot in the head by Taliban gunmen.
Malala Yousafzai is being treated at Birmingham's Queen Elizabeth Hospital where she was last night said to be moving her limbs.
The 14-year-old was flown to the UK on Monday after being attacked for promoting the education of girls and criticising the militant group.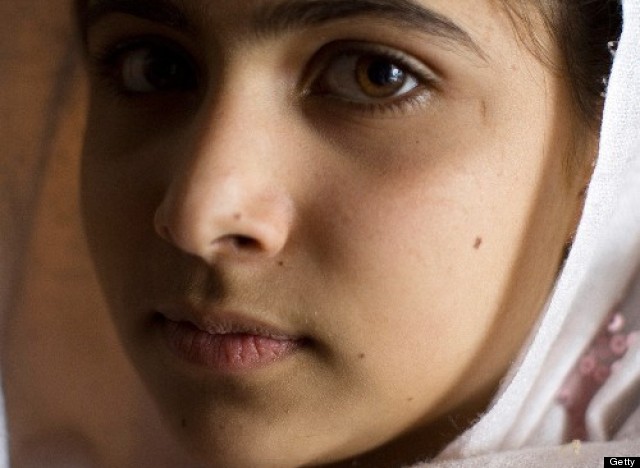 Malala Yousafzai was shot in the head by Taliban gunmen

The vigil will be held by Women2Gether and Amina Women's Group outside Birmingham Council House in the city's Victoria Square between 11am and 1pm.
It comes after the Pakistani Taliban lashed out at media coverage of the shooting of Malala Yousafzai, claiming the criticism has been "biased."
More than 600 people from around the world have posted messages of support for Malala on the University Hospitals Birmingham NHS Foundation Trust website.
Doctors at the hospital, which has a decade's experience of treating British military casualties, are now planning the reconstructive operations needed to treat her horrific injuries.
Dr Dave Rosser, the hospital's medical director, explained experienced surgeons are going over the procedures Malala will need as part of her "prolonged care" on the road to physical and psychological recovery. The Taliban claimed responsibility for the attack on 14-year-old Malala and said if she recovered she would not be spared

"It's obvious that Malala will need reconstructive surgery, and we have international experts in that field, so it's beginning to plan for reconstructive surgery," he said.
Yesterday a spokesman for the hospital said Malala remains in a stable condition and is continuing to impress doctors by responding well to her care.
The teenager was shot with two classmates as they made their way home from school in Swat, in the north west of Pakistan in what Foreign Secretary William Hague described as a "barbaric attack".
SEE ALSO: Pakistani Taliban Claim Media Coverage Of Shooting Is Biased

Malala was saved by neurosurgeons in a Pakistani military hospital and has since been in intensive care. She was transferred to the UK by an air ambulance arranged by the United Arab Emirates (UAE).
Her family remains in Pakistan.
Mr Hague has said: "Malala's bravery in standing up for the right of all young girls in Pakistan to an education is an example to us all.
"Our thoughts remain with Malala and her family at this difficult time.
"The public revulsion and condemnation of this cowardly attack shows that the people of Pakistan will not be beaten by terrorists.
"The UK stands shoulder to shoulder with Pakistan in its fight against terrorism."
Loading Slideshow
Malala family visit

Ziauddin Yousufzai accompanied by his 12 year old son Khushal (left) talks to the media after visiting his daughter Malala at the Queen Elizabeth Hospital, Birmingham today.

Malala family visit

Ziauddin Yousufzai talks to the media after visiting his daughter Malala at the Queen Elizabeth Hospital, Birmingham today.

Malala family visit

Ziauddin Yousufzai accompanied by his 12 year old son Khushal (left) talks to the media after visiting his daughter Malala at the Queen Elizabeth Hospital, Birmingham today.

Malala family visit

Ziauddin Yousufzai (left) talks with Dr David Rosser, Medical Director after visiting his daughter Malala at the Queen Elizabeth Hospital, Birmingham today.

Malala family visit

Ziauddin Yousufzai accompanied by his 12 year old son Khushal with Medical Director Dr David Rosser talks to the media after visiting his daughter Malala at the Queen Elizabeth Hospital, Birmingham today.

Malala family visit

Ziauddin Yousufzai talks to the media after visiting his daughter Malala at the Queen Elizabeth Hospital, Birmingham today.

Malala family visit

Ziauddin Yousufzai accompanied by his 12 year old son Khushal (left) talks to the media after visiting his daughter Malala at the Queen Elizabeth Hospital, Birmingham today.

Malala Yousafzai, who was shot by a Taliban gunman in Pakistan, in her hospital bed at the Queen Elizabeth Hospital, Birmingham.

Malala Yousafzai, who was shot by a Taliban gunman in Pakistan, in her hospital bed at the Queen Elizabeth Hospital, Birmingham.

Malala Yousafzai, who was shot by a Taliban gunman in Pakistan, in her hospital bed at the Queen Elizabeth Hospital, Birmingham.

Malala Yousafzai, who was shot by a Taliban gunman in Pakistan, in her hospital bed at the Queen Elizabeth Hospital, Birmingham.

Shot schoolgirl treated in the UK

Security patrol the Queen Elizabeth Hospital, Birmingham, where Malala Yousafzai, who was shot by a Taliban gunman in Pakistan is being treated.

Shot schoolgirl treated in the UK

Dr Dave Rosser, Medical Director, University Hospitals Birmingham NHS Foundation Trust, speaks to the media during a briefing at the Queen Elizabeth Hospital, Birmingham, to update on the condition of Malala Yousafzai, who was shot by a Taliban gunman in Pakistan.

Shot schoolgirl treated in the UK

Dr Dave Rosser, Medical Director, University Hospitals Birmingham NHS Foundation Trust, speaks to the media during a briefing at the Queen Elizabeth Hospital, Birmingham, to update on the condition of Malala Yousafzai, who was shot by a Taliban gunman in Pakistan.

Shot schoolgirl treated in the UK

Dr Dave Rosser, Medical Director, University Hospitals Birmingham NHS Foundation Trust, speaks to the media during a briefing at the Queen Elizabeth Hospital, Birmingham, to update on the condition of Malala Yousafzai, who was shot by a Taliban gunman in Pakistan.

Shot schoolgirl treated in the UK

Dr Dave Rosser, Medical Director, University Hospitals Birmingham NHS Foundation Trust, speaks to the media during a briefing at the Queen Elizabeth Hospital, Birmingham, to update on the condition of Malala Yousafzai, who was shot by a Taliban gunman in Pakistan.

Shot schoolgirl treated in the UK

Malala Yousafzai, 14, the Pakistani schoolgirl shot in the head by Taliban gunmen arrives in the UK at Birmingham Airport.

Shot schoolgirl treated in the UK

Malala Yousafzai, 14, the Pakistani schoolgirl shot in the head by Taliban gunmen arrives in the UK at Birmingham Airport.

Shot schoolgirl treated in the UK

Campaigners gather for a vigil for 14 year old schoolgirl Malala Yousafzai, in Birmingham's Victoria Square today.

Shot schoolgirl treated in the UK

Campaigners including 9 month old Mnaha Zoya gather for a vigil for 14 year old schoolgirl Malala Yousafzai, in Birmingham's Victoria Square today.

Shot schoolgirl treated in the UK

Campaigners gather for a vigil for 14 year old schoolgirl Malala Yousafzai, in Birmingham's Victoria Square today.

Shot schoolgirl treated in the UK

Campaigners gather for a vigil for 14 year old schoolgirl Malala Yousafzai, in Birmingham's Victoria Square today.

An ambulance believed carrying 14-year-old Malala Yusufza who was attacked by the Taliban for advocating women s education rights as arriving to the Queen Elizabeth Hospital for treatment on her injuries in Birmingham central England 15 October 2012. Reports state that she was travelling from Islamabad with her parents and medical staff after being shot in the head and neck in a Taliban attack. The British government confirmed that Malala will be cared for at the Queen Elizabeth Hospital in Birmingham which has a specialist trauma unit and is a key centre for treating soldiers injured in conflict. EPA/ANDREW FOX

A police officer stands guard at the entrance of Emergency Department of the Queen Elizabeth Hospital in Birmingham where 14-year-old Malala Yusufza who was attacked by the Taliban for advocating women s education rights arrived for treatment on her injuries in Birmingham central England 15 October 2012. Reports state that she was travelling from Islamabad with her parents and medical staff after being shot in the head and neck in a Taliban attack. The British government confirmed that Malala will be cared for at the Queen Elizabeth Hospital in Birmingham which has a specialist trauma unit and is a key centre for treating soldiers injured in conflict. EPA/ANDREW FOX

An ambulance believed carrying 14-year-old Malala Yusufza who was attacked by the Taliban for advocating women s education rights arrive with police escort to the Queen Elizabeth Hospital for treatment on her injuries in Birmingham central England 15 October 2012. Reports state that she was travelling from Islamabad with her parents and medical staff after being shot in the head and neck in a Taliban attack. The British government confirmed that Malala will be cared for at the Queen Elizabeth Hospital in Birmingham which has a specialist trauma unit and is a key centre for treating soldiers injured in conflict. EPA/ANDREW FOX

An undated handout photograph released by University Hospitals Birmingham on 15 October 2012 showing Dave Rosser Executive Medical Director at Birmingham's Queen Elizabeth Hospital. Reports state on 15 October 2012 that Dave Rosser medical director at Birmingham's Queen Elizabeth Hospital said that Malala Yusufzai The Pakistani schoolgirl shot by Taliban gunmen has a chance of making a good recovery. Malala Yusufza who was attacked by the Taliban for advocating women s education rights was flown from Islamabad with her parents and medical staff to be cared for at the Queen Elizabeth Hospital in Birmingham which has a specialist trauma unit and is a key centre for treating soldiers injured in conflict EPA

Shot schoolgirl treated in the UK

Malala Yousafzai, 14, the Pakistani schoolgirl shot in the head by Taliban gunmen arrives in the UK at Birmingham Airport.

Shot schoolgirl treated in the UK

Malala Yousafzai, 14, the Pakistani schoolgirl shot in the head by Taliban gunmen arrives in the UK at Birmingham Airport.

Shot schoolgirl treated in the UK

Malala Yousafzai, 14, the Pakistani schoolgirl shot in the head by Taliban gunmen arrives in the UK at Birmingham Airport.

Shot schoolgirl treated in the UK

Malala Yousafzai, 14, the Pakistani schoolgirl shot in the head by Taliban gunmen arrives in the UK at Birmingham Airport.

Shot schoolgirl treated in the UK

The plane containing Malala Yousafzai, 14, the Pakistani schoolgirl shot in the head by Taliban gunmen arrives in the UK at Birmingham Airport.

Shot schoolgirl treated in the UK

The plane containing Malala Yousafzai, 14, the Pakistani schoolgirl shot in the head by Taliban gunmen arrives in the UK at Birmingham Airport.

Shot schoolgirl treated in the UK

Malala Yousafzai, 14, the Pakistani schoolgirl shot in the head by Taliban gunmen arrives in the UK at Birmingham Airport.

Shot schoolgirl treated in the UK

The plane containing Malala Yousafzai, 14, the Pakistani schoolgirl shot in the head by Taliban gunmen arrives in the UK at Birmingham Airport.

Shot schoolgirl treated in the UK

Malala Yousafzai, 14, the Pakistani schoolgirl shot in the head by Taliban gunmen arrives in the UK at Birmingham Airport.

Shot schoolgirl treated in the UK

Malala Yousafzai, 14, the Pakistani schoolgirl shot in the head by Taliban gunmen arrives in the UK at Birmingham Airport.

Shot schoolgirl treated in the UK

Malala Yousafzai, 14, the Pakistani schoolgirl shot in the head by Taliban gunmen arrives in the UK at Birmingham Airport.

PAKISTAN-UNREST-NORTHWEST-CHILDREN

Pakistani demonstrators shout slogans during a protest against the assassination attempt on child activist Malala Yousafzai, in Lahore on October 11, 2012. The Pakistani child activist that shot in the head by the Taliban was airlifted to the country's top military hospital for specialist treatment, is still in a critical condition, officials said. The shooting of 14-year-old Malala Yousafzai on a school bus in the Swat valley has been denounced worldwide and by the Pakistani authorities, who have offered a reward of more than USD 100,000 for the capture of her attackers. AFP PHOTO / Arif Ali

PAKISTAN-UNREST-NORTHWEST-CHILDREN

A Pakistani veiled activist of an Islamic Sunni Tehreek party carries a placard during a protest against the assassination attempt by Taliban on child activist Malala Yousafzai, in Islamabad on October 14, 2012. A Pakistani schoolgirl shot in the head by the Taliban in retaliation for her campaign for the right to education, is making 'slow and steady progress' in her recovery, the military said. AFP PHOTO / AAMIR QURESHI

PAKISTAN-UNREST-NORTHWEST-CHILDREN

Pakistani leaders of the Muttahida Quami Movement (MQM) sit under a photograph of child activist Malala Yousafzai during a protest procession against the assassination attempt by Taliban, in Karachi on October 14, 2012. A Pakistani schoolgirl Malala Yousafzai shot in the head by the Taliban because she campaigned for the right to education is making 'slow and steady progress' in her recovery, the military said. AFP PHOTO / RIZWAN TABASSUM

PAKISTAN-UNREST-NORTHWEST-CHILDREN

Pakistani demonstrators shout slogans during a protest against the assassination attempt on child activist Malala Yousafzai, in Lahore on October 11, 2012. The Pakistani child activist that shot in the head by the Taliban was airlifted to the country's top military hospital for specialist treatment, is still in a critical condition, officials said. The shooting of 14-year-old Malala Yousafzai on a school bus in the Swat valley has been denounced worldwide and by the Pakistani authorities, who have offered a reward of more than USD 100,000 for the capture of her attackers. AFP PHOTO / Arif Ali

PAKISTAN-UNREST-NORTHWEST-CHILDREN

Pakistani school girls pray for the early recovery of child activist Malala Yousafzai, who was shot in the head in a Taliban assassination attempt, at their school in Peshawar on October 12, 2012. Pakistanis at mosques across the country prayed Friday for the recovery of a schoolgirl shot in the head by the Taliban as doctors said the next two days were critical. AFP PHOTO / A. MAJEED

PAKISTAN-UNREST-NORTHWEST-CHILDREN

Pakistani civil society activists and journalists carry candles and photographs of gunshot victim Malala Yousafzai during a protest against the assassination attempt on Malala Yousafzai, in Islamabad on October 11, 2012. The Pakistani child activist that shot in the head by the Taliban was airlifted to the country's top military hospital for specialist treatment, is still in a critical condition, officials said. The shooting of 14-year-old Malala Yousafzai on a school bus in the Swat valley has been denounced worldwide and by the Pakistani authorities, who have offered a reward of more than USD 100,000 for the capture of her attackers. AFP PHOTO / Aamir QURESHI

PAKISTAN-UNREST-NORTHWEST-CHILDREN

Pakistani demonstrators carry photographs of gunshot victim and child activist Malala Yousafzai during a protest against her assassination attempt, in Karachi on October 11, 2012. The Pakistani child activist that shot in the head by the Taliban was airlifted to the country's top military hospital for specialist treatment, is still in a critical condition, officials said. The shooting of 14-year-old Malala Yousafzai on a school bus in the Swat valley has been denounced worldwide and by the Pakistani authorities, who have offered a reward of more than USD 100,000 for the capture of her attackers. AFP PHOTO / ASIF HASSAN

PAKISTAN-UNREST-NORTHWEST-CHILDREN-SWAT

Pakistani students pray for the early recovery of child activist Malala Yousafzai at a school in Mingora on October 11, 2012. The horrific attack on a Pakistani child rights activist, shot in the head by the Taliban in front of terrified schoolgirls, has raised fears that targeted attacks are on the rise in the Swat valley. Malala Yousafzai, 14, who won international recognition for a blog about the horrors of life under the Taliban and a campaign for the right to an education, is the highest-profile target of militants in Swat for more than three years. AFP PHOTO / MOHAMMAD REHMAN

PAKISTAN-UNREST-NORTHWEST-CHILDREN

Pakistani Prime Minister Raja Pervez Ashraf (L) briefs the media after visiting child activist Malala Yousafzai, who was shot in the head in a Taliban assassination attempt, in Rawalpindi on October 12, 2012. The next 36 to 48 hours will be critical for a Pakistani schoolgirl shot in the head by the Taliban, the military said on October 12, calling on the nation to pray for her recovery. AFP PHOTO / AAMIR QURESHI

PAKISTAN-UNREST-NORTHWEST-CHILDREN

Pakistani Prime Minister Raja Pervez Ashraf (C) arrives at a military hospital to visit child activist Malala Yousafzai, who was shot in the head in a Taliban assassination attempt, in Rawalpindi on October 12, 2012. The next 36 to 48 hours will be critical for a Pakistani schoolgirl shot in the head by the Taliban, the military said on October 12, calling on the nation to pray for her recovery. AFP PHOTO / AAMIR QURESHI

PAKISTAN-UNREST-NORTHWEST-CHILDREN

Pakistani Muslims pray for the early recovery of child activist Malala Yousafzai, who was shot in the head in a Taliban assassination attempt, during a Frdiay prayers in Karachi on October 12, 2012. Pakistanis at mosques across the country prayed Friday for the recovery of a schoolgirl shot in the head by the Taliban as doctors said the next two days were critical. AFP PHOTO / ASIF HASSAN

PAKISTAN-UNREST-NORTHWEST-CHILDREN

A Pakistani Muslim prays for the recovery of child activist Malala Yousafzai, who was shot in the head in a Taliban assassination attempt, during a Frdiay prayers in Karachi on October 12, 2012. Pakistanis at mosques across the country prayed Friday for the recovery of a schoolgirl shot in the head by the Taliban as doctors said the next two days were critical. AFP PHOTO / ASIF HASSAN

PAKISTAN-UNREST-NORTHWEST-CHILDREN

Pakistani Muslims pray for the early recovery of child activist Malala Yousafzai, who was shot in the head in a Taliban assassination attempt, during a Frdiay prayers in Karachi on October 12, 2012. Pakistanis at mosques across the country prayed Friday for the recovery of a schoolgirl shot in the head by the Taliban as doctors said the next two days were critical. AFP PHOTO / ASIF HASSAN

PAKISTAN-UNREST-NORTHWEST-CHILDREN

Pakistani school girls pray for the early recovery of child activist Malala Yousafzai, who was shot in the head in a Taliban assassination attempt, at their school in Peshawar on October 12, 2012. Pakistanis at mosques across the country prayed Friday for the recovery of a schoolgirl shot in the head by the Taliban as doctors said the next two days were critical. AFP PHOTO / A. MAJEED

PAKISTAN-UNREST-NORTHWEST-CHILDREN

Pakistani hospital workers carry injured Malala Yousafzai, 14, on a stretcher at a hospital following an attack by gunmen in Mingora on October 9, 2012. A teenage Pakistani children's rights activist was shot in the head in an assassination attempt as she boarded a school bus in the former Taliban stronghold of Swat, officials said. AFP PHOTO / STR (Photo credit should read STR/AFP/GettyImages)