Murder squad detectives are continuing to question a 31-year-old man over a fatal hit-and-run rampage as nine victims remained in hospital.
A special church service will be held later today in Ely, Cardiff, in support of the victims and their families while candles and flowers continue to be left at the crash site outside the fire station on Cowbridge Road West where 32-year-old mother-of-three Karina Menzies was killed.
Two of the injured adults were in a critical condition and five children were also receiving treatment after the driver of a white van brought bloodshed to the streets of the Welsh capital on Friday afternoon.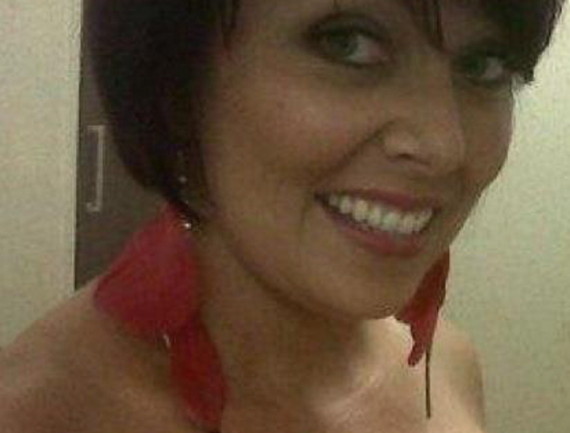 Mum Karina Menzies was killed by the hit-and-run driver
South Wales Police were last night granted a further 36 hours to detain and question the arrested man.
Detective Superintendent Paul Hurley said the suspect carried a weapon and left his Iveco van to physically assault people.
He said police were looking to identify and recover the weapon, which was believed to be a crook lock.
There were also unconfirmed reports police were investigating if the driver was involved in a domestic incident before the rampage.
Police said a key part of the inquiry is focused on establishing who owns the white van. Kevin Ellis, friend of Karina Menzies, 32, views the floral tributes outside the Fire Station for her
More than 70 officers are working on the investigation, studying CCTV footage and taking witness statements to help build a picture of what happened.
Hurley urged witnesses to get in touch and asked for information about a black Renault Clio seen driving on the wrong side of the road of Western Avenue, not far from Cowbridge Road West.
There were no full registration details for the Clio but officers said it carried an 05 plate. A special church service will be held later on Sunday in Ely
The first incident to be reported was in Crossways Road in Ely at 3.30pm.
This was soon followed by other reports of hit-and-run collisions in several locations in the west of the city, including Grand Avenue, Cowbridge Road West and the Leckwith Retail Park.
A total of 14 people were injured in the crashes.
Scores of tributes were also paid to Menzies on social networking sites.
Facebook user Katy Johanna Benson wrote: "Rest in piece Karina Menzies. Sleep tight beautiful angel and may the scum responsible for this senseless, evil murder be brought to justice. Cant imagine what her family are feeling."
Marine Thomas wrote: "r.i.p karina i didnt know u personally but from what ive heard u were a fab mum and will be missed very much."
Among those paying their respects at the crash site yesterday was local Labour MP Kevin Brennan.
He said: "It's absolutely shocking what has happened and the fact that someone has appeared to use a vehicle as a weapon.
"Karina was a well-liked mother who had three children.
"One of her children is disabled and is currently on a dream holiday in Florida.
"This incident is beyond senseless and has rocked the whole community."
Ely sub-postmaster Shady Taha, 29, said he had just served two girls aged about 10 moments before one of the hit-and-run incidents in Grand Avenue.
He said: "All of a sudden I heard a bang.
"I looked out and across the road one girl was on the floor and the other girl was screaming.
"I heard a van speed off but I did not see it."
The A&E department at the University Hospital of Wales was initially shut to anyone not involved in the incident but reopened later.
Dr Grahame Shortland, medical director at the hospital, said those being treated mostly had fractures and head injuries.
The service, at Church of the Resurrection on Grand Avenue, will be held at 5pm.
Anyone with any information about the incidents is urged to contact police on 01656 655555.
Menzies' brother, Craig Menzies, told Radio 5 Live that she died trying to save the lives of her children.
Describing the moment the van careered towards them, he said: "He went through the traffic, aimed for them and then just hit them head on.
"She just screamed and threw them out of the way as much as she could. He still clipped them but she took it head-on. She saved their lives."
He told the programme it was "a waste of a life".
He added: "She was the world to me. She was my best friend. She was a lively, bubbly person. There's just so many good things you could say about her.
"We'll all be lost without her."
Comments have been turned off for legal reasons.