Watching a horror film can burn the same amount of calories as spending an hour washing windows - and is infinitely more enjoyable.
Researchers at the University of Westminster monitored participants as they watched 10 classic scary flicks and found on average that they burned an average of 133 calories, the same as half a dairy milk bar.
Of the ten films, Stanley Kubrick's 'The Shining' burned the most calories - 184.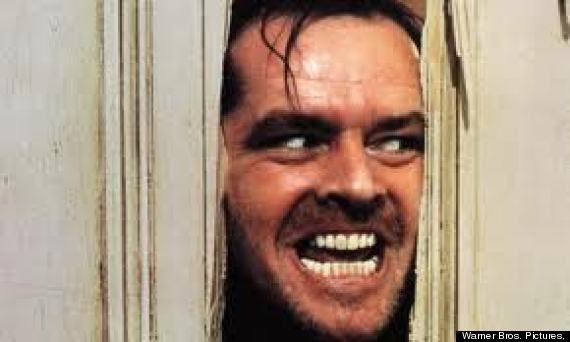 Horror films cause an increase in metabolic rate which in turn burns calories
Dr Richard Mackenzie, who led the study, commissioned by Lovefilm, said: "Each of the ten films tested set pulses racing, sparking an increase in the heart rate of the case studies.
"As the pulse quickens and blood pumps around the body faster, the body experiences a surge in adrenaline.
"It is this release of fast acting adrenaline, produced during short bursts of intense stress (or in this case, brought on by fear), which is known to lower the appetite, increase the Basal Metabolic Rate and ultimately burn a higher level of calories."
The top 10 calorie-burning frightening films were:
1. The Shining: 184 calories
2. Jaws: 161 calories
3. The Exorcist: 158 calories
4. Alien: 152 calories
5. Saw: 133 calories
6. A Nightmare on Elm Street: 118 calories
7. Paranormal Activity: 111 calories
8. The Texas Chain Saw Massacre: 107 calories
9. The Blair Witch Project: 105 calories
10. [Rec]: 101 calories
Also on HuffPost:
Loading Slideshow
New: Paranormal Activity 4

The latest instalment in the Paranormal Activity franchise promises frights aplenty, not to mention the scariest use of an xbox ever

Classic: The Blair Witch Project

The original grainy first-person horror that kick-started a whole genre. Just don't even bother with the sequel.

New: Fun Size

American Halloween laughs, more fun than horror for those who like their films a little more timid.

Classic: Idle Hands

Hilarious but still gory classic that is well worth a watch, even if you just skip to the end to see Jessica Alba dressed as an angel.

New: Frankenweenie

Kid has dog. Dog dies. Kid resurrects dog. Cue indead comedy mishaps. With Tim Burton at the directing helm, this is almost guaranteed to be great

Classic: Casper

Casper the friendly ghost, making ghouls almost...cuddly.

New: Stitches

Ross Noble stars as a clown comes back from the dead to haunt those who took his life during a fatal party mishap.

Classic: Stephen King's 'It'

The reason that thousands of adults can no longer visit the circus.

New: Sinister

A family moves into a house where a family were murdered leading to some very, very weird happenings.

Classic: The Exorcist

Too many classic scenes to mention, this film practically invented the horror genre.

New: House At The End Of The Street

You should never date a psychopath. Fact. Especially one who talks to the dead.

Classic: Halloween (1978 Original)

Proof that you don't need big budgets and excessive blood and gore to be utterly terrifying. And the music is incredible.

New: Silent Hill: Revelation 3D

Silent Hill. The town that Hel calls home. If you like you horror big, bold and laden with fantasy inspired special effects then this is for you.

Classic: The Texas Chainsaw Massacre (1974 Original)

Introducing the world to Leatherface, The Texas Chainsaw Massacre is a pant-wetting mix of freaky protagonist and bone-crunching horror, so much so that it was banned in several countries.

New: Hotel Transylvania

What do monsters do when they're not terrifying humanity? They all chill out In Hotel Transylvania of course!

The Witches

I was 6 in 1990. I was also terrified of bald women after watching this film adaptation of the Roald Dahl classic.