Poor David Cameron. He took a shoeing for joining Twitter and now his personal Facebook profile has amassed a single, lousy "like".
The Prime Minister's page, which features a touching, soft-focus image of him riding a tandem bike with Nick Clegg, was created on his 46th birthday, on October 11.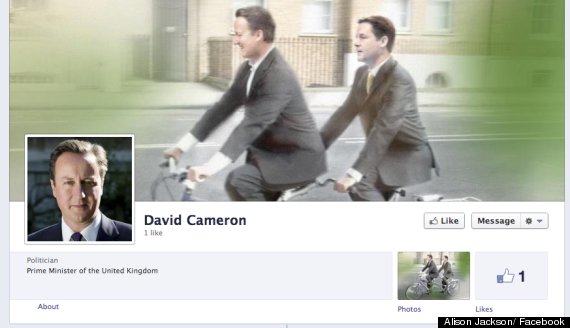 On gaining his first "thumbs up" he gave personal thanks to his only fan: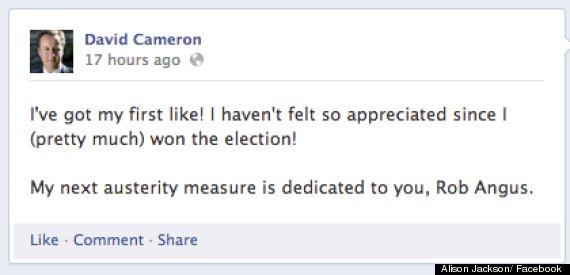 Meanwhile Pippa Middleton has also joined the Facebook fray, and kindly offers some advice to the unpopular PM: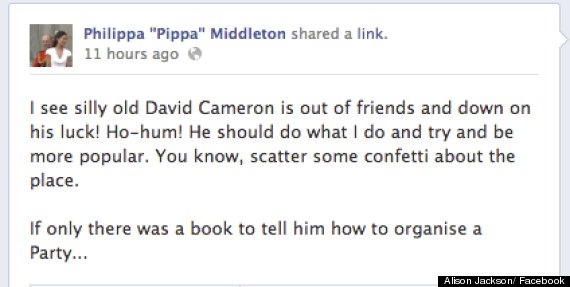 Middleton references her book in most status updates, musing on her new career as an author.
She explains: "Writing a book makes you an academic, which basically means you can use the word Dr before your name: Dr Pippa Middleton. Nice ring to it. Though not as nice as Princess Pippa I must admit."
Oh alright, so neither account is the real deal…however much we wish they were.
Step forward Alison Jackson, a snapper and satirist who has made a career out of playing with our perceptions of fame and the famous.

She told The Huffington Post UK: "Social media is a great way for me to keep in contact with those who like my work.
SEE ALSO:
"My Facebook and Twitter pages are constantly being updated so it was a bit of a natural progression for me to create these 'Fakebooks' for celebrities. Like my photographs, these Facebook pages give people an insider look into the private lives and thoughts of their favourite (or most hated) famous people."
"I thought it was hilarious when David Cameron joined Twitter and his account was swarmed with people criticising his policies. Particularly after his 'too many tweets...' comment! So I was curious to see how people would react to their Prime Minister joining Facebook."
@David_Cameron

David Cameron
I'm starting Conference with this new Twitter feed about my role as Conservative Leader. I promise there won't be "too many tweets..."
Jackson is also the brains behind images of Iran's Ahmadinejad taking on Israel's Netanyahu in a Jedi lightsaber battle, Prince William nuzzling a lingerie-clad Kate, and Romney and Obama getting into the ring.
And we simply can't wait for her next spoof.