A council has gone ahead with the controversial sale of the Henry Moore sculpture Draped Seated Woman to claw back money lost in budget cuts, it emerged tonight.
The sale, by Tower Hamlets Council, had drawn vocal opposition from prominent figures in the British art world, including film-maker Danny Boyle, Tate director Nicholas Serota and the artist's daughter Mary Moore.
The artwork was originally sold to the council by Mr Moore at a below-market price in the 1960s with the understanding that it would be placed in east London.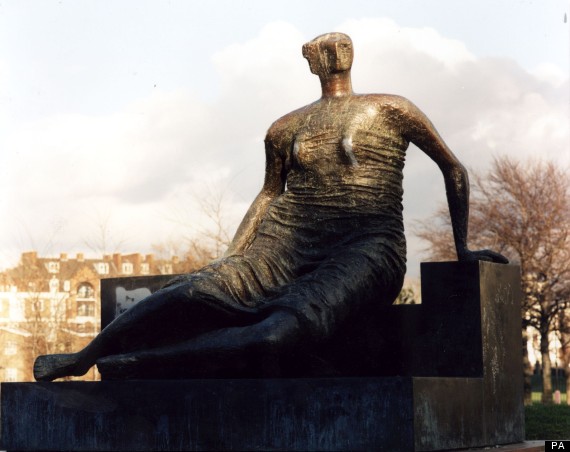 Henry Moore's Draped Seated Woman
It has been on loan to the Yorkshire Sculpture Park for the last 15 years and will now be put up for sale as Tower Hamlets attempts to make £100m savings by 2015.
The council said on their website that it was a "tough decision" but one that was made due to the "massive government cuts we are facing".
Lutfur Rahman, mayor of Tower Hamlets, said: "It is with considerable regret that I make this decision but I have a duty to ensure residents do not suffer the brunt of the horrendous cuts being imposed on us."
Earlier this month a number of leading arts figures signed a letter opposing the sale.
The letter argued that "the mayor's proposal goes against the spirit of Henry Moore's original sale" and urged the council to reconsider.
Boyle had called for the sculpture, known as Old Flo, to be erected in the Olympic Park.
"The Moore sculpture defies all prejudice in people's minds about one of London's poorest boroughs," he said.
"That alone makes it priceless to every resident. Let's put it in the Olympic Park alongside the Bradley Wiggins Bell."
The council said that it looked at other options of displaying the sculpture in a public place, such as Victoria Park, but the insurance costs and threat of vandalism and theft were too high.
They said the risk of the sculpture being stolen was "very real" and pointed to a £3m Barbara Hepworth sculpture that was stolen from Dulwich Park in 2005 and has never been recovered.
The council's decision was made at a cabinet meeting tonight and drew an angry response from local politicians who had opposed the move.
Cllr Denise Jones, Labour's spokesman for culture and heritage in Tower Hamlets, said: "Tonight's decision shows how closed-minded the Mayor (Lutfur Rahman) is.
"Not only did he refuse to even consider the alternative options for hosting the sculpture, but he announced his decision to sell before hearing from any residents or councillors."
Rushanara Ali, the Labour MP for Bethnal Green and Bow who signed the letter of opposition, said: "The Mayor is going against the desires of the over 1,500 people who have signed the petition in just a few days. This is a betrayal of the East End's working class heritage."
A council spokesman said that the piece was expected to raise between £4m and £17m and will be sold through Christie's auction house.
On their website Tower Hamlets noted they are alone in selling artworks in recent years. In 2011 Bolton Council put up 35 works of art to be sold from artists including Millais, Picasso and Hutchison, while in 2006 Bury Council raised £1.4m by selling LS Lowry's A Riverbank.
Elsewhere this week in Culture...
SUBSCRIBE AND FOLLOW
Get top stories and blog posts emailed to me each day. Newsletters may offer personalized content or advertisements.
Learn more