Huffington Post Picture Desk Live: Scroll down for the best news, entertainment, culture and sports pictures of the day, brought to you by The Huffington Post's own picture editors Elliot Wagland, Matthew Tucker and Tahira Mirza.
Follow us on Twitter for links to top pics featured on The Huffington Post.
09/11/2012 17:00 GMT
Attack Of The Cranes Head zoo keeper Derek Gibson Zoo staff under attack from real-life angry birds protects himself using - A RIOT SHIELD at Exmoor Zoo in Devon. Cranes are up to 70 inches tall and have knife-like beaks and staff have been left with cuts and bruises. The zoo has a large captive crane population but staff now need to feed them two at a time. One enters their enclosure carrying the feed while another is armed with a police riot shield donated by the local force. The zoo have even been given officer training on how to use them to repel the angry birds.Lynn Reynolds, the zoo's commercial manager, said: "The police helped us and trained us in how to use and hold the shields and we're coping a lot better now.
09/11/2012 16:27 GMT
Archbishop of Canterbury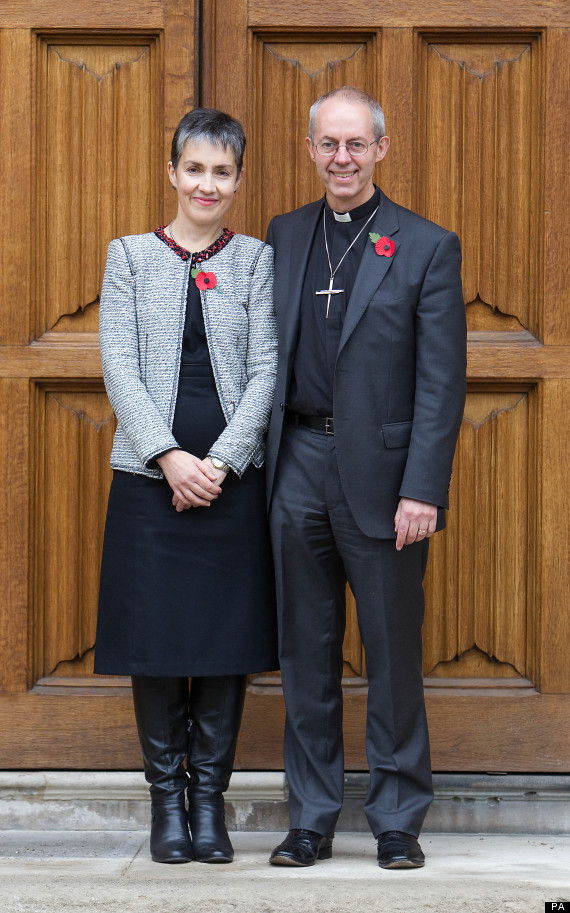 The new Archbishop of Canterbury the Right Reverend Justin Welby, the current Bishop of Durham, who has yet to officially take up his new post, with his wife Caroline, at Lambeth Palace in London.
09/11/2012 16:07 GMT
Heart Shaped Space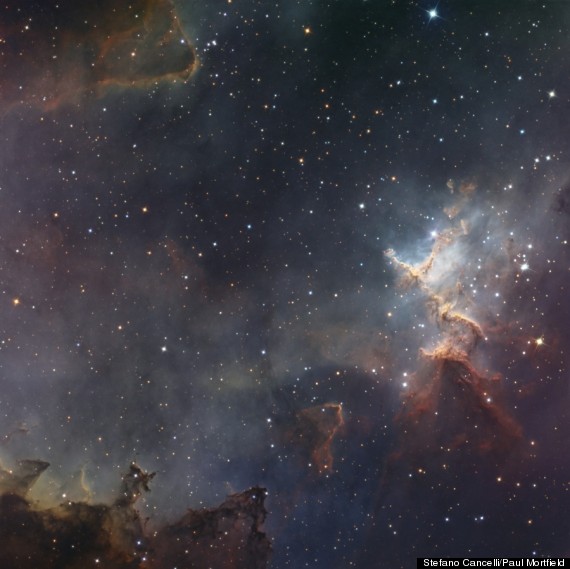 Melotte 15 in the Heart - Cosmic clouds seem to form fantastic shapes in the central regions of emission nebula IC 1805. Of course, the clouds are sculpted by stellar winds and radiation from massive hot stars in the nebula's newborn star cluster, Melotte 15. About 1.5 million years young, the cluster stars are toward the right in this colorful skyscape, along with dark dust clouds in silhouette against glowing atomic gas. A composite of narrow and broad band telescopic images, the view spans about 30 light-years and includes emission from hydrogen in green, sulfur in red, and oxygen in blue hues. Wider field images reveal that IC 1805's simpler, overall outline suggests its popular name - The Heart Nebula. IC 1805 is located about 7,500 light years away toward the constellation Cassiopeia
09/11/2012 15:48 GMT
Ridiculously Good-Looking Surgery Baby: Newborn Joey Flashes Giant Grin After Heart Operation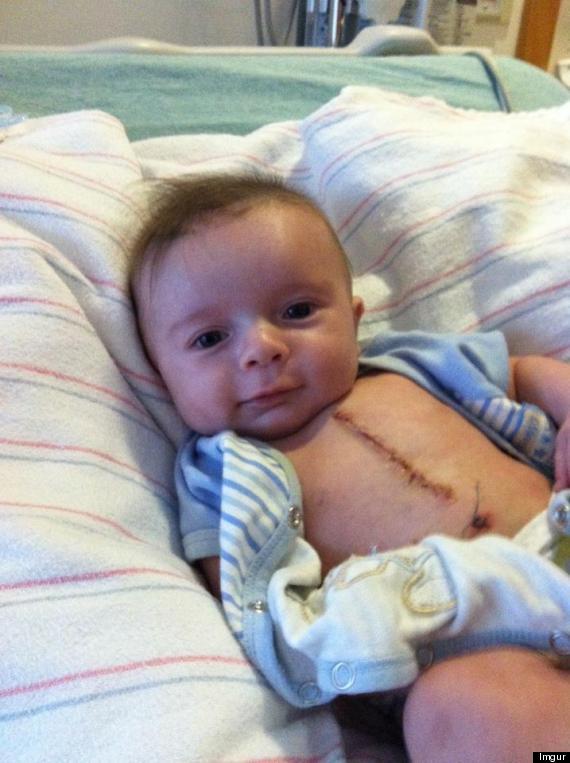 A baby flashing a beatific smile after heart surgery has become an internet celebrity. Newborn Joey came round after an operation to repair a hole in his heart - wearing one hell of a grin. The moment was captured by his mother Sarah Prowling and was posted on Reddit by her brother Matt Tassone.
09/11/2012 15:42 GMT
The Funeral of Karina Menzies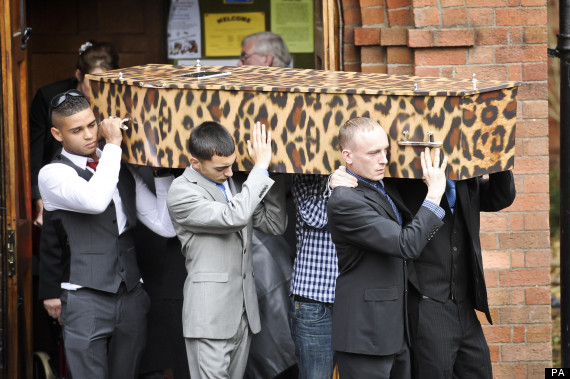 The pallbearers carry the leopard skin style coffin containing Karina Menzies, led by her brothers Craig (front) and Gareth (front hidden), from the Church of Ressurection, Ely, near Cardiff.
09/11/2012 14:49 GMT
There's A Monkey On The Loose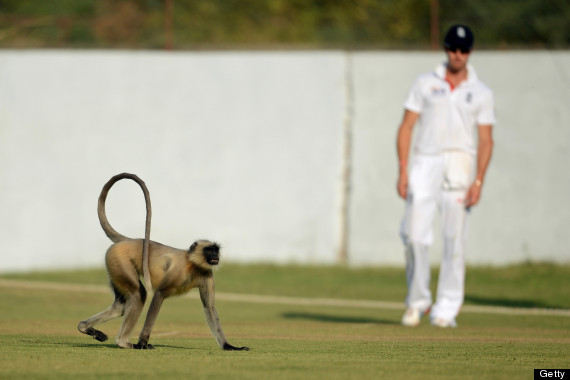 A langur monkey enters the ground during the second day of a four day cricket practice match between England and Haryana at The Sardar Patel Stadium's ground B at Motera in Ahmedabad on November 9, 2012. The England cricket team plays a four Test series against India from November 15.
09/11/2012 14:37 GMT
Noah's Ark Children's Hospital of Wales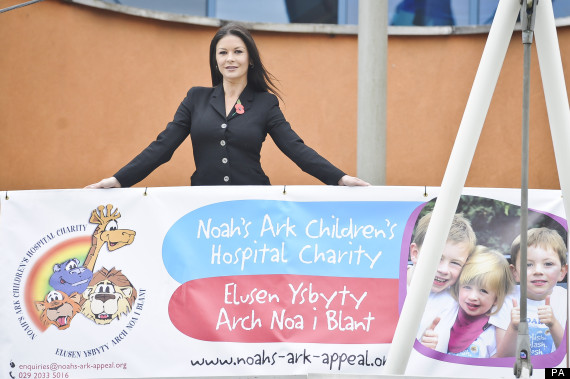 Catherine Zeta Jones stands on a balcony on a balcony before she leaves the newly named Noah's Ark Children's Hospital of Wales, a specialist facility in the Welsh capital of Cardiff, after she brought smiles to the faces of seriously ill youngsters during an emotionally-charged hospital visit and a fundraising drive launch.
09/11/2012 14:25 GMT
Gliding Gracefully This mute swan swims on a lake against a picture perfect Autumnal background at the Wildfowl and Wetlands Trust, Arundel, West Sussex. The majestic white bird stood out in stark contrast against the glorious red, orange and brown foliage behind as it stretched out its wings.
09/11/2012 14:03 GMT
Hobbit Hole Created From 2,600 Balloons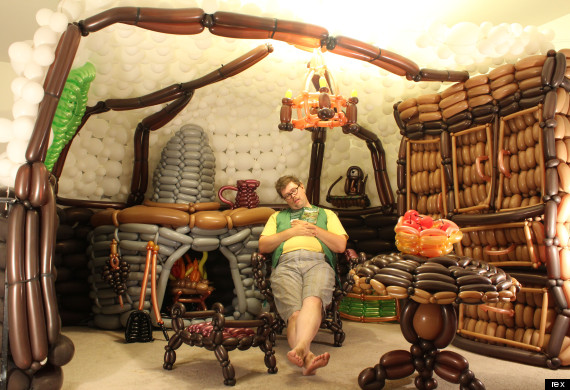 Hobbit Hole created from 2,600 balloons - A Lord of the Rings fan has built a Hobbit Hole from 2,600 balloons. Geeky Jeremy Telford, 34, spent 40 hours over 3 days inflating the balloons using a hand-pump. And, thanks to a very understanding wife, the Tolkien fan was able to build the shiny structure in his living room. Jeremy, from Pleasant Grove, Utah, explains: "I have been a Tolkien fan ever since reading "The Hobbit" in Junior High School. It opened a whole new genre of books to me and Fantasy quickly became my favourite." He also made a stunning time-lapse video of the build
09/11/2012 13:54 GMT
Let's Dance The Military Wives Choir perform in front of Lydiard House as BBC Strictly Come Dancing starts Anton Du Beke and Kristina Rihanoff perform a specially choreographed dance
SUBSCRIBE TO & FOLLOW UK DAILY BRIEF