Valerie Eliot, the widow and literary executor of poet TS Eliot, has died at the age of 86.
The poet's estate said she died on Friday at her London home after a short illness.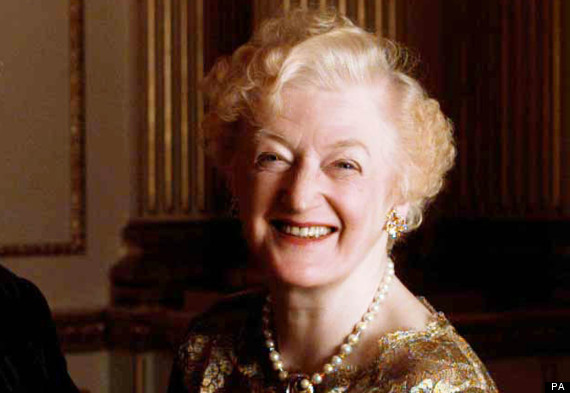 Valeria Eliot
Valerie Eliot was the second wife of the US-born Nobel literature laureate, whom she met at London publisher Faber & Faber. He was a director, she a secretary.
The couple wed in 1957. Friends said the marriage was a happy one despite the almost 40-year gap in their ages.
After TS Eliot's death in 1965, Valerie became his devoted executor, editing his poems and letters for publication and steadfastly refusing to cooperate with would-be biographers in keeping with the poet's last wishes.
A death notice in the Daily Telegraph said her funeral would be private.
"Only those who will risk going too far can possibly find out how far one can go." Photograph taken at the Faber office on Russell Square the day after Eliot's death in 1965.

"Genuine poetry can communicate before it is understood."

"Anxiety is the hand maiden of creativity."

"A toothache, or a violent passion, is not necessarily diminished by our knowledge of its causes, its character, its importance or insignificance."

"Poetry is not a turning loose of emotion, but an escape from emotion; it is not the expression of personality, but an escape from personality"

"If you aren't in over your head, how do you know how tall you are?"

"Humankind cannot bear very much reality."

"I have measured out my life with coffee spoons."

"It's strange that words are so inadequate. Yet, like the asthmatic struggling for breath, so the lover must struggle for words."

"I don't believe one grows older. I think that what happens early on in life is that at a certain age one stands still and stagnates."

"I had seen birth and death but had thought they were different."

"Let's not be narrow, nasty, and negative."

"Immature poets imitate; mature poets steal."

"People to whom nothing has ever happened cannot understand the unimportance of events."

"The bad poet is usually unconscious where he ought to be conscious, and conscious where he ought to be unconscious." Photograph taken at the Faber office on Russell Square the day after Eliot's death in 1965.

"The last thing one discovers in composing a work is what to put first."

"Some editors are failed writers, but so are most writers."

"My greatest trouble is getting the curtain up and down."

"Any poet, if he is to survive beyond his 25th year, must alter; he must seek new literary influences; he will have different emotions to express."

"There is not a more repulsive spectacle than on old man who will not forsake the world, which has already forsaken him."

"The Nobel is a ticket to one's own funeral. No one has ever done anything after he got it."

"There is no method but to be very intelligent."