Huffington Post Picture Desk Live: Scroll down for the best news, entertainment, culture and sports pictures of the day, brought to you by The Huffington Post's own picture editors Elliot Wagland, Matthew Tucker and Tahira Mirza.
Follow us on Twitter for links to top pics featured on The Huffington Post.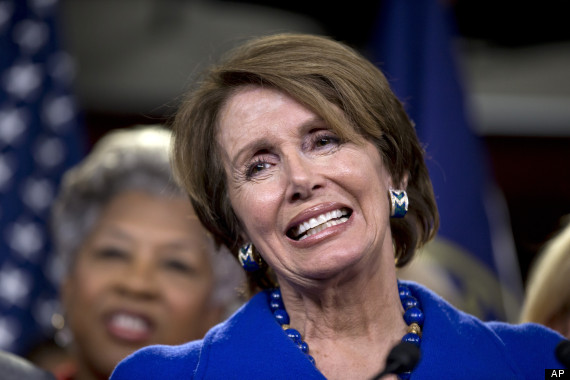 House Minority Leader Nancy Pelosi of Calif., accompanied by House women Democrats, announces that she wants to remain as the top Democrat in the House of Representatives, Wednesday, Nov. 14, 2012, during a news conference on Capitol Hill in Washington.
Loading Slideshow
Nancy Pelosi (D-CA) To Stay As House Minority Leader

WASHINGTON, DC - NOVEMBER 14: House Minority Leader Rep. Nancy Pelosi (D-CA) speaks to the media as female House Democrats gather around during a news conference at the U.S. Capitol, on November 14, 2012 in Washington, DC. Leader Pelosi said that she has decided continue to lead the House Democrats and does not wish to retire at this time. (Photo by Mark Wilson/Getty Images)

Nancy Pelosi (D-CA) To Stay As House Minority Leader

WASHINGTON, DC - NOVEMBER 14: House Minority Leader Rep. Nancy Pelosi (D-CA) speaks to the media as female House Democrats gather around during a news conference at the U.S. Capitol, on November 14, 2012 in Washington, DC. Leader Pelosi said that she has decided continue to lead the House Democrats and does not wish to retire at this time. (Photo by Mark Wilson/Getty Images)

Nancy Pelosi (D-CA) To Stay As House Minority Leader

WASHINGTON, DC - NOVEMBER 14: House Minority Leader Rep. Nancy Pelosi (D-CA) smiles while speaking to the media as female House Democrats gather around during a news conference at the U.S. Capitol, on November 14, 2012 in Washington, DC. Leader Pelosi said that she has decided continue to lead the House Democrats and does not wish to retire at this time. (Photo by Mark Wilson/Getty Images)

Nancy Pelosi (D-CA) To Stay As House Minority Leader

WASHINGTON, DC - NOVEMBER 14: House Minority Leader Rep. Nancy Pelosi (D-CA) smiles while speaking to the media as female House Democrats gather around during a news conference at the U.S. Capitol, on November 14, 2012 in Washington, DC. Leader Pelosi said that she has decided continue to lead the House Democrats and does not wish to retire at this time. (Photo by Mark Wilson/Getty Images)

Nancy Pelosi (D-CA) To Stay As House Minority Leader

WASHINGTON, DC - NOVEMBER 14: House Minority Leader Rep. Nancy Pelosi (D-CA) speaks to the media as female House Democrats gather around during a news conference at the U.S. Capitol, on November 14, 2012 in Washington, DC. Leader Pelosi said that she has decided continue to lead the House Democrats and does not wish to retire at this time. (Photo by Mark Wilson/Getty Images)

Nancy Pelosi (D-CA) To Stay As House Minority Leader

WASHINGTON, DC - NOVEMBER 14: House Minority Leader Rep. Nancy Pelosi (D-CA) speaks to the media as female House Democrats gather around during a news conference at the U.S. Capitol, on November 14, 2012 in Washington, DC. Leader Pelosi said that she has decided continue to lead the House Democrats and does not wish to retire at this time. (Photo by Mark Wilson/Getty Images)

Nancy Pelosi (D-CA) To Stay As House Minority Leader

WASHINGTON, DC - NOVEMBER 14: House Minority Leader Rep. Nancy Pelosi (D-CA) speaks to the media as female House Democrats gather around during a news conference at the U.S. Capitol, on November 14, 2012 in Washington, DC. Leader Pelosi said that she has decided continue to lead the House Democrats and does not wish to retire at this time. (Photo by Mark Wilson/Getty Images)

Nancy Pelosi (D-CA) To Stay As House Minority Leader

WASHINGTON, DC - NOVEMBER 14: House Minority Leader Rep. Nancy Pelosi (D-CA) speaks to the media while female House Democrats applaud during a news conference at the U.S. Capitol, on November 14, 2012 in Washington, DC. Leader Pelosi said that she has decided continue to lead the House Democrats and does not wish to retire at this time. (Photo by Mark Wilson/Getty Images)

Nancy Pelosi (D-CA) To Stay As House Minority Leader

WASHINGTON, DC - NOVEMBER 14: House Minority Leader Rep. Nancy Pelosi (D-CA) smiles while speaking to the media as female House Democrats gather around during a news conference at the U.S. Capitol, on November 14, 2012 in Washington, DC. Leader Pelosi said that she has decided continue to lead the House Democrats and does not wish to retire at this time. (Photo by Mark Wilson/Getty Images)

Nancy Pelosi (D-CA) To Stay As House Minority Leader

WASHINGTON, DC - NOVEMBER 14: House Minority Leader Rep. Nancy Pelosi (D-CA) gathers around female House Democrats during a news conference at the U.S. Capitol, on November 14, 2012 in Washington, DC. Leader Pelosi said that she has decided continue to lead the House Democrats and does not wish to retire at this time. (Photo by Mark Wilson/Getty Images)

Nancy Pelosi (D-CA) To Stay As House Minority Leader

WASHINGTON, DC - NOVEMBER 14: House Minority Leader Rep. Nancy Pelosi (D-CA) (2R) gathers around female House Democrats during a news conference at the U.S. Capitol, on November 14, 2012 in Washington, DC. Leader Pelosi said that she has decided continue to lead the House Democrats and does not wish to retire at this time. (Photo by Mark Wilson/Getty Images)

Nancy Pelosi (D-CA) To Stay As House Minority Leader

WASHINGTON, DC - NOVEMBER 14: House Minority Leader Rep. Nancy Pelosi (D-CA) gathers around female House Democrats during a news conference at the U.S. Capitol, on November 14, 2012 in Washington, DC. Leader Pelosi said that she has decided continue to lead the House Democrats and does not wish to retire at this time. (Photo by Mark Wilson/Getty Images)

Nancy Pelosi (D-CA) To Stay As House Minority Leader

WASHINGTON, DC - NOVEMBER 14: House Minority Leader Rep. Nancy Pelosi (D-CA) (C) gathers around female House Democrats during a news conference at the U.S. Capitol, on November 14, 2012 in Washington, DC. Leader Pelosi said that she has decided continue to lead the House Democrats and does not wish to retire at this time. (Photo by Mark Wilson/Getty Images)