She's blonde, she's beautiful, she's famous, she's topless and she's in her knickers.
TV starlet and model Joanna Krupa ticks those PETA boxes alright - until your gaze drifts down to her nether regions, where poking out the sides of those frilly pink knickers are overgrown tufts of hair.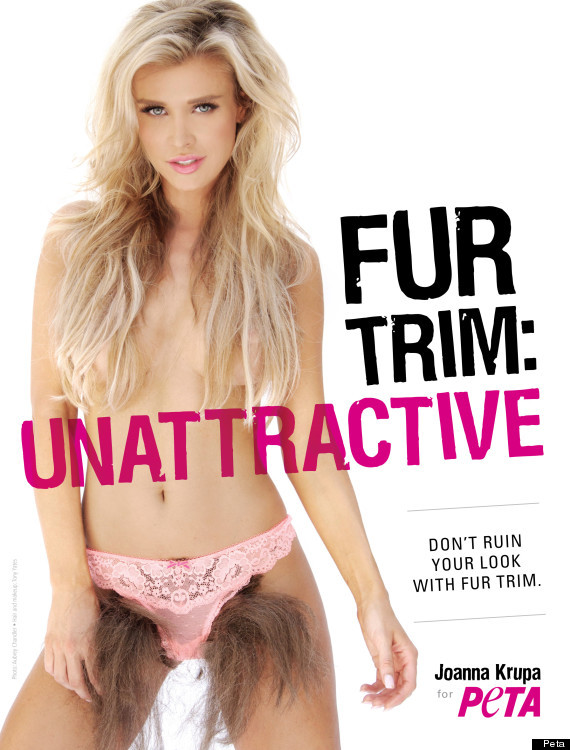 Pubic scare: Joanna Krupa in her latest PETA ad
Um, so we think we get the gist of what PETA's trying to say, but is suggesting a woman's untrimmed pubic hair is sexually repellent and akin to wearing the parts of a dead animal quite the way to go about it?
Krupa, via a press release from PETA, says: "I wanted to do this campaign to keep talking to people about how bad fur is. Stop! Fur is not sexy. It's not cool.
"You're walking down the street wearing fur—you really look like an idiot!"
Hmmm. Does that mean you look like "an idiot" if your pubic hair is not perfectly groomed and concealed within the confines of your teeny tiny lacy pink knickers?
Don't think Krupa and PETA would approve...
Check out a behind-the-scenes video from Joanna Krupa's PETA photo shoot, along with more photos of the model, below.
Joanna Krupa PETA Photos and More
SUBSCRIBE TO & FOLLOW UK LIFESTYLE