China's People's Daily Falls For Onion Spoof, Kim Jong Un Is 'Sexiest Man Alive' (PICTURES)
Oh, People's Daily! We've all done it. We've all done a double-take at a headline and then realised it's a spoof from fake news site 'The Onion'.
The site has duped politicians, news agencies and even the New York Times. But this story was pretty far fetched...
China's People's Daily appears to have published the story of North Korea's new supreme leader, Kim Jong Un, being named "The Sexiest Man Alive 2012".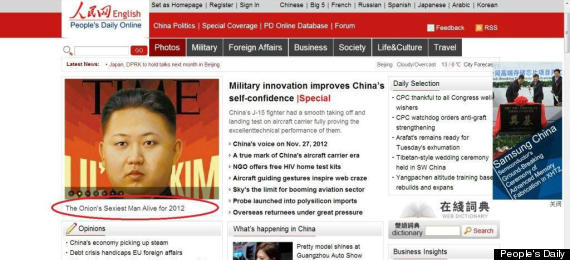 A screenshot of the People's Daily website
The story came complete with a 52 picture slideshow of Kim Jong Un looking dreamy in military garb, but with no mention in the text of the story being a spoof.
In the original Onion story, voters said they adored "his devastatingly handsome, round face, his boyish charm, and his strong, sturdy frame... blessed with an air of power that masks an unmistakable cute, cuddly side, Kim made this newspaper's editorial board swoon with his impeccable fashion sense, chic short hairstyle, and, of course, that famous smile."
The latest Onion successful prank was on the Fars News Agency of Iran, which reproduced in all seriousness a fake story which found that rural white Americans would prefer President Mahmoud Ahmadinejad to current US President Barack Obama.
LOOK: 17 Times 'The Onion' Fooled People Who Should Know Better
Stephen A. Smith Thinking Son Is Finally Ready For The Sex Argument" width="52" height="52"/>

Stephen A Smith sort of proved The Onion's point when he went on a Twitter tirade about the article, "Stephan A Smith Thinking Son Is Finally Ready For The Sex Argument." Smith rebutted that he didn't have a son or a 9-year-old, later tweeting that he had realized it was a joke.

Planned Parenthood Opens $8 Billion Abortionplex" width="52" height="52"/>

Congressman John Fleming of Louisiana posted the article "Planned Parenthood Opens $8 Billion Abortionplex" to his Facebook page, commenting that it was "abortion by the wholesale." Perhaps the $8 Billion price tag should have tipped him off.

Sean Penn Demands To Know What A**hole Took SeanPenn@gmail.com" width="52" height="52"/>

A Danish television station not only ran this story as truth, but included a little poll on the side asking readers if Sean Penn has a right to be upset. So far, 79% say he is ridiculous.

Conspiracy Theorist Convinces Neil Armstrong That Moon Landing Was Fake" width="52" height="52"/>

Both The Daily Banab Zamin and The New Nation (two Bangladeshi papers) picked up The Onion's story about Neil Armstrong finally being convinced that the moon landing was staged, not knowing the story was fake.

Congress Takes Group Of Schoolchildren Hostage" width="52" height="52"/>

The Onion sparked a panic in Washington D.C. when it started tweeting "breaking news" about 12 children being held hostage at the Capitol Building with the hashtag #CongressHostage. Capitol Police launched an investigation after the tweets, many of which did not link to the parody story, were re-tweeted hundreds of times.

Congress Threatens To Leave D.C. Unless New Capitol Is Built" width="52" height="52"/>

The Beijing Evening News printed parts of this article as fact, including a fake Dennis Hastert quote complaining that the Capitol "is no longer suitable for a world-class legislative branch. The sight lines are bad, there aren't enough concession stands or bathrooms, and the parking is miserable." No concession stands? But this is AMERICA.

Study Finds Every Style Of Parenting Produces Disturbed, Miserable Adults" width="52" height="52"/>

Because this sarcastic news brief cited real-life organization The California Parenting Institute (CPI), the organization was swamped with phone calls. Their director of marketing and development, Wendy Hilberman, told the Press Democrat that "It's obviously not OK to list our agency, even in satire."

Harry Potter Book Sparks Rise In Satanism Among Children" width="52" height="52"/>

If you Google "Jesus died because He was weak and stupid" you might get a good look into America's consciousness. Fictional six-year-old Jessica Lehman's quote has been used as a chain e-mail reason to fear Harry Potter. Go figure.

Study: 58 Percent Of U.S. Exercise Televised" width="52" height="52"/>

On March 12, 2004, Deborah Norville stated on her MSNBC show that a new study said that 58 percent of exercise done in America was on broadcast television. Whoever wrote the script that night literally wrote, "For instance, of the 3.5 billion sit-ups done during 2003, two million, 30,000 of them were on exercise shows on Lifetime or one of the ESPN channels," as if it were news copy.

Barack Obama 'Tiger Beat' Cover Clinches Slumber Party Vote" width="52" height="52"/>

Even The New York Times is susceptible to the occasional Onion parody. The Times published an article about Tiger Beat using a PhotoShopped image of the President on the magazine's cover that accompanied The Onion's fake story. They later ran a correction stating they had "erroneously included a parody cover."

Three years after The Onion came out with this video of Rep. John Haller becoming increasingly concerned about "classified" information, many took to Facebook in fear of imminent martial law.

Frustrated Obama Sends Nation Rambling 75,000 Word E-Mail" width="52" height="52"/>

Now, we assume Fox News knows that The Onion is satire, but according to Mediaite, their website Fox Nation failed to mention that the story was fictional. Naturally, it attracted such gems in the comment as: "HAHAHAHAHAHA OBUMMA – Un-raveled. EPIC FAILURE. IMPEACH it."

'98 Homosexual-Recruitment Drive Nearing Goal" width="52" height="52"/>

This early Onion article attracted the fury of Fred Phelps (author of the "God Hates Fags" website), who according to Wired, "listed the article as proof of a gay conspiracy."

Vatican Reverses Stance On Gay Marriage After Meeting Tony And Craig" width="52" height="52"/>

The Onion's "news" that the Catholic Church had softened its feelings toward homosexuality after meeting one fabulous couple fooled some conservatives online. In the Facebook screenshot at left, notoriously anti-gay Rep. Sally Kern doesn't exactly take the bait, but doesn't say she knows it's a joke, either.

Report: Al-Qaeda Allegedly Engaging In Telemarketing" width="52" height="52"/>

The Battle Creek Enquirer reported that the Sheriff's department had released a dispatch about the possibility of terrorists making telemarketing phone calls, including information from The Onion's article.

Child Bankrupts Make-A-Wish Foundation" width="52" height="52"/>

This video of Chad, an ingenious Make-A-Wish kid who cheated the system by demanding unlimited wishes, fooled many into believing that the foundation had actually gone broke. Make-A-Wish still has a disclaimer on their website stating that the "Today Now!" segment is not true and that all characters, including wish child "Chad," are fictitious.

Obama's 19-Year-Old Son Makes Rare Appearance At DNC" width="52" height="52"/>

The Mecklenberg County, VA Republican Party thought they were really on to something when they posted The Onion's story to their Facebook page. After posting, they expressed their disconcern in a comment that no other news sources had picked up the story of Obama's 19-year-old son. We wonder why?