The Huffington Post picture desk live bringing you the best pictures of the day from around the world chosen by our very own photo editors.
Follow The Huffington Post picture desk and our picture editors Elliot Wagland, Tahira Mirza and Matthew Tucker on twitter.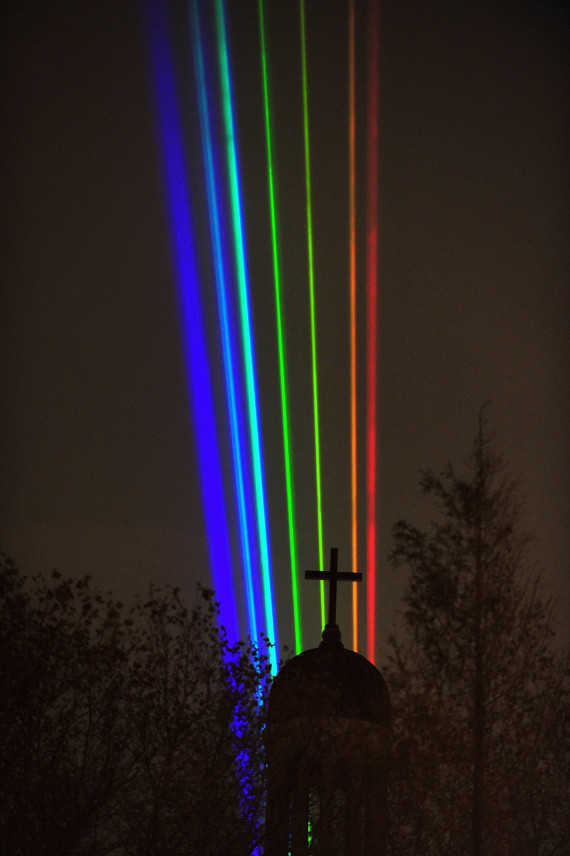 A general view of the "Global Rainbow, After the Storm", a tribute to Hurricane Sandy victims on November 27, 2012 in New York City. This tribute in light, which points towards the areas hardest hit by Hurricane Sandy, will be visible through Thursday, November 28th.
Loading Slideshow
US Artist Yvette Mattern's Global Rainbow On Show In Gateshead

WHITLEY BAY, ENGLAND - MARCH 01: International artist Yvette Mattern shows her stunning laser rainbow projection, Global Rainbow, on March 1, 2012 in Whitley Bay, England. The light installation celebrates the London 2012 Cultural Olympiad in the north-east of England. The Global Rainbow has previously lit up the skies of Germany, France and the United States. The projection will shine along the North Tyneside coastline for 4 days, before moving to other locations in the UK. (Photo by Bethany Clarke/Getty Images)

US Artist Yvette Mattern's Global Rainbow On Show In Gateshead

WHITLEY BAY, ENGLAND - MARCH 01: International artist Yvette Mattern shows her stunning laser rainbow projection, Global Rainbow, on March 1, 2012 in Whitley Bay, England. The light installation celebrates the London 2012 Cultural Olympiad in the north-east of England. The Global Rainbow has previously lit up the skies of Germany, France and the United States. The projection will shine along the North Tyneside coastline for 4 days, before moving to other locations in the UK. (Photo by Bethany Clarke/Getty Images)

US Artist Yvette Mattern's Global Rainbow On Show In Gateshead

WHITLEY BAY, ENGLAND - MARCH 01: International artist Yvette Mattern shows her stunning laser rainbow projection, Global Rainbow, on March 1, 2012 in Whitley Bay, England. The light installation celebrates the London 2012 Cultural Olympiad in the north-east of England. The Global Rainbow has previously lit up the skies of Germany, France and the United States. The projection will shine along the North Tyneside coastline for 4 days, before moving to other locations in the UK. (Photo by Bethany Clarke/Getty Images)

US Artist Yvette Mattern's Global Rainbow On Show In Gateshead

WHITLEY BAY, ENGLAND - MARCH 01: International artist Yvette Mattern shows her stunning laser rainbow projection, Global Rainbow, on March 1, 2012 in Whitley Bay, England. The light installation celebrates the London 2012 Cultural Olympiad in the north-east of England. The Global Rainbow has previously lit up the skies of Germany, France and the United States. The projection will shine along the North Tyneside coastline for 4 days, before moving to other locations in the UK. (Photo by Bethany Clarke/Getty Images)

US Artist Yvette Mattern's Global Rainbow On Show In Gateshead

WHITLEY BAY, ENGLAND - MARCH 01: International artist Yvette Mattern shows her stunning laser rainbow projection, Global Rainbow, on March 1, 2012 in Whitley Bay, England. The light installation celebrates the London 2012 Cultural Olympiad in the north-east of England. The Global Rainbow has previously lit up the skies of Germany, France and the United States. The projection will shine along the North Tyneside coastline for 4 days, before moving to other locations in the UK. (Photo by Bethany Clarke/Getty Images)

US Artist Yvette Mattern's Global Rainbow On Show In Gateshead

WHITLEY BAY, ENGLAND - MARCH 01: International artist Yvette Mattern shows her stunning laser rainbow projection, Global Rainbow, on March 1, 2012 in Whitley Bay, England. The light installation celebrates the London 2012 Cultural Olympiad in the north-east of England. The Global Rainbow has previously lit up the skies of Germany, France and the United States. The projection will shine along the North Tyneside coastline for 4 days, before moving to other locations in the UK. (Photo by Bethany Clarke/Getty Images)

Global Rainbow projection

American artist Yvette Mattern's Global Rainbow, which celebrates Martin Luther King Day, lights up the North East coastline as it is projected from the St Mary's Lighthouse in Whitley Bay to herald the 2012 Olympic Games.

Global Rainbow projection

American artist Yvette Mattern's Global Rainbow, lights up the North East coastline as it is projected, on its last day, from the St Mary's Lighthouse in Whitley Bay to herald the 2012 Olympic Games.

Global Rainbow projection

American artist Yvette Mattern's Global Rainbow, lights up the North East coastline as it is projected, on its last day, from the St Mary's Lighthouse in Whitley Bay to herald the 2012 Olympic Games.

Global Rainbow projection

American artist Yvette Mattern's Global Rainbow, lights up the North East coastline as it is projected, on its last day, from the St Mary's Lighthouse in Whitley Bay to herald the 2012 Olympic Games.

Global Rainbow projection

American artist Yvette Mattern's Global Rainbow, which celebrates Martin Luther King Day, lights up the North East coastline as it is projected from the St Mary's Lighthouse in Whitley Bay to herald the 2012 Olympic Games.

Global Rainbow projection

American artist Yvette Mattern's Global Rainbow, which celebrates Martin Luther King Day, lights up the North East coastline as it is projected from the St Mary's Lighthouse in Whitley Bay to herald the 2012 Olympic Games.

US Artist Yvette Mattern's Global Rainbow On Show In Gateshead

WHITLEY BAY, ENGLAND - MARCH 01: International artist Yvette Mattern shows her stunning laser rainbow projection, Global Rainbow, on March 1, 2012 in Whitley Bay, England. The light installation celebrates the London 2012 Cultural Olympiad in the north-east of England. The Global Rainbow has previously lit up the skies of Germany, France and the United States. The projection will shine along the North Tyneside coastline for 4 days, before moving to other locations in the UK. (Photo by Bethany Clarke/Getty Images)

Global Rainbow projection

American artist Yvette Mattern's Global Rainbow, lights up the North East coastline as it is projected, on its last day, from the St Mary's Lighthouse in Whitley Bay to herald the 2012 Olympic Games.

US Artist Yvette Mattern's Global Rainbow On Show In Gateshead

WHITLEY BAY, ENGLAND - MARCH 01: International artist Yvette Mattern shows her stunning laser rainbow projection, Global Rainbow, on March 1, 2012 in Whitley Bay, England. The light installation celebrates the London 2012 Cultural Olympiad in the north-east of England. The Global Rainbow has previously lit up the skies of Germany, France and the United States. The projection will shine along the North Tyneside coastline for 4 days, before moving to other locations in the UK. (Photo by Bethany Clarke/Getty Images)