Brazilian judges have delivered their verdict and named the owner of the country's best buttocks.
Carine Felizardo scooped the $2,500 top bot spot in the annual Miss BumBum competition, so named because that is what Brazilians like to refer to their backsides as.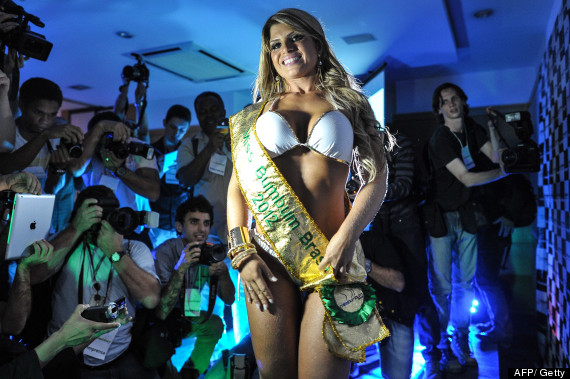 Carine Felizardo scooped the top spot in Brazil's annual Miss BumBum competition
"I am very proud of my bumbum, proud to represent the Brazilian woman."
Of the 27 luscious, ripe bottoms fighting it out to be crowned the best backside in the country, 15 finalists competed in the final heat on Friday.
Literature on the website urged contestants to "show your talent to represent the 'national passion'." It also points out a recent Spanish survery which found that 81 per cent of men prefer women with curves and "furthermore, they do not care about the cellulite".
SEE ALSO:
Last year's contest saw model Rosana Ferreira take the crown – and like all the best beauty pageants, Miss BumBum is not without scandal.
SUBSCRIBE TO & FOLLOW UK DAILY BRIEF