All the action from tonight's big announcement. Plus some silly stuff.
03/12/2012 20:12 GMT
We're Off...
...All that is left to say is a massive congratulations to Elizabeth Price and all four of the artists nominated - oh, and to Jude Law for making sure those Turner Prize headlines keep coming.
03/12/2012 19:54 GMT
ELIZABETH PRICE WINS!
We called it, we wanted it, it happened.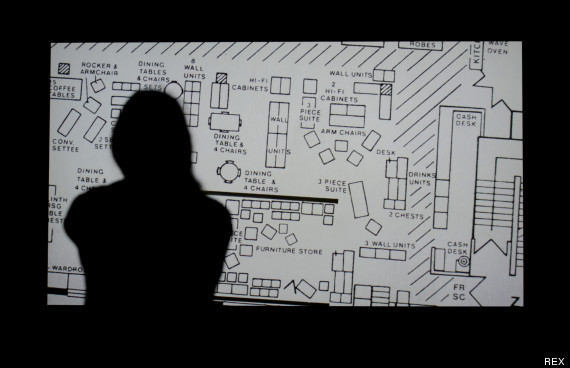 03/12/2012 19:52 GMT
AND THE WINNER IS...
Jude Law!?
No, wait.
03/12/2012 19:48 GMT
SHOCK HORROR...
...Nicholas Serota feels the Turner Prize is still relevant.
Just teasing, we do too.
Though one of the most interesting aspects of the show is the comment board at the end, on which, if we remember right, opinion is fairly split...
03/12/2012 19:42 GMT
@ laurenlaverne :

Just spoke to Spartacus Chetwynd's gollum. He was pretty negative. @Tate #TurnerPrize.
03/12/2012 19:38 GMT
What We Said
While Channel 4 are rounding up the four artists, here is a reminder, if we may, of our own thoughts on the show when we reviewed it in October: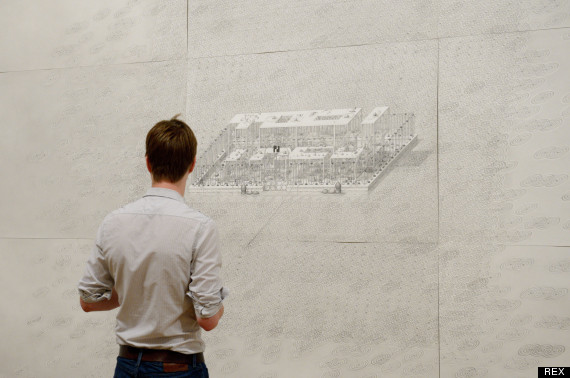 TREV2012 by Paul Noble
Paul Noble
"Noble's delicate and painstakingly-drawn scenes are far from crude or even particularly humorous: in one, the quiet detritus of an abandoned and broken green house floats in an ocean of perfect circles, like those left when a fish breaches the water's surface. It's a solemn and enchanting piece of work."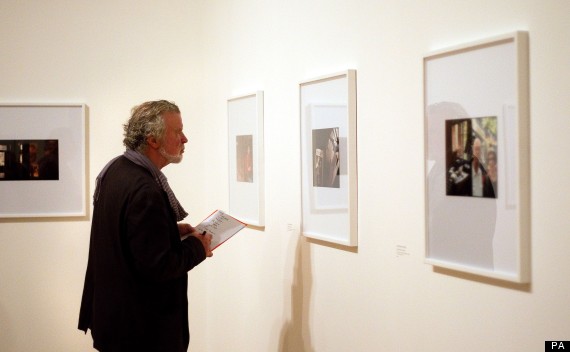 Luke Fowler
"What emerges is not just Laing as the type of marginalised character Fowler has taken on as his subjects before, but a vivid sense of an era and of the artist himself. It's serious, purposeful video art as long as a TV documentary but never lapses into self-indulgence or incomprehensibility.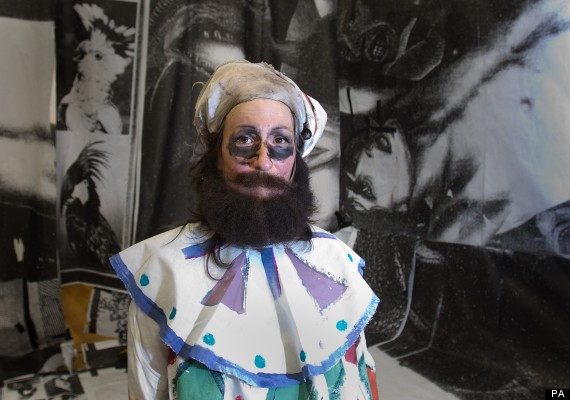 Spartacus Chetwynd
"It's difficult to dislike an artist clearly having so much fun - Chetwynd says her approach is 'unbridled enthusiasm', which is certainly refreshing to hear - but really, this is the sort of stuff you can see outside during any day of the Edinburgh Fringe. I have no idea what it's doing on the Turner Prize shortlist."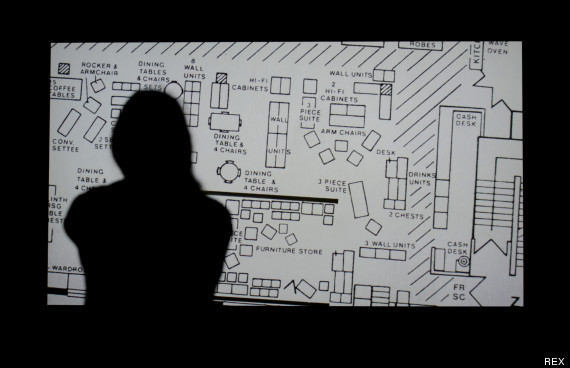 Elizabeth Price
"So much to think about is crammed inside such a short space of time, yet overall, the piece flows almost like a modern music video, using text and sound effects to narrate the story . It's highly technically accomplished, but with a poetic touch. I hope it wins the top prize in December - it certainly deserves to."
03/12/2012 19:31 GMT
The hat...
Channel 4's coverage is under way, and what to make of Noel Fielding's hat?!
A clear tribute to Paul Noble's turds, if you ask us...
03/12/2012 19:25 GMT
An interesting suggestion...
...Will old Jude get political on us?
@ gomespete :

Hey Jude Law. Mention the sale of Henry Moores Old Flo in your speech. @bobandroberta #TurnerPrize #oldflo
03/12/2012 19:23 GMT
Streakly Speaking...
...(sorry) tonight might not be as straight-forward as we think.
Anyone remember this daring art revolutionary?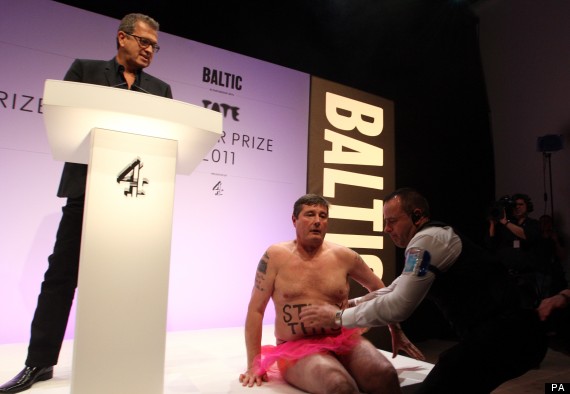 When the Turner Prize was hosted at the Baltic Gallery in Newcastle last year - attracting record visitor figures, I might add - one man decided to celebrate by wearing nothing but a pink tutu and rushing the stage, cementing his place in art history. Sort of.
03/12/2012 19:12 GMT
THE BIG QUESTION
Let's take a quick look at the entrants one by one, starting with the bookie's favourite (at 11/8, no less) Paul Noble.
Question: Are these things lumps of human excrement?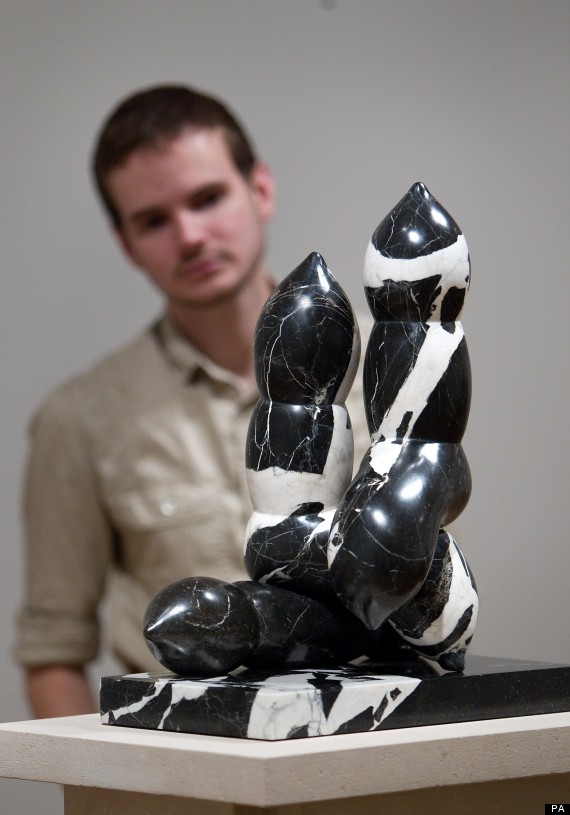 ...Because although we've all presumed they're turds, I've yet to see any evidence anywhere of Noble confirming that fact. Certainly it's not in the program notes at the Tate - and I've been twice.
So, if not lumps of crap, would could they be?
Worms? Twigs? Missiles from the future? The best alternative answer wins, well, nothing. Nothing but the respect of one man sat in a flat in Clapham with a limited imagination.
SUBSCRIBE TO & FOLLOW CULTURE SHIFT
Every Friday, HuffPost's Culture Shift newsletter helps you figure out which books you should read, art you should check out, movies you should watch and music should listen to. Learn more