With everyone asking the simple question 'Is It The Apocalypse Yet?' we thought it would be appropriate to live blog the final hours of human life on Earth.
Join us as we chronicle our doom. In millions of years time new humanoids may discover this blog and will uncover how the humans finally became extinct.

Should the Mayan prediction turn out to be a myth, at least we'll all have had a pre-Christmas laugh, right?
If you want to get involved on social media you can follow us on Twitter here or on Facebook.
Let the games begin...
21/12/2012 19:48 GMT
NASA Swamped With 'End Of World' Phone Calls
21/12/2012 14:55 GMT A journalist speaks in front of a TV camera in Chichen Itza, Mexico, Thursday, Dec. 20, 2012. Amid a worldwide frenzy of advertisers and new-agers preparing for a Maya apocalypse, one group is approaching Dec. 21 with calm and equanimity, the people whose ancestors supposedly made the prediction in the first place. (AP Photo/Israel Leal)
21/12/2012 11:23 GMT
HERE'S A PICTURE OF THE WORLD NOT ENDING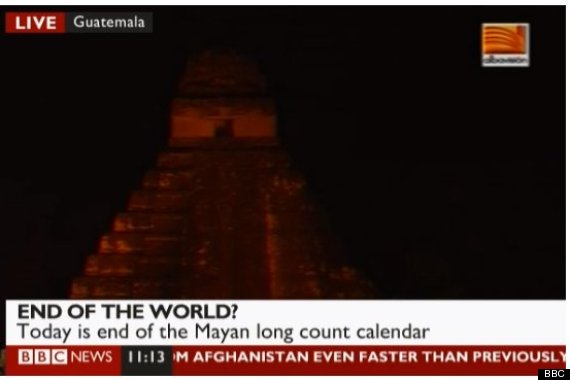 21/12/2012 10:59 GMT
TWISTING THE TRUTH
As the so-called "Mayan doomsday" approaches, the Mayans of Guatemala are speaking out against what some are calling a government- and tour business-led effort to profit off misinterpretations of their traditions.
21/12/2012 10:50 GMT
END OF THE WORLD LOL CAT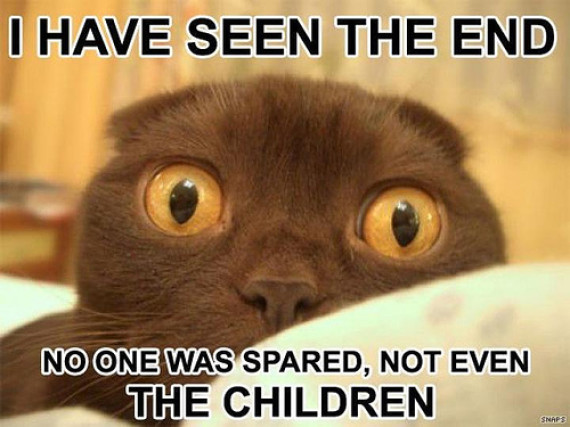 21/12/2012 10:28 GMT
THE END OF THE WORLD.. AS SEEN AROUND THE WORLD
21/12/2012 10:24 GMT
@ carolinepennock :

.@JonathanHaynes Argh! Would everyone please stop talking about the 'Mayans'. They are the MAYA. Mayan applies only to the language.
21/12/2012 10:06 GMT
EVEN THE BBC ARE TAKING THIS THREAT SERIOUSLY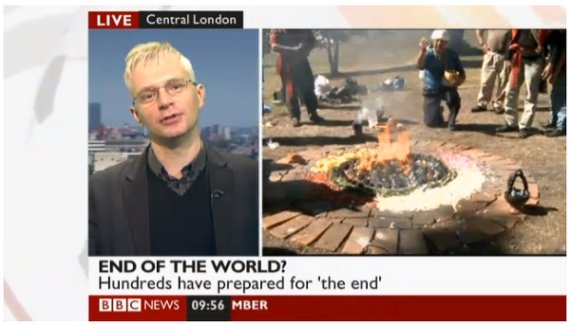 SUBSCRIBE TO & FOLLOW CANADA DAILY BRIEF